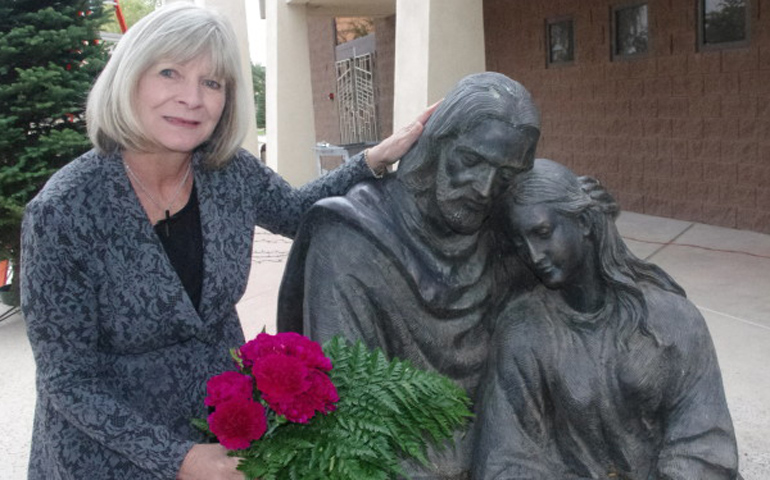 Patty Chesebrough stands near a statue at Holy Spirit Parish where Tears Speak but Spirits Soar was founded. (Photo by Joyce Coronel/Catholic Sun)
Editor's note: "The Field Hospital" is NCRonline's newest blog series, covering life in Catholic parishes across the United States and Canada. The title comes from the words of Pope Francis: "I see the church as a field hospital after battle. It is useless to ask a seriously injured person if he has high cholesterol and about the level of his blood sugars! You have to heal his wounds. Then we can talk about everything else. Heal the wounds, heal the wounds. ... And you have to start from the ground up."
"The Field Hospital" blog will run twice weekly on NCRonline.org along with feature stories and news reports about parish life in the U.S. If you have a story suggestion, send it to Dan Morris Young (dmyoung@ncronline.org) or Peter Feuerherd (pfeuerherd@ncronline.org). Please note that we welcome story suggestions from Canada as well.
---
When Joseph Kelly, Ph.D., saw the advent of "The Field Hospital" blog last fall, he lauded NCR and shared a narrative on what he views as "a major change in attitude" necessary for Catholics to better embrace Pope Francis' field hospital metaphor. Kelly is professor emeritus of religious studies at Nazareth College of Rochester.
In 1992 at Holy Spirit Parish in Tempe, Ariz., Patty Chesebrough founded Tears Speak but Spirits Soar, a group that has since provided outreach, compassion, understanding and a path toward healing for hundreds of women who have had abortions. "The pain is real. I understand it. I've lived through it," she says.
The power of a parish school -- a "community within a community" -- is emphasized by Sacramento Auxiliary Bishop Myron Cotta in a short essay in an edition of Catholic Herald Magazine that focuses on Catholic School Month. A report on the diocese's several parish transitional kindergarten programs is particularly informative.
Jim Pittman, a permanent deacon at St. Philip Benizi Parish in Oregon City, recently returned from the Democratic Republic of the Congo (DRC) where he spearheaded distribution of humanitarian goods from yet another 40-foot container shipped there by a nonprofit he founded, Salisa Bana. Additional cargo included a four-wheel drive pick-up to augment the work of the school and medical clinic sponsored by Salisa Bana. The DRC is home to an estimated five million orphans. Per capita income is estimated between $150 and $400.
Parishioners of St. Pius X Parish in Beaumont, Texas, recently heard the first-person story of the miraculous survival of Pamela Avellanosa. In 1995 a then-14-year-old Avellanosa was in a serious bicycle accident, and was not expected to live. She awoke two weeks later. Recognition of that miracle led toward the canonization of St. Arnold Janssen, founder of the Divine Word Missionaries. Today Avellanosa is studying for a master's degree in pastoral studies.
Parishioners at St. Leonard Parish in New Waterford, Nova Scotia, literally experience the biblical exhortations to embrace the joy and wisdom of children at most 11 a.m. Sunday Masses. Since he was four, now seven-year-old Aidan Oliver has listened for pastor Fr. Ray Huntley's cue for the sign of peace. When it comes, Aidan jumps from his front-row pew and proceeds to shake hands up and down the aisles. "It is spreading joy and peace," Aidan told The Catholic Register. "That is everybody's job."
Parishioners from all over Western Washington will convene at the state's capital on Feb. 8 to share concerns with lawmakers on issues that largely impact the marginalized -- homelessness, poverty, health care, among others. Chartered buses from multiple sites will transport parishioners to St. Michael Parish in Olympia where they will attend Mass, bone-up on topics and strategize for the estimated 130 appointments that day with legislators and state officials. Nancy Buergel, a parishioner at St. Madeleine Sophie Parish in Bellevue, told Northwest Catholic magazine that attending Catholic Advocacy Day "is one small thing" Catholics can do to speak out for the underserved. The event is sponsored by multiple Catholic organizations in the Seattle Archdiocese.
[Dan Morris-Young is NCR's West Coast correspondent. His email is dmyoung@ncronline.org.]