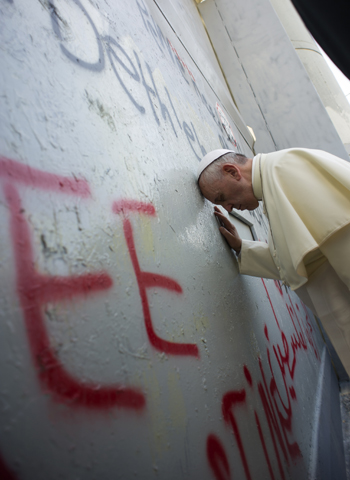 Pope Francis stops in front of the Israeli security wall in Bethlehem, West Bank in a 2014 CNS photo. (CNS/L'Osservatore Romano, pool)
Editor's note: "The Field Hospital" blog series covers life in U.S. and Canadian Catholic parishes. The title comes from Pope Francis' words: "I see the church as a field hospital after battle. It is useless to ask a seriously injured person if he has high cholesterol and about the level of his blood sugars! You have to heal his wounds. Then we can talk about everything else. …"
If you have a story suggestion, send it to Dan Morris-Young (dmyoung@ncronline.org) or Peter Feuerherd (pfeuerherd@ncronline.org).
---
Parishioners of St. Henry Parish, Gresham, Ore., are still hoping that the Syrian family whom they have been prepared to receive for almost a year will be allowed to depart Jordan where they have been living in a refugee camp for nearly two years, parish officials said Feb. 18. St. Henry Parish has worked with Gresham's Arabic Christian Church in the effort.
Oregon is not among states refusing Syrian refugees.
Word from St. Francis Xavier Parish in La Grange, Ill., is that a group of parishioners are in the early stages of learning more about the plight of Palestinians, doing so with members of Grace Lutheran Church just down the street. Participants are currently discussing "A Wall in Jerusalem" by Mark Braverman.
The Middle East is also one area of work for Seattle's Our Lady of the Lake Parish's extraordinarily active Justice and Peace Committee. It also focuses on "homelessness, creation care, and nonviolence in general," member Lorraine Hartmann tells NCR.
Members are "totally occupied with an ecumenical homeless shelter right now which involves three Catholic parishes in our neighborhood using our parish site until March 7," Hartmann said. The outreach is very like an ecumenical outreach to the homeless in downtown San Francisco.
Several Our Lady of the Lake parishioners follow Middle East developments closely, she continued, and in doing so are among hundreds of U.S. parishioners who have joined or support organizations addressing concerns there including Palestinian issues -- for example: Friends of Sabeel North America, Kairos USA, the Children of Peace Foundation, the Israeli Committee Against House Demolitions, the Tantur Ecumenical Institute, and the Catholic Near East Welfare Association.
A recent issue of the CNEWA magazine, ONE, details the development of the Chaldean Catholic community in the Southwest U.S.
Jesuit Fr. Drew Christiansen, an NCR contributor and Middle East expert, recently teamed with Ra'fat Aldajani, another contributor, to write a compelling look at the Syrian refugee crisis.
For those who asked, here is a link to the recent lecture at Gonzaga University by John Kelsay, Ph.D. on the genesis of the Islamic State group and the Muslim response to it.
In 2014 NCR carried multiple stories on Pope Francis' Holy Land pilgrimage, including a report on what are called The Holy Land Principles developed by Fr. Sean McManus.
The U.S. bishops' conference has also been active in refugee and immigration services and education along with Catholic Relief Services.
[Dan Morris-Young is NCR's West Coast correspondent. His email is dmyoung@ncronline.org.]