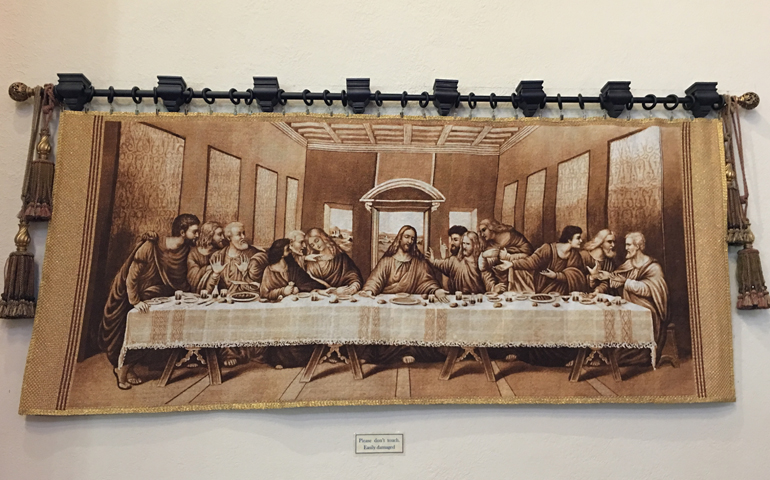 Last Supper tapestry by Fr. Guillermo Rodriguez (Courtesy of St. Brendan Parish)
Editor's note: "The Field Hospital" blog series covers life in U.S. and Canadian Catholic parishes. The title comes from Pope Francis' words: "I see the church as a field hospital after battle. It is useless to ask a seriously injured person if he has high cholesterol and about the level of his blood sugars! You have to heal his wounds. Then we can talk about everything else. …"
If you have a story suggestion, send it to Dan Morris-Young (dmyoung@ncronline.org) or Peter Feuerherd (pfeuerherd@ncronline.org).
---
Fr. Denzil Vithanage found a unique way to help his student parishioners at St. Mary's Catholic Campus Ministry Center of Stephen F. Austin State University in Nacogdoches, Texas, raise funds for the city's Heartbeat Pregnancy Center. A native of Sri Lanka, the Blessed Sacrament priest perched as a dunk-tank target to support the student group Lumberjacks for Life, reports Catholic East Texas magazine. Vithanage is the Center's chaplain and administrator, taking the assignment last year after 13 years at St. Joseph Parish in Marshall, Texas, where he helped institute several ministries, including an active soup kitchen.
More than 100 attended a recent Laudato Si' workshop at San Francisco's St. Anne Parish including many pastors. A follow-up meeting on Pope Francis' encyclical on the environment is planned for October. Among ideas floated at the gathering are establishment of parish "green teams" and creation of a list of practical ideas that parishes can institute now to address environmental degradation. Promulgated on June 18 last year, the encyclical has drawn global attention.
Also in San Francisco, St. Brendan Parish will honor Fr. Guillermo Rodriguez on the Cuban-born priest's 60th ordination anniversary on Sunday, July 17.
Rodriguez lives in retirement across the street from the church, but still celebrates nearly daily Mass at the Monastery of Perpetual Adoration and has helped out actively at the parish. The priest, who turns 86 on July 2, is well known for his tapestry artisanship. Displayed at St. Brendan, a large, complex tapestry depicting Leonardo Da Vinci's "Last Supper" took six years to complete.
Rodriguez is currently working on his second replication of Raphael's "Madonna and Child" -- about four feet in diameter -- which he will present to the nuns of the monastery.
The priest regularly devotes 10 or more hours a day to his art, he told NCR, explaining that he awakens at 1 a.m., showers and eats, then works until nearly 8 a.m., when friends drive him for Mass to the monastery. He resumes work from about 11 a.m. to 4 p.m., often listening to music or audio books.
A dinner of microwaved pizza usually follows. "The person who invented the microwave deserves a special place in heaven," Rodriguez chuckled. "I do not cook, but I know how to thaw."
In a dramatic illustration of how the visually negative space of an elementary school hall ceiling can be transformed into art that inspires, communicates and beautifies is on display at Sacred Heart Catholic School in south Oklahoma City. Over the past two years, sixth, seventh and eighth graders under the tutelage of art teacher Cheryl Swanson have illustrated more than 100 2x4-foot ceiling tiles. The colorful images illustrate Scripture passages, the school's mission statement, and often echo the Hispanic heritage operative at the school.
The storytelling power of art is also evident at St. Wenceslaus Parish in Dickinson, N.D., where new murals of the parish's namesake tell a fuller story of the saint than depicted in the famed Christmas carol, "Good King Wenceslaus." The murals by artist Craig Gallager of St. Michael, Minn. are among the parish's centenary celebration projects. Among mural subjects are the martyrdom of St. Wenceslaus at the hands of his brother and the "good king" ministering to the poor.
[Dan Morris-Young is NCR's West Coast correspondent. His email is dmyoung@ncronline.org.]