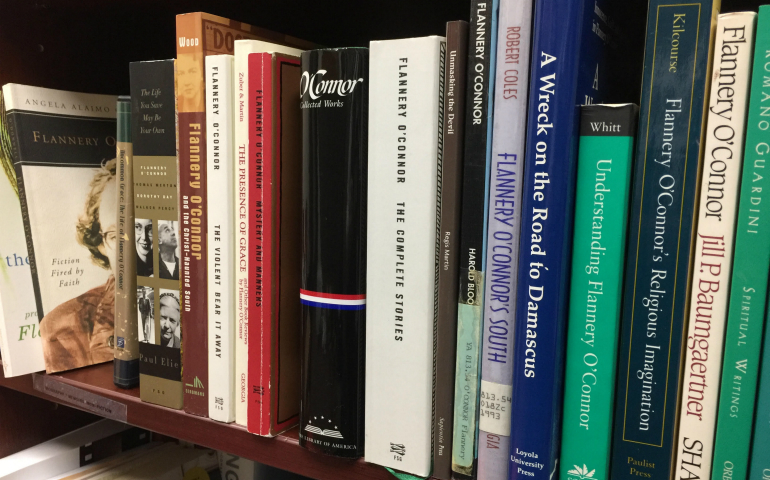 A view of Sr. Rose Pacatte's bookshelf, the Flannery section.
A first-ever documentary on Flannery O'Connor (1925-1964), the Southern gothic Catholic writer pre-occupied by the "Christ-haunted South" where she was born and lived, is currently airing on PBS and the World Channel. The film is a linear telling of the author's short life, with succinct introductions to her novels and many of her short stories. This is like literary dessert, which will leave Flannery O'Connor aficionados wanting more, so much more.
"I am only 14 years old, but I feel I need to bring literature into being," Flannery wrote. She was shy and precocious, and her upbringing, first in Savannah, then Atlanta and finally Milledgeville, Georgia, gave her the opportunity to pursue art first of all, then writing, her true vocation.
Interspersed with rare photographs and interviews with experts on O'Connor, such as William A. Sessions (1928-2016), a friend and biographer; Brad Gooch, author of a 2009 biography of O'Connor; and David King of Kennesaw State University, this introduction to the life of O'Connor and her writings is accessible to all. According to director Bridget Kurt, the goal of the film is to provide a framework to make O'Connor known to high school and college students who may not know about her or who may not grasp the themes or meaning of her stories.
The full-length newsreel of the chicken that Flannery taught to walk backwards (c. 1930) is also included — all 40 seconds of it.
Kurt, a hospice educator, told me in a phone interview that she became interested in O'Connor when she moved to Georgia seven years ago from the Midwest. Indeed, King is a member of her parish and was a student of Sessions; Kurt and her team, including her brother-in-law who wrote the script and music, began making the film in 2014.* Their work was just in time for a conference commemorating O'Connor's 90th birthday, where Kurt had the opportunity to interview Sessions, a big supporter of the film, and others.
Kurt admits that she is "not an expert on O'Connor, but I was able to interview the experts."
"Who you are, where you are, and why you are; everyone has to deal with these questions and I think Flannery O'Connor's characters do, too," said Sessions. He is the one who discovered O'Connor's prayer journal in a box and had it published. Holy Cross Fr. George Piggford of Stonehill College said that O'Connor wrote about how "freaks embody Christ." King said that her literary gaze was cinematic because of how she described the locations of her stories, places you could imagine as if you were sitting on her front porch.
O'Connor was a literary genius and a master of the short story. Her writings on grace, mystery — the action of grace in absurd and grotesque characters in violent situations — have influenced other artists, like musician Bruce Springsteen and filmmakers Joel and Ethan Coen. She was diagnosed with lupus in 1952 at the age of 27.
"To the hard of hearing you shout, and for the almost blind you draw large and startling figures," Flannery wrote in one of her essays.
The film is limited to about 58 minutes so that it can be used in the classroom and shown on television.
The one thing I found missing in the otherwise very fine film, it being exactly what it is, an introduction to Flannery, was any reference to her strenuous speaking schedule, her essays and talks collected in the book Mystery and Manners or even her letters in Habit of Being, curated by her friend Sally Fitzgerald.
To me, these books are important entry points to understanding O'Connor's Catholicism, her ideas about the Catholic sacramental view of life, about things in general and authors in particular that she admired (Pierre Teilhard de Chardin and Romano Guardini), as well as about her relationships with friends. These all shed light on her personality and her worldview that gave life to her stories. Kurt agreed that they would have liked to include these and more but they were limited by the film's length.
For anyone who admires or teachers O'Connor, "Uncommon Grace" will make you start reading her works again. If you don't know what the fuss is all about, see this film and start on a literary journey like none other.
[Sr. Rose Pacatte, a member of the Daughters of St. Paul, is the director of the Pauline Center for Media Studies in Los Angeles.]
Editor's note: *An earlier version of this story misrepresented O'Connor's age and who studied under Sessions.