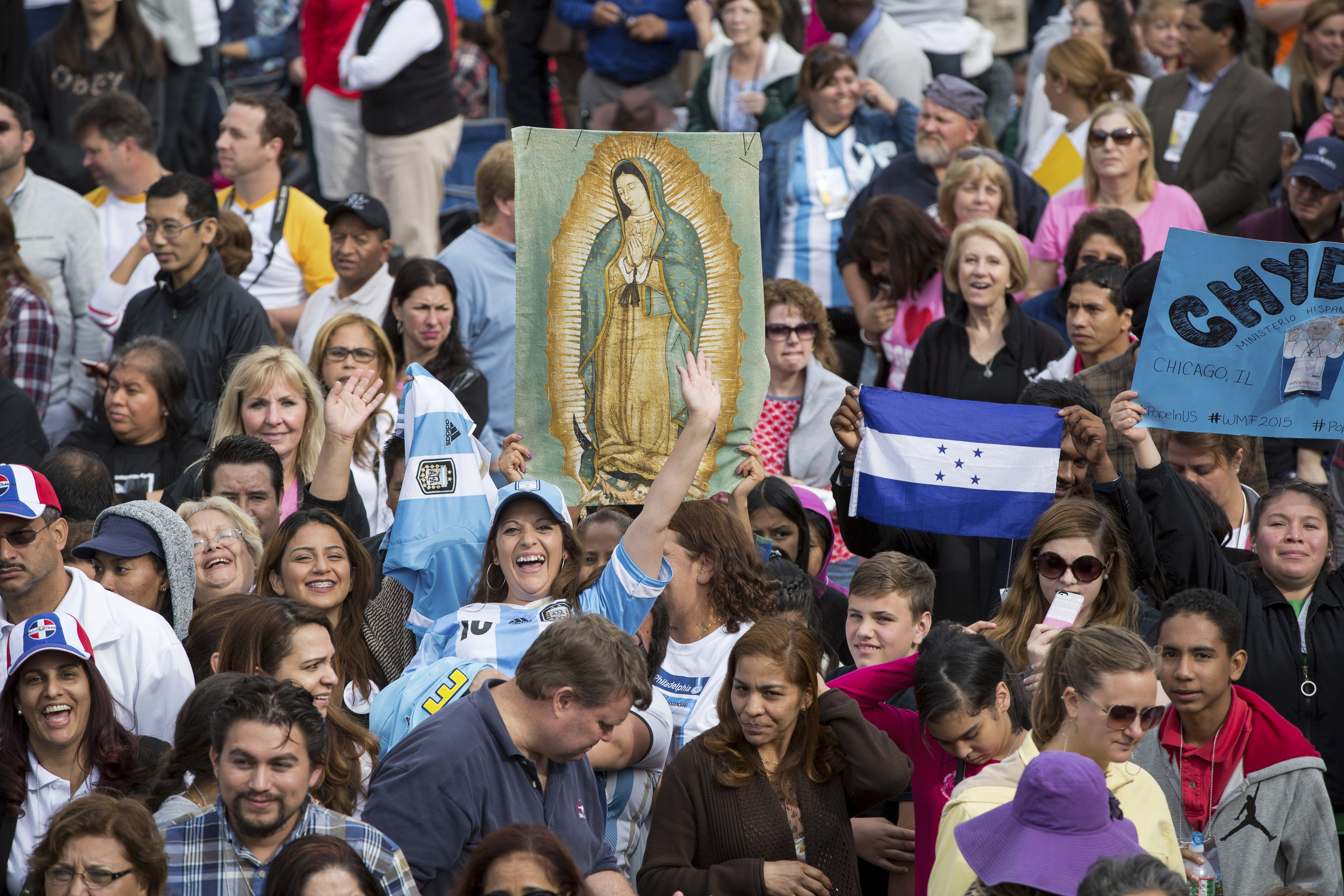 An image of Our Lady of Guadalupe is held up as crowds gather at Independence Mall, where Pope Francis will talk about immigration and religious freedom to an estimated crowd of 50,000, in Philadelphia Sept. 26. (CNS/Lisa Johnston)
Editor's note: NCR will be tracking reception to Pope Francis' visit to the United States. Check back at this post throughout the day as it is updated with the latest reactions.
---
Saturday gala is spectacle and teaching moment
In an only-in-America star-studded concert-as-prayer revival that shut down the iconic Benjamin Franklin Sept. 26 in Philadelphia, Pope Francis asked families to give special care to children and grandparents.
Read more: Francis: Families should be given work, healthcare
---
Francis speaks from podium Lincoln used at Gettysburg
Independence Hall -- The United States believes in religious freedom in a pluralistic society and in the contributions of immigrants, says Pope Francis to crowd at Independence Mall in Philadelphia Sept. 26.
Read more: At Independence Hall, Francis links religious liberty, cultural identity
---
Francis at Independence Hall
NCR columnist Michael Sean Winters reflects on Pope Francis' speech at Independence Hall.
I admit that I was deeply worried about how this afternoon's event at Independence Hall would turn out. The U.S. bishops have mounted a religious liberty campaign that was rooted in a fundamental problem, being tied to an excessive, at times almost paranoid, understanding of what constitutes illicit material cooperation with evil. Additionally, their campaign was so poorly framed and conducted, that they allowed one of America's great political achievements, a source of common, shared American pride, and allowed it to become a partisan issue.
Read more: Francis at Independence Hall
---
Following Francis in the dark hours
NCR contributer Elizabeth Eisenstadt Evans describes her encounter with Pope Francis outside the Cathedral Basilica of SS. Peter and Paul in Philadelphia. NCR Today: The streets were not empty at 3:30 a.m. Soldiers stood on quiet corners and law enforcement agents watched me carefully.
Read more: Following Francis in the dark hours
---
Homeless people displaced ahead of Mass
The displacement of the homeless people comes amid the pope's repeated calls for greater income equality and social inclusion of the poor.
Read more:Police move homeless people off Philadelphia streets ahead of Pope Francis' Mass
---
Mass Saturday for Pennsylvania's bishops, priests and religious
"The history of the church in this city and state is really a story not about building walls, but about breaking them down."
Read More: Francis: Church not about historic buildings, but personal calling
---
---
(Click on the cartoon to enlarge.)
We can send you a biweekly email alert with content from The Francis Chronicles. Follow the directions on our email alert sign up page.
---
Pope Francis at Philly: Break down these walls!
On June 12, 1987, President Ronald Reagan stood before the Brandenburg Gate in Berlin and uttered the most memorable line of his entire presidency: "Mr. Gorbachev, tear down this wall!" This morning, at the Cathedral Basilica of Sts. Peter and Paul in Philadelphia, Pope Francis began his homily with a similar sentiment. He said:
This morning I learned something about the history of this beautiful Cathedral: the story behind its high walls and windows. I would like to think, though, that the history of the Church in this city and state is really a story not about building walls, but about breaking them down. It is a story about generation after generation of committed Catholics going out to the peripheries, and building communities of worship, education, charity and service to the larger society.
***
In Philadelphia, where the clerical culture was on full display, with all the front pews occupied by men in robes, this message is revolutionary. If that was not clear from his more general remarks, these words made it absolutely crystal clear:
Our challenge today is to build on those solid foundations and to foster a sense of collaboration and shared responsibility in planning for the future of our parishes and institutions. This does not mean relinquishing the spiritual authority with which we have been entrusted; rather, it means discerning and employing wisely the manifold gifts which the Spirit pours out upon the Church. In a particular way, it means valuing the immense contribution which women, lay and religious, have made and continue to make, to the life of our communities.
Women! Imagine that!
Read the full report at Distinctly Catholic.
-- Michael Sean Winters, 11:24 a.m. central time
---
'Please, do not forget to pray for me'
Jesuit Fr. Paddy Gilger was invited with about 50 other priests by the New York archdiocese to hear confessions and serve Mass at Madison Square Garden along with Pope Francis Friday night.
"[It was] such a gift," Gilger said. "He [Francis] really lives the best of our charism as Jesuits. When he talked to Congress, it's not what he says, he talks to us by paying attention to America, how is God already active in this place."
Gilger estimated that he heard confessions for about four hours.
"The New York archdiocese deserves a lot of credit for how they organized the Mass," he said. "… The music was lovely and prayerful."
"Francis was often calm and let Mass wash over him," Gilger added. "… [The] best part of the evening was the end, when he gives a blessing. [Cardinal Timothy] Dolan said congrats to him and welcome and the whole place erupted in applause. … [There was] an overwhelming outpouring of love for the pope. … He pauses and looks out and in English, says, 'Please, do not forget to pray for me.' "
-- Elizabeth A. Elliott, 9:21 a.m. central time
---