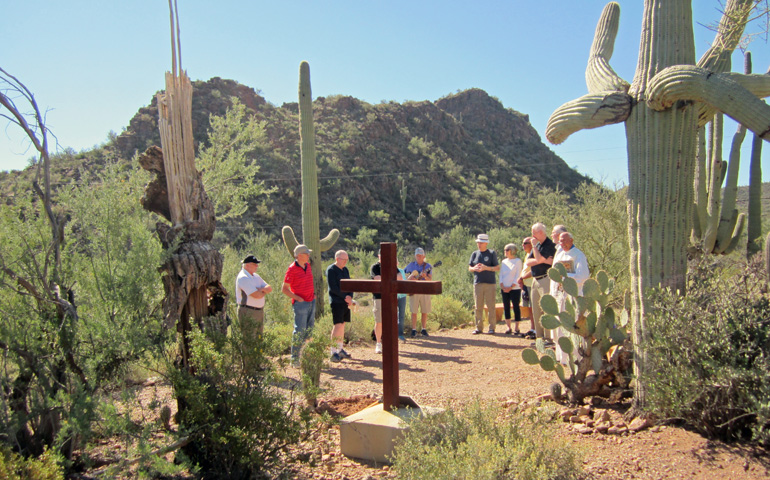 The group gathers to bury the ashes of Richard Koeppen, at the Redemptorist Renewal Center in Tuscon, Arizona. (Peter Tran)
Picture Rocks, Arizona — June 22, 2017
Spring has come to the saguaro forest, and we have come to bury the ashes of one of our own.
We, Catholic priests and former priests and seminarians, stand in the hills above Tucson. Here the petroglyphs, the rock art of the ancient Indians who worshiped gods of the sun and the earth, meet the God of everyone at the Redemptorist Renewal Center.
Redemptorist ​Fr. Paul Coury received the urn that contains all that remains of Richard Koeppen, who had made a small fortune as a business executive then spent it all caring for the homeless.
That was before his mind abandoned him to dementia and he died a pauper.
Coury is the retreat house director. Tom first told him of the dilemma, that there was no money for Richard's burial. So decades after he left the seminary, the Redemptorists took Richard back.
"And he walks with me and he talks with me, and he tells me I am his own," the tender voices of Dick, a former missionary priest in Thailand and later a boss in the Drug Enforcement Administration, and his wife, Jen, sing over the mating call of a desert flycatcher.
Roger shovels the last of the dry earth in the hole at the foot of the 12th Station of the Cross memorializing the crucified Jesus's death. Bill smoothes the clods and sets the shovel aside.
It is done. Richard's restless spirit has come home to rest.
Richard and all of us studied for the priesthood in the Redemptorist order lifetimes ago, in the 1950s and '60s.
It was an easier time back then, all black and white, when we knew we were right in our quest to mine for the most abandoned souls. Aspiring boys and young men we were, blooming like fields of poppies, many then drifting away in the winds of change.
This is the fifth year of our two-day gathering at Picture Rocks. Twenty-one are here — five ordained priests, two former priests, seven who studied and pulled up stakes along the way, including five of us veterans of the Vietnam War, five wives and two significant others.
Among us is a Redemptorist bishop in the Catholic Church's Eastern rite, three retired business executives, Dick (who wears a ponytail and a turquoise stud in his right ear), a former politician, a lawyer, three recovering alcoholics and two former nuns.
"Let it be clear she did not leave the convent because of me," Ed says of his wife, Kathleen. He's a retired vice president for a beer behemoth, who in his second career was recruited to be an executive for a company that branded high-end women's underwear. Difficult work it was, but someone had to do it.
Mev, a priest for more than 50 years, reminds us early in discussions that there's at least a little agnosticism in all our hearts. After all, he says, the agnostic "doesn't have certainty of either the self-proclaimed believer or the self-proclaimed atheist" about what may — or may not — happen in the great hereafter. The aspiring believer must then couple a quest for faith with that natural agnosticism.
Mev also might not know this: Many of us give a subtle nod to his wise-man stature in this annual coming together, which is not to affirm Catholic doctrine but to celebrate the heritage of our youth and our journey on the downside of life's mountain.
Ric, a retired product developer for a multinational corporation, no longer believes in Christianity's redemptive theology. "I've never seen any of it, never witnessed a miracle," he says. But he believes in a higher being and that we are spirits working to shed the human form and return to our true nature.
Roger, a former county assessor, likes Matthew's Gospel at Mass today about the duplicitous scribes and Pharisees. Matthew was a tax collector. Roger can identify with that. A bon vivant in college and after, he married when he was 50 and has three high-school- and college-age boys, two adopted from an orphanage in Russia. He attends Mass almost every day with nagging doubts about whether he's doing enough.
John, the bishop who back in the day consistently hit sweet jumpers from the corner of the basketball court, confides that his hardest time ever as a priest was to bury his sister after she'd jumped to eternity from a high bridge. "It also reaffirmed my priesthood," he says with a wisp of a smile at the bitterest of bittersweet memories.
While hearing confession as we two walk the grounds, Bob affirms (and this is not a breach of confessional secrecy) that Catholic faith is not for sissies. Neither is Bob. But for the steely gray of his flattop cut, he looks and sounds like an army drill sergeant. Tough love is some of what he offers an old classmate: If just feeling good is what you want from your faith, "You should go to another church."
Joe, an artist with God's fine gift of Michelangelo in his hands and heart, had been a priest for several years but never signed off on the proper documents to make it a legal break. Because of this, he hopes for permission to celebrate Mass again one day. Among his formidable stumbling blocks is that he has been in a gay relationship for more than 40 years.
"That would be a problem," says John, the bishop, when all eyes have turned to him.
Nonetheless, Joe will query another Joe — Joseph Tobin, the Redemptorist cardinal in Newark, who has wise-man, holy-man clout and is about a seminary-generation behind us — to find out if there is a way to get this done. It is a long, hard shot, he believes, but one worth taking.
The two days pass quickly and we set dates for our sixth year. She, my wife, the prettiest girl I'd ever seen, has told me — gently — to write this down.
And so I have.
[Tim Coder, a retired journalist in Corrales, New Mexico, is author of the novel War Without End, Amen: A Vietnam Story.]