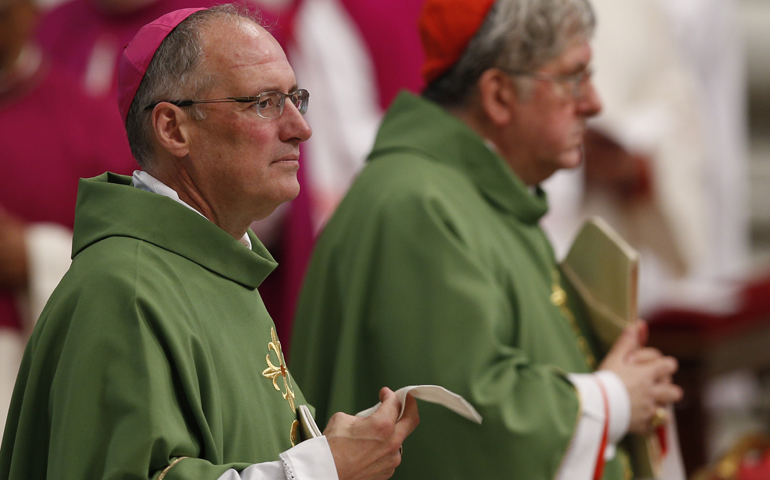 Archbishop Paul-Andre Durocher, left, in a 2014 file photo (CNS/Paul Haring)
A Canadian archbishop will be recognized in Cleveland Thursday for his efforts in advancing the discussion of female deacons and promoting female leadership within the Catholic church.
FutureChurch -- a Catholic reform organization that advocates for more collaborative and inclusive structures in the church -- will Sept. 22 present Archbishop Paul-André Durocher of the Gatineau diocese with the Father Louis J. Trivison Award at its 26th Annual Fall Benefit in Cleveland, Ohio.
FutureChurch is honoring Durocher for what it called "his visionary proposal during the 2015 Family Synod in Rome calling on bishops to discuss women deacons and expand leadership for women in the Church including greater opportunities for preaching."
The award is named for the organization's late co-founder.
"Archbishop Durocher's leadership deserves recognition because he calls the Church to fully recognize and engage women's gifts, ministries and leadership, a key component of FutureChurch's mission," said Deborah Rose-Milavec, executive director, in a Sept. 20 press release.
"FutureChurch supporters began working to advance women in church leadership in the early '90s and, we are grateful that the work continues today through their efforts and the efforts of Catholic leaders like Archbishop Durocher," she said.
In an email to NCR Sept. 21*, Durocher confirmed that he would be accepting the award from FutureChurch via livestream.
"I know that I am being given this award because of my intervention at the Synod last October inviting my brother bishops to study the question of women being ordained to the permanent diaconate," Durocher wrote. "This was one of a few proposals I made to recognize the gifts that women can bring to leadership and teaching functions within the Church. The heart of my intervention considered the ongoing violence perpetrated by men against their spouses in a conjugal relationship.
"Acknowledging the gifts of women within ecclesiastical structures is one way the Church can teach by example that women's dignity is inviolable and needs to be protected and celebrated within the marriage covenant," he continued. "In accepting this award, my mind and heart will be with the millions of women who continue to suffer from the scourge of conjugal abuse."
At the 2015 Synod of Bishops on the family in Rome, Durocher used part of his three-minute intervention to talk about female deacons. He spoke to NCR in May about the intervention.
"Since the synod members themselves and the pope in his letter didn't refer to the role of women in the church very clearly, I was hoping it was a seed planted in the ground and praying it would bear fruit at one point, but I didn't know if it would," Durocher told NCR in a May phone interview shortly after Pope Francis announced the creation of a commission to study female deacons.
Durocher said that a number of bishops he spoke with at the synod were favorable of studying the idea.
Rose-Milavec, who was also in Rome during the synod, said she spoke with Durocher after his speech about how he would continue his efforts in advocating for more female inclusiveness in the church.
"He promised he would continue working with his own bishops in Canada," Rose-Milavec told NCR in a Sept. 20 phone interview. "I think he was inspired by some of them. We wanted to honor that."
This year's Annual Fall Benefit is especially important, said Rose-Milavec, due to Francis' creating the commission on female deacons.
"This is the stuff we've been working for for a very long time," she said. "We are hopeful that we will have a good outcome to the commission."
At the time of the synod and after Durocher's intervention, FutureChurch launched a petition to support his proposal. The organization received 8,500 signatures from FutureChurch supporters "within a couple of days," Rose-Milavec said.
Around 140 people are expected to attend the FutureChurch event at the Cleveland Airport Marriott.
Durocher is scheduled to appear via livestream to accept the award and to address the assembly.
Fr. Charles Curran, a theology professor at Southern Methodist University in Dallas, Texas, will also speak at the event about Francis' Amoris Laetitia ("The Joy of Love") an apostolic exhortation reflecting on the family.
Rose-Milavec said the April 8 release of Amoris Laetitia also makes this a particular year for the church. "We think that within that document there are brand new openings on conscience," she said. "And Fr. Charlie Curran has been at the forefront of that discussion for a very long time."
Rose-Milavec said Curran will discuss topics including ways in which Catholics can rely on their conscience, who should be included and excluded in the church, and how to relate to the church.
[Traci Badalucco is an NCR Bertelsen intern.]
*This article was updated with Archbishop Durocher's response at 12:38 p.m. CST.