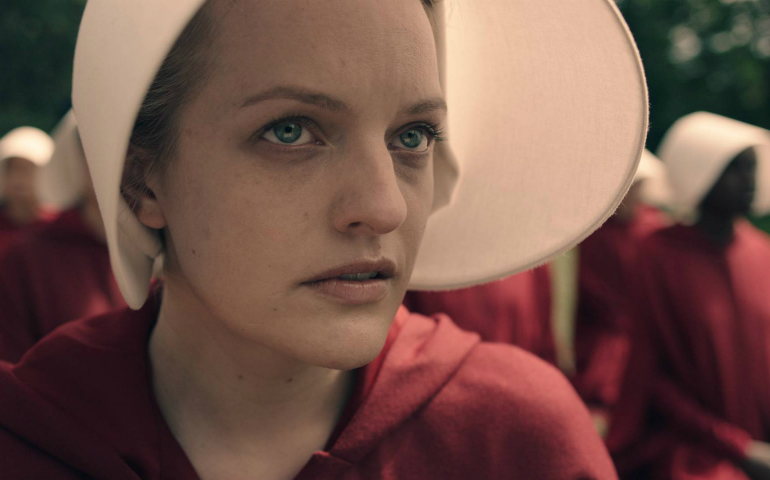 Elisabeth Moss in "The Handmaid's Tale" (Take Five/Hulu)
The first thing that really hits you when you begin watching "The Handmaid's Tale" (a new series* based on the 1985 novel by Margaret Atwood, now streaming on Hulu) is the color palette, especially red and green. At first subtle and tarnished, as if filmed through a beige, nylon stocking filter, the hues become vibrant, dominant and highly significant as the series opens up like the fertility image of a flower in bloom. Slowly, the muted and then deep hues act as a hypnotic lure to pull you into this bleak dystopian tale of violent oppression vis-à-vis human freedom.
In the not too distant future, corporations and government have destroyed the environment of the United States. Pollution, artificial birth control and abortion are blamed for widespread infertility. After a revolution that destroys the United States and establishes a Christian theocracy with the biblical name Republic of Gilead (means "hill of testimony"), society is restructured and organized anew by gender and class, to the benefit of the men.
The story opens with a young woman, June (Elizabeth Moss), as she tries to escape with her daughter, Hannah (Jordana Blake), and husband Luke (O-T Fagbenle) from the former United States to Canada with the militia in pursuit. June had worked for a book publisher in New York and enjoyed time with her college friend Moira (Samira Wiley) before the revolution. She was surprised eight years previously when she became pregnant since it had become a very rare occurrence for anyone to conceive. Now Luke is shot and June and Hannah captured and separated. Because June is fertile she becomes a "Handmaid" and is taken to the Red Center (Rachel and Leah Re-education Center) where she sees her friend Moira. Aunt Lydia (Ann Dowd) is an instructor and overseer who trains the women. She sounds kind in a masculine, militaristic kind of way, but is sadistically cruel, a toady of the totalitarian government.
In Atwood's book it seems real names are not used but they appear to be significant nonetheless. Moira, for example, is Irish for Mary and perhaps a reference to the Virgin Mary. Hannah and Luke are also scriptural names.
Handmaids dress in dark scarlet robes with a white head coif covered by a crisp white hat called "wings" reminiscent of nuns. They are women whose ovaries "work." They are assigned to the homes of "Commanders" whose wives are infertile. The wives' gowns are a pleasing shade of green, perhaps as a sign of hope. The red is obviously a sign of blood. Taking their inspiration from concubines who give children to Jacob in place of Rachel in the book of Genesis (30:1), a "ceremony" takes place when the handmaid is fertile. She lies with her head in the lap of the wife while the Commander has intercourse with her.
June is on her third "assignment" because she has not yet become pregnant. This is her last chance to bear a child before she is sent to the colonies where she will have to clean up toxic waste and surely die as a result. She still does not know where Hannah is and is determined to find her. She is now posted to the home of Commander Fred Waterford (Joseph Fiennes) and is now called Offred — literally "Of Fred." His wife is Serena Joy (Yvonne Strahovski) who is conflicted. She wants Offred to conceive but can barely tolerate her, especially when Offred greets the Commander in a too familiar way. The home is in what used to be Cambridge, Massachusetts.
One of Offred's tasks is to do the shopping but she must go with another handmaid, Ofglen (Alexis Bledel). The people of all strata of this new society, from the wives and Commanders to the "Marthas" who do the cooking and housework to the drivers and handymen, greet each other with Bible sounding phrases that refer to fertility: "Blessed day," "Praised be," "Blessed be the fruit," "May the Lord open," "Praised be to you" (to the hopefully pregnant Handmaid) and "May the Lord make me truly worthy" from the young woman who hopes, on her life, to become pregnant.
The Handmaids are not to speak to anyone or become friends, as Gilead is not a place for relationships. After all, the "Eye," unknown people assigned to watch everyone, can be anyone and anywhere. Yet it does not take Offred and Ofglen much time to start sharing confidences. They walk past a priest, doctor and gay man hanging dead from a wall in their Cambridge, Massachusetts, neighborhood along the river; they see St. Paul's Catholic Church where Offred was baptized, being torn down. That morning, the Martha gave Offred food coupons before she left and told her to be sure to get fresh eggs at the market because Mr. Waterford liked them. There is some produce but with the war on it is hard to find much else. Ofglen tells Offred she is a member of the Resistance and to be careful because there is an Eye in the Waterford house.
The plot becomes more complex. We get more backstory about June and her friendship with Moira, how they met again after being captured and placed in the Red Center. The Commander invites Offred to his home office, something strictly forbidden, to play Scrabble. Mob mentality among the Handmaids is revealed; do the women pounce on and kill a rapist because they feel anger or to survive the punishment from the Aunts who urge them on? A baby is born to Ofwarren/Janine (Madeline Brewer), and sterile wives and Handmaids attend the birth. Nick (Max Minghella), the Commander's driver, tries to befriend Offred when she fails to become pregnant and Serena Joy punishes her. A doctor tells Offred that the Commander, like most men, is probably sterile but she will be blamed as men are never blamed. Something horrific happens to Ofglen because she is found to be a lesbian, a transgressor.
All kinds of themes emerge in just the first four episodes I have seen so far. There's the political that some reviewers are contrasting to realities in the United States today. There's the religious with America's culture wars forming the pseudo-Christian policy of Gilead enforced by violence, punishment, and surveillance at every turn. Certainly a case can and will be made for many expressions of feminism as the series unfolds and concludes. There is the environmental, a theme that is certainly relevant because of the effects on children and women of childbearing years the world over. Our toxic waste affects people everywhere we dump it, at home and abroad.
At this point I would like to look at the idea of the solidarity between women who have been and are going through hell, and, for the most part, are not where they want or ever imagined they would ever be. They form a sisterhood, even before the Resistance is identified. The following is a small but mighty spoiler that reminded me of the small mystical moments of sisterhood in "Orange is the New Black"; kindnesses that defy male constructed control and domination of women.
In Episode Four, "Nolite Te Bastardes Carborundorum" (Latin for "Don't let the bastards grind you down") we learn that June had escaped from the Red Center with Moira before they are posted. She is detained and brought back. Aunt Lydia oversees her punishment. She is bound face-down on a table and the bottom of her feet whipped so badly that she cannot walk. She is completely and totally miserable. After, as she lies curled on her cot in the huge room where the Handmaids in training sleep, the young women return from dinner. One by one, each Handmaid walks by and drops a bit of food on June's bed, a cookie, half a banana, a piece of bread, without saying a word. June sits up and looks around; they look back. They are a silent sisterhood and change is going to come. You can feel the power of love that is charity, the strength of women who will rise.
I think the reason their solidarity impressed me so much is because of how real it is; I have a convent story about a small moment that I will always remember. When I was first professed in 1972, the changes stemming from Vatican II were still not so visible on a local level. The provisional constitutions were in place but it takes time to translate new rules into a lived culture and lifestyle that was decades in the making. I was assigned to a community of eleven sisters. Our local superior was very much old school and could be very stern. She sat at the head of the refectory table and we lined up on both sides. One sister among us, Sister Mary, had stomach problems for which the doctor could not find a reason. Therefore, Sr. Mary was expected to eat everything on her plate and if she couldn't she had to ask permission to throw it away.
One evening, when half the sisters were away on retreat, Sister Mary was eating very slowly. We were all watching to see if the superior noticed; she did. She raised her voice, as she was want to do, and told Sr. Mary, "Eat!" She then got up and went into the kitchen. Poor Sister Mary. As we watched she got up very slowly from her chair to follow the superior into the kitchen to ask permission to toss out her dinner. Just then, Sr. Francesca, the oldest sister among us, older even than the superior, broke the silence, "Hey." We all looked at her as she stood up, reached across the table and took Sister Mary's half-eaten piece of bread from her plate and ate it. Then Sister Sarah scooped up the rest of the mashed potatoes with her fingers and ate them. I swooped in for the vegetables. Not sure who took the meat and fruit for dessert. Sister Mary returned, head down, humiliated, her face sad. When she got to her place she looked at her shiningly clean dinner plate in wonder. Slowly she looked up and around at each of us as a smile lit up her face in realization of what had happened. No one said a word. Then she whispered, "Wow. If I'd known you were going to do that I wouldn't have bothered asking!" We all started laughing in silence, as only sisters can do. We had subverted the system and for charity. Charity always comes first. (About twenty years later we told the sister who had been our superior back then; she had the grace to look regretful and laugh. A specialist identified Sister Mary's stomach issues and treated her. Names have been changed to protect the innocent – namely, me.)
I read The Handmaid's Tale a few years ago, long after my younger sister Libby did when it was published. She was so horrified by it when she read it in her mid-20s that she, a big reader, couldn't read another book for three months. Recalling her reaction, I asked her about it this morning. She texted back, "I was completely distracted by it; it disrupted my complacency and shattered my comfort level, or feeling that life would simply always feel safe. It made me entertain the idea that life, politically, could change. My age and maturity may have been a factor," in her reaction. "I think I had a simplistic belief in America that the book simply shattered. Or it helped begin the process. The U.S. invasion of Iraq topped it off."
When I read the book about ten years ago I put some distance between it and my emotions. I just re-watched the 1990 version of the all-white cast in the film starring Natasha Richardson, Faye Dunaway and Robert Duvall. Harold Pinter (1930-2008), who won the 2005 Nobel Prize in Literature, scripted the film. It is very impressive but not as striking as this new series.
Bruce Miller (who executive produced "The Devil You Know" and "The 100") created and scripted the Hulu series; Ilene Chaiken (creator and writer for "The L Word") is also credited for writing. The cast is brilliant and multicultural. Technology and cultural references are current. The cinematography, "painting with light" is motion-picture quality. There is church-like chanting and classic pop songs close out the episodes but to me they don't fit that well. I think this is the point. There is dissonance between images and sound. It's all out of sync. The Republic of Gilead is not "home" to anyone anymore. Women are enslaved, objectified and blamed.
Men are subjugated to class, too. They are brutal, exalted and afraid to admit their infertility. The houses look as if nothing has happened but there is no comfort to be had. Everything grates and clashes. People who transgress are killed and left hanging for days as a sign to others. Religion is used to manipulate, but except for the few to whom this gives a semblance of power or solace, no one buys it. If the Handmaids pray, as they do in the van when on their way to the birthing in Episode 2, it could be nuns in a chapel, but that would be so wrong.
If you decide to watch the series, look closely at the costumes, the décor, and the visual motifs such as flowers. The clothing of the Handmaids and wives is old fashioned — and modern. At a party some women look like flight attendants who got lost on the way to the airport. The Commanders dress in sharp black suits, making them look smart and authoritarian. Boots worn by the Handmaids caught my attention — they have no shoelaces and it seems they have trousers on under their robes, too. The windows are made of Plexiglas and sealed shut so the Handmaids cannot escape or hurt themselves. Big Brother and Sister are watching all the time. They go out in pairs. There are no books to be had by anyone but the Commander, who also gets to read the newspaper. The Handmaids lose their names to the men who are supposed to sire children; their personhood is consumed, the body and human sexuality becomes soulless and the remnant of the family utilitarian. Within the different classes, everyone is the same. It seems that no one dares think or say beyond what is safe, so they will not be sent into exile to die or killed outright.
Everyone is playing an assigned role according to a script; it's a constructed, fake world but deadly serious. Hope stems from authenticity and a belief in humanity that cannot be eradicated.
What is "The Handmaid's Tale" about? It's about personhood, identity, freedom, abuse of power and oppression. It's about the meaning of the ever-present violence, human dignity, community, family, children, the body and leadership run amok. Democracy is a thing of the past but power for the powerful is in full force. The men have the guns but they don't really win in this brave new world; their dignity is denigrated as well. The difference is — they are in charge. Or they think they are.
Christian theology is subverted in the Republic of Gilead and used to justify what is nothing less than oppression and sexual slavery. Whatever love might have existed between the Commander and Serena Joy is long gone. The Bible is conveniently used to maintain power. When Aunt Lydia mistreats someone she says, "Blessed are the meek" as her excuse. June/Offred says in a voiceover, "They never say 'they shall inherit the earth.' " When the series is complete a more thorough analysis through the lens of Catholic social teaching will be telling.
[Sr. Rose Pacatte, a member of the Daughters of St. Paul, is the director of the Pauline Center for Media Studies in Los Angeles.]
* This review has been edited to correct the description of the series format.
A version of this story appeared in the June 2-15, 2017 print issue under the headline: Hulu's 'The Handmaid's Tale'.