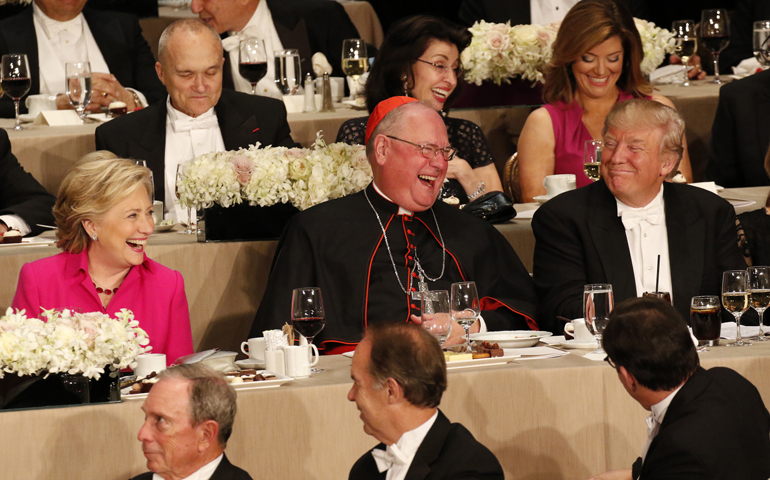 Cardinal Timothy Dolan shares a light moment with Hillary Clinton and Donald Trump during the 71st annual Alfred E. Smith Memorial Foundation Dinner at the Waldorf Astoria hotel in New York City Oct. 20.
I watched the annual Alfred E. Smith Memorial Foundation Dinner Thursday night as both Donald Trump and Hillary Clinton rose to speak. It's meant to raise money for Catholic Charities, especially needy children. I have watched this event in past years, and I know it's supposed to be a "fun" evening, peppered with good-natured jokes and jabs, not out-and-out political speeches. And certainly not jabs and insults.
Evidently, Trump did not get the message. He fired political missiles at Hillary that were so "off," so inappropriate, that he was booed -- loudly -- several times. During what was supposed to be a "fun" evening, this was painful to watch. From a political perspective, some in that audience were no doubt Catholic Republicans and conservatives, and Trump surely lost yet a few more votes as a result of his performance.
---
Related: "Trump draws boos at Catholic charity event" (Oct. 21, 2016)
---
I kept saying to the person who was watching with me, "This is supposed to be a fun evening … Donald doesn't get it." And she replied, "This is just one of a million things he doesn't get."
Trump's jabs at Hillary got worse with time, and one of the worst was: "She is here tonight ... pretending not to hate Catholics." Hate Catholics? Hillary? That got loud boos because the audience knew it was untrue and crazy. But it led me to say, "Oh yeah, I guess that's why she picked Tim Kaine as a running mate!"
When Hillary finally got her turn to speak, she noted that Kaine is a Jesuit-trained Catholic.
I am not one who is usually sympathetic with the plight of cardinals, but Thursday night, I was really "feeling" for Cardinal Dolan, who sat between the two. I realize this placement is "custom," but Thursday night it seemed imperative to keep the candidates apart! I noted that Dolan spent most of his conversation time talking to Hillary Clinton … probably because it could be an intelligent conversation.
This presidential campaign has gone from the pits to the depths. I can hardly wait for Nov. 9!