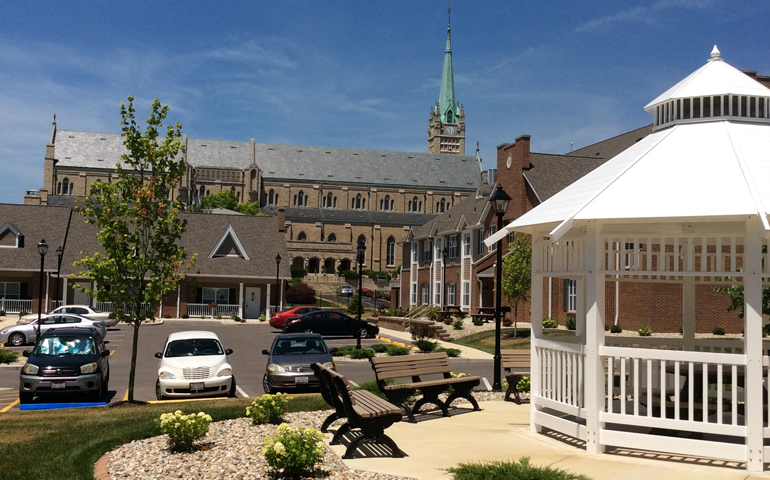 The Cottages at Cathedral Square in Belleville, Ill., are next door to the church. (Courtesy of The Cathedral of St. Peter)
Editor's note: "The Field Hospital" blog series covers life in U.S. and Canadian Catholic parishes. The title comes from Pope Francis' words: "I see the church as a field hospital after battle. It is useless to ask a seriously injured person if he has high cholesterol and about the level of his blood sugars! You have to heal his wounds. Then we can talk about everything else. …"
If you have a story suggestion, send it to Dan Morris-Young (dmyoung@ncronline.org) or Peter Feuerherd (pfeuerherd@ncronline.org).
---
The Cathedral of St. Peter in Belleville, Ill., received a gift of an abandoned pants factory, a decaying remnant of Midwest industry empty for 18 years, adjacent to the downtown church. It was an eyesore. A true lemon.
"To be good citizens we had to tear it down," said Msgr. John Myler, cathedral rector. "We were thinking we would just be left with a hole in the ground."
But demolishing it would cost more than half a million dollars. Combined with a near-empty convent, a building made to house 18 but where only one sister lived, as well as an old tavern the church also owned, the parish was in a state of being building- and land- rich yet strapped for resources.
What to do?
The answer was the Cottages at Cathedral Square, a 36-unit project for people ages 62 and above, which opened in October of last year. It met a series of needs. Older parishioners wanted to stay near their cathedral, and non-Catholics in the river town across from St. Louis also had a new residential option. The parish was able to develop a small adjacent community, find a constructive use for its space, and at the same time realize Pope Francis' vision in Laudato Si' via an environmentally friendly development.
With assistance from the nearby St. Louis archdiocese, which has been involved in similar projects, the effort garnered support from the city and county government, two local congressmen, and Illinois' two U.S. senators. It earned tax credits and subsidies from the federal government.
The 36 units, built in the town-house style reminiscent of the original German-style development of Belleville, are now filled and there is a waiting list. Rents range from market rates of about $800 per month for a two-bedroom, down to $300-400 subsidized for those over 62 years of age and meeting federal income requirements.
The development is environmentally conscious in how it was constructed.
Old brick was cleaned and recycled. Old copper guttering was transformed into a large cross that now overlooks the cottages. In support of Pope Francis' teaching in Laudato Si', energy-saving appliances and eco-friendly materials were used.
The homes are next door to the Notre Dame Academy, a grade school operated by three local parishes, and opportunities are used to integrate the two facilities, as students come over to teach residents computer skills, and residents offer guest lectures at the school and are welcome to use the gymnasium. A school Sister of Notre Dame leads what's called an "intergenerational learning" program.
All in all, the cathedral parish was able to transform a bunch of lemon-type buildings into some substantial lemonade.
[Peter Feuerherd is a correspondent for NCR's Field Hospital series on parish life and a professor of journalism at St. John's University, New York.]
We can send you an email alert every time The Field Hospital is posted. Go to this page and follow directions: Email alert sign-up.