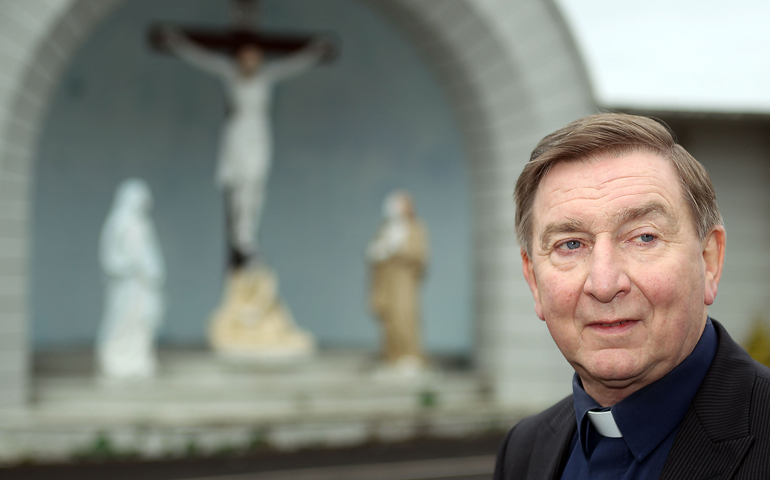 Fr. Brian D'Arcy in a BBC publicity shot from the documentary 'The Turbulent Priest,' broadcast in 2012. (Natalie Maynes/BBC NI 'The Turbulent Priest')
One of Ireland's best known priests, who is one of six clerics in the Irish church censured by the Vatican in recent years, claimed that a number of women who were sexually abused by notorious pedophile Norbertine Fr. Brendan Smyth, later committed suicide because of their ordeal.
In an interview with the Irish magazine, Hot Press, popular BBC radio presenter Passionist Fr. Brian D'Arcy, says he personally knew "young women, who took their own lives because of what Brendan Smyth did to them."
Criticizing the mentality of protecting the institution which dominated the church's approach to child abuse in the past, D'Arcy suggested these women "could have been saved, if it [the abuse by Smyth] had been reported earlier."
"They could have been saved from abuse, which often leads to suicide. Abuse is an entirely evil concept, with consequences," he told the magazine. "The church was one major part of society that did not do what it should have done to prevent abuse. Society and the church are both learning, but we should never take anything for granted -- abusers will find a way around the system to continue their evil ways."
He was highly critical of Cardinal Sean Brady, the retired Primate of All Ireland, over his role as a 35-year-old priest in a canonical investigation into allegations of child abuse made by two teenage boys against Smyth in 1975.
One of those boys, Brendan Boland, who was 14 at the time, gave the then Fr. Brady written names and addresses of three boys and two girls who he believed were being abused or were at risk of being abused by Smyth.
Smyth was jailed in 1994, 19 years after this church inquiry.
It later emerged that four of the children named by Boland were being abused by Smyth and two of these continued to be abused after the 1975 inquiry.
"The one thing you will always say about Sean Brady is that he's a decent man. But he would probably know himself now that the system had him so brainwashed that he didn't do the right thing. He was wrapped up in this whole secrecy thing," D'Arcy stated in the interview.
However, the Co Fermanagh-based priest stressed that many more people are to blame than just Brady.
He claimed there were "very few who didn't make mistakes -- from journalism, to the Gardaí [the national police force], to the church, to doctors, mainly, to psychologists and counsellors. An awful lot of mistakes were made. Not just by the church, but mostly definitely by the church."
Of Smyth's Nobertine superior at the time, D'Arcy suggested that he was probably "most to blame."
"What I thought was wrong was that maybe five/10 years later when it began to be obvious that Brendan Smyth was a serial abuser that -- even then -- all of those people didn't go directly to police and take him out of ministry," D'Arcy said.
"I certainly think that the inactivity and because of a lack of awareness and because of trying to put the institution before the value of a child -- repentance is needed for that."
The 71-year-old priest, who was censured by the Vatican in 2010 over his outspoken views on sexuality and reform of the structures of the church, also discussed in the interview his own abuse at the hands of priests and brothers during his youth.
Asked if he had known about the scandals around sex abuse in the church would he still have joined the priesthood, he responded, "I probably wouldn't have. I mean, how could you, if you had known that? But even then there was -- and is -- more to the priesthood than that. And I think that has been lost. And there's more to the church than that."
He also underlined that the child abusers within the priesthood were "a minority that defined the whole body," totaling at most seven percent, leaving over 90 percent affected by the actions of this minority.
But there are no excuses, D'Arcy said.
"If you can't protect and love and give children a safe environment, then the institution has failed abominably. Hopefully, we have moved through it. We need to be ever alert, because there's no sense that that is behind us -- it is ongoing and we must always ensure that we do everything in our power to eradicate people who abuse children from anywhere around the church."
Elsewhere in the first part of a two-part interview, D'Arcy outlined his views on sex, contraception, homosexuality and fidelity suggesting that gay sex is not a sin in a loving relationship.
He said that nearly 30 years ago, when he was studying in the U.S., the sociology of the time indicated that probably 35 percent of seminarians were gay.
"And the problem was not that they were gay -- the problem was that many others recognizing this began to think that the priesthood belonged to the gay community," he said. "Therefore, they didn't feel comfortable in it."
He also revealed he has been in love but kept his vow of celibacy, and is critical of mandatory celibacy.
"I think celibacy is a great idea if it's chosen freely, but I think compulsory celibacy is a terrible idea."
But D'Arcy doesn't think that condoms are a sin.
"Let me put it in a context for you: my view of condoms is that; I think casual sex is a sin," he said. "But to lessen possible results of casual sex, which I think is wrong, condoms can be a way of preventing further evil -- and therefore not sinful."
[Sarah Mac Donald is a freelance journalist based in Dublin.]