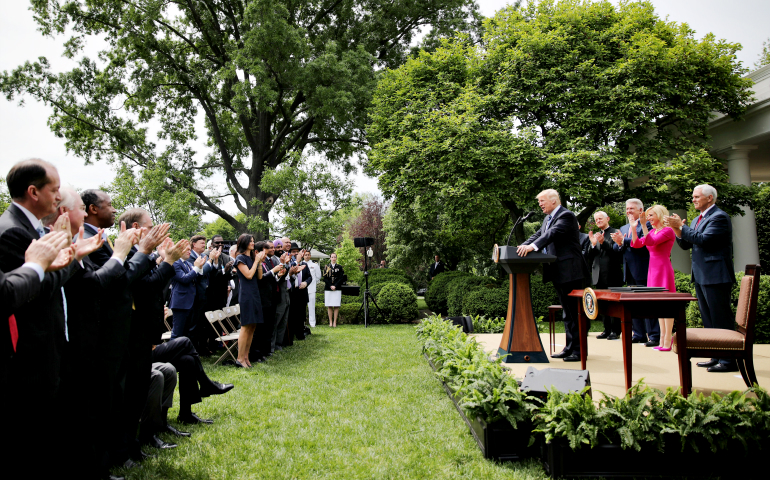 President Donald Trump speaks during a National Day of Prayer event at the White House in Washington May 4 before signing an executive order on religious liberty. (CNS/Reuters/Carlos Barria)
The Trump administration has issued a new executive order on religious freedom. The consensus of experts is that the order changes little or nothing. David Gibson, of Religion News Service, says it "seems unlikely to have much real impact on current laws and regulations." Others suggest it is questionable constitutionally, and many conservatives see it as not going nearly far enough.
What does this executive order actually say? It seeks to "protect the freedom . . . to engage in religious and political speech." Addressing contraception, the order suggests that appropriate offices "consider issuing amended regulations, consistent with applicable law, to address conscience-based objections." Perhaps the most telling comment is at the end of the order where it is stated, "This order shall be implemented consistent with applicable law."
Therefore, I have to agree with Gibson that the executive order does little to change the current state of things from a legal perspective. Yet, I don't think that means it has no effect.
A change in emphasis can make a major difference in what actually happens in practice. The order says to take "no adverse action against any individual, house of worship," and that means "the imposition of any tax or tax penalty." It is likely to make a difference in how strongly certain laws will or will not be enforced.
The Johnson Amendment appears to be at the center of this disagreement. In 1954, then-Sen. Lyndon Johnson supported an amendment to the tax code that insisted religious organizations not participate in political activity. The amendment stated that such organizations were "absolutely prohibited from directly or indirectly participating in, or intervening in, any political campaign on behalf of (or in opposition to) any candidate for elective public office."
Of course, this doesn't mean churches cannot be involved in political activity. They can preach on social and political issues. They can provide voter guides. They cannot endorse a particular candidate.
The greatest effect of a repeal of this amendment may be about money. A repeal would allow churches and religious organizations to donate money to a particular candidate. It could have a significant impact on political races.
The whole discussion seems somewhat moot from a religious freedom perspective, in that only once has the IRS moved to eliminate the tax exemption of a church. It should also be noted that eight out of 10 individuals surveyed do not want churches engaging in partisan political campaigning. There may be a reason why this amendment has lasted for more than 50 years. It may just be good for both religion and government.
Despite the caveats we have discussed, it is still true that the Little Sisters of the Poor found the executive order positive. They issued a statement that read, "Today we are grateful for the president's order and look forward to the agencies giving us an exemption so that we can continue caring for the elderly poor and dying as if they were Christ himself without the fear of government punishment." I don't suspect there was any government punishment to be feared, but they at last seem satisfied.
Many conservative Christians, including some Catholics, feel the government and the culture in our country are discriminating against them. I believe this fear is misplaced, but it is necessary to show why protections such as the Johnson Amendment are good for religion and not just a furtherance of progressive causes.
If churches promote candidates and political parties, they lose some of their moral authority. If they were to preach that you will go to hell, be banned from their church, or denied Communion if you support a particular candidate, they will alienate a large section of their congregations. Even those who may agree with their church's position will also believe that Americans have a right to disagree and make their own choices as voters.
You will have competing churches excoriating different candidates. The religious right will be supporting one candidate while the black churches may well be preaching the opposite. How does one discern the authentic Christian message?
My feeling would be that we need to preach the Christian message clearly. Promote the moral agenda, be it regarding abortion, gay rights or transgender issues. At the same time, promote the importance of the poor as seen in the Gospel, health care coverage for those who need it, compassion for refugees, support for immigrants, etc. The time for one-issue politics is over.
Leave the political decisions to the politicians and the voters. Voter guides should identify issues — voters need to sort them out. Pressure and even coercion diminish, not enhance, the power of the church.
The Johnson Amendment has done churches a favor. In preaching the Gospel, often our political stance will be pretty clear, but somebody is out there preaching the opposite of what we are saying. That is why we have politicians, government, political discourse, voters and elections. Do we want Americans choosing the church of their attendance based on the pastor's or hierarchy's politics? Do we want to add to the polarization already present in our society?
In this country, churches do not determine by what laws we shall be governed. Every time we attempt to move in that direction, we demean the value and undermine the permanence of our democracy.