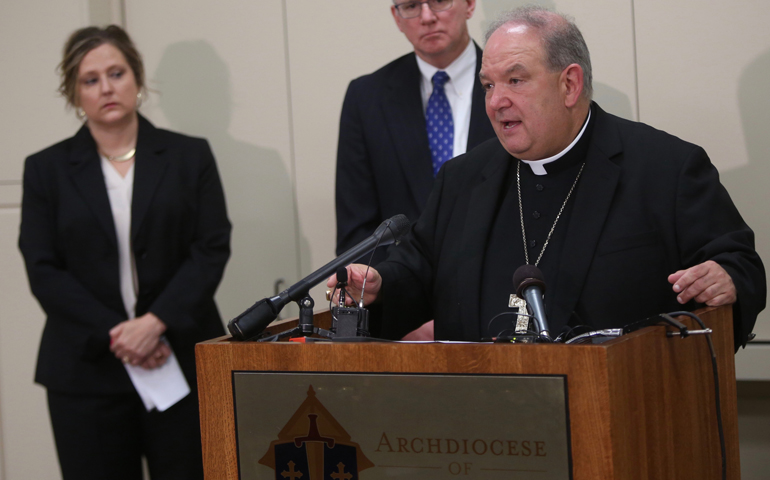 Archbishop Bernard Hebda of St. Paul and Minneapolis addresses the media at a news conference July 20.
Editor's note: "The Field Hospital" blog series covers life in U.S. and Canadian Catholic parishes. The title comes from Pope Francis' words: "I see the church as a field hospital after battle. It is useless to ask a seriously injured person if he has high cholesterol and about the level of his blood sugars! You have to heal his wounds. Then we can talk about everything else. …"
If you have a story suggestion, send it to Dan Morris-Young (dmyoung@ncronline.org) or Peter Feuerherd (pfeuerherd@ncronline.org).
---
A judge spares parishes from the pain of bankruptcy proceedings in the St. Paul/Minneapolis archdiocese.
Commenting on the possibility of women being ordained deacons, a former parish administrator in the Baltimore archdiocese discusses what impact change could have.
The Catholic church in Ellicott City, Md., provides shelter for those escaping a deadly flood.
Parishioners in West Haven, Conn., are discussing a preliminary plan to forge one parish out of five existing churches.
The Rockford, Ill., diocese, deals with the national priest shortage. Not much new in this story, but the statistics from CARA at Georgetown University points out the national trendlines, with the number of Catholics increasing, largely due to Latino immigration, while the number of priests decline.
World Youth Day is an impressive spectacle. But what happens when the young people come home to their parishes? How parishes can connect.
It's summertime, and Vacation Bible School is alive and well in Chicago area parishes. The concept is a popular adaptation of what Protestant churches have done for generations.
The times we live in: young Arab men videotape Mass while visiting Kettering, Ohio, and the reaction is more than a bit tense. They say they only wanted to study Christianity. Some locals in the Dayton suburb are not so sure.
Sen.Tim Kaine, possibly our next vice president, is a member of St. Elizabeth Church in Richmond, Va., where he is a member of the choir. St. Elizabeth's is an historically African-American Catholic church. It will be interesting to see what impact black Catholic life, an often overlooked reality both in and outside the church, might have on a new administration as a result of the Kaine connection.
Catholics in Santa Barbara, Calif., provide essential help for the homeless. They provide a safe space via a parking lot for people living in their cars and a regular shower service. The word here is dignity.
Pope Francis apparently makes an off-the-cuff reference to parish secretaries in addressing Polish bishops. It is a recognition that the first voice people hear when they call a church is a vital cog in the welcoming process. But are unpleasant parish secretaries in league with the devil? We'll give the Holy Father a pass, assuming he was speaking metaphorically.
[Peter Feuerherd is a professor of communications and journalism at St. John's University in New York and contributor to NCR's Field Hospital blog.]
We can send you an email alert every time The Field Hospital is posted. Go to this page and follow directions: Email alert sign-up.