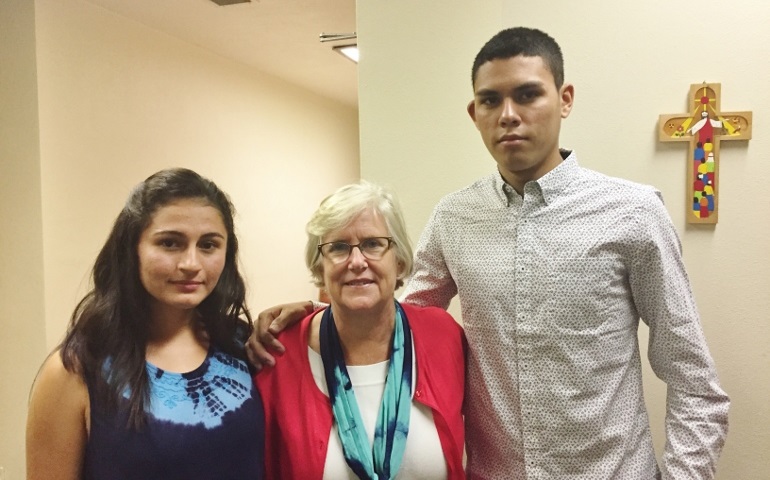 From left, Gregoria Leonor Acevedo Huezo, Leslie Schuld and Ernesto Josue Henriquez Joachin at St. Elizabeth Parish in Kansas City, Mo., on Oct. 22 (NCR photo/Traci Badalucco)
Kansas City, Mo. — November 3, 2016
More than 100 parishioners here welcomed two Central American students whose lives have been impacted by an educational program that St. Elizabeth Parish helps fund.
Through St. Elizabeth's partnership with the Center for Exchange and Solidarity — a nonprofit organization based in San Salvador, El Salvador, that works to improve education and promote social justice — 57 students have been able to attend elementary school, high school and college in 2016 in El Salvador through scholarships funded by parishioners.
St. Elizabeth Parish held a special fiesta, Salvadoran style, Oct. 22 to celebrate the students' success and to promote further scholarship opportunities.
"I would not have been able to graduate from high school without the scholarship because we are a large family, and my mother, who is the only one with paid employment, didn't have enough to pay all the expenses," said scholarship recipient and fiesta attendee Gregoria Leonor Acevedo Huezo, 19.
Acevedo, now in her second year at the University of El Salvador in San Salvador, studies social work. She said she eventually wants to work in prisons and within the court system in her community to help ensure citizens' rights are respected.
"When I had the opportunity to be a scholarship recipient, I proposed to myself to study something that would help to protect the rights of others and to work for justice as well," she said in Spanish.
Leslie Schuld, director of the Center for Exchange and Solidarity, interpreted the NCR interviews.
In 2013, the St. Elizabeth community traveled to El Salvador, where they built 65 homes for families there.
Before, the houses were made of "plastic and tin," said Acevedo.
Scholarship recipient Ernesto Josué Henríquez Joachin is in his first year at Francisco Gavidia University in San Salvador. Henríquez, 19, who studies international relations, said he hopes to work in politics and eventually run for president to work to reduce violence in his country.
Henríquez said kids are often forced to stop their education due to expenses. Many join gangs or are sent to work in the fields for little wages.
"What you make in the fields isn't even enough to cover your basic food needs," he said in Spanish.
Acevedo and Henríquez recently spent almost two weeks in Kansas City through parish funding.
St. Elizabeth is one of six parishes in the Kansas City area that sponsor scholarships for students in El Salvador. Scholarships are awarded to students to attend grade school, high school and college. Many scholarships are extended each year so students can complete their education, said Kerm Fendler, a St. Elizabeth parishioner who helped organize the event.
Parishioners munched on Salvadoran food, including tamales and refried beans, in the church's basement. Bright-colored banners filled the room and a DJ played music in the background. Both recipients spoke to parishioners about how the scholarships have changed their lives and their plans for the future.
The Center for Exchange and Solidarity connects communities in the U.S. and other developed countries with those in El Salvador to "help them better their situations," Fendler said. Scholarship recipients are required to complete community service hours throughout their scholarships.
"We have workshops and talks every month about leadership, how to do social work with others, and how to be at the service of others," Henríquez said. This knowledge, he said, is "not just for our own development, but for the community as well."
St. Elizabeth partnered with the center in 2013. This year, the parish has sponsored 44 Catholic grade school scholarships, five high school scholarships and eight university scholarships. The idea, said Fendler, is to provide students with knowledge and tools to be self-sufficient.
"We want these kids to become educated, we want them to stay in El Salvador and stay in their country. It's important to make the point that we look at scholarships as a way for these kids to pay back to their communities, rather than to leave their communities," he said.
Scholarships are funded through donations.
Fendler said St. Elizabeth raises about $25,000 each year to support the scholarships.
"It gives them a reason not to join the gangs, because they see a day when they can be employed."
Fr. Jerry Waris, who became involved in the program in the mid-'90s, said the scholarships help empower students to make a difference in their country.
"It's important because it helps us who have so many resources to help those who don't. And that gift connects us to each other," he said.
Waris said when he first started participating in the program, the average age of applicants for high school was 24-25. Now, they are 15-16, he said.
"It's through education that they can really make a difference in their world," said St. Elizabeth parishioner Susan Sheffer. "They have to face a lot of challenges and I think the education is paramount to expanding their knowledge [to] hopefully raise them out of poverty."
"I never imagined being outside of my country," Acevedo said. "And when I was chosen to be one of the representatives, I gave thanks to God. It's an opportunity to grow and develop ideas for development in our community."
[Traci Badalucco was an NCR Bertelsen intern.]