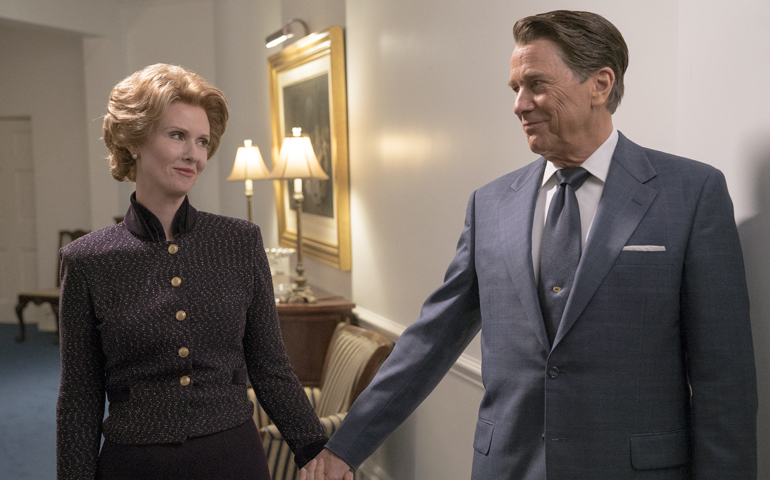 Cynthia Nixon (as Nancy Reagan) and Tim Matheson (as Ronald Reagan) in "Killing Reagan" (National Geographic Channels/Hopper Stone, SMPSP)
It was October in Nashville during the run up to the 1980 U.S. presidential election between Republican candidate Ronald Reagan and Democratic incumbent Jimmy Carter. There is a stir in the crowd when a Secret Service agent spots a young man named John Hinckley Jr. (Kyle More) with a red backpack. He escapes but his suspicious behavior at the airport leads police to inspect his carry-on suitcase where they find two handguns. He is arrested and released after paying a fine of $62.50 for carrying unregistered guns. Hinckley now has a permanent criminal record.
Days later at the Reagan campaign headquarters they prepare for the one and only debate between the two nominees. Ronald Reagan (Tim Matheson) is argumentative and his aides work to prep him for the event. Nancy Reagan (Cynthia Nixon) is ever present. When one aide hands Reagan a large binder stuffed with research Nancy steps in and takes it from Ronnie. After Reagan leaves the room she tells an aide to fire the man who prepared it: "Ronnie cannot digest all this information. Fire him."
Hinckley's parents, John Sr. (Mike Pniewski) and Jo Ann (Rebecca Tilney) are watching the debate at home. John Jr. comes and goes and has failed to get a job. His father challenges him that evening and then notifies him that he and his mother have found a new therapist for him but it is actually a psychiatrist. John talks with the psychiatrist who tells him he needs direction, a way to get to a better place. The way to do this is to show initiative and take action. The doctor seems to want to fix John for the short term so he fails to discover John's obsession with the film "Taxi Driver" and its psychotic protagonist Travis Bickle played by Robert De Niro and the young girl he wants to save played by Jodie Foster. Little does the psychiatrist know how Hinckley interprets "take initiative" and "take action." He agrees to get a job.
Hinckley stalks Foster (played by Katia Lara) on the phone as the weeks go by, but she won't talk to him. Hinckley purchases more unlicensed guns in Texas. When he returns his father greets him but will not let him come home because he has not kept his part of the agreement to find work.
Reagan wins the election and a month later, on Dec. 10, 1980, former member of the Beatles John Lennon is shot and killed in New York by Mark David Chapman. Hinckley wants to be as famous as Chapman because Jodie must know who he is now. He fantasizes about killing her and himself. He goes to Washington, D.C., to shoot President-elect Reagan but does not go through with it.
On March 30, 1981, however, Hinckley shoots Reagan, Press Secretary James Brady (Michael H. Cole) and two others, outside the Hilton Hotel in Washington. He is immediately taken into custody and arrested by the police. He is disappointed that it's not the FBI. Nancy Regan rushes to the hospital and she and Sarah Brady pray in the chapel as they wait for their husbands to come through surgery. Nancy leaves when Ronnie is out of danger and whispers in Sarah's ear not to worry because they and their men are strong.
Reagan insists on walking out of the hospital when he is discharged since he actually was able to walk in after the shooting, collapsing once inside the door. Back at the office he and his staff pray for Hinckley.
There are no surprises in "Killing Reagan" especially if you remember where you were when it happened. I watched the screener twice to make sure I wasn't missing anything but I don't think I did. It's an adequate made-for-television movie and the use of actual footage from the months covered by the film make it more realistic. Tim Matheson does a good imitation of Reagan, even to how he modulates his voice and imitates the former president's mannerisms.
Although Hinckley (who was recently released from a psychiatric hospital in Washington, D.C., to live with his aged mother in Virginia) did not kill the president that day, the film seems to say that the physical damage done to Reagan from the bullet that ricocheted off the limo to lodge in his back played into his diminishing capacities and eventual battle with Alzheimer's disease.
Cynthia Nixon's portrayal of Nancy, whom Ronnie calls "Mommy," is quite good. She complains to her husband that the press is mean to her. She and Reagan were in love but her dedication seems to border on steely obsession and hovering protection. As he recovers from the assassination attempt she admits she has been consulting an astrologist for guidance and convinces him to let her continue.
Vice President George H.W. Bush was on his way to Dallas when Reagan was shot and Secretary of State Alexander Haig (Patrick St. Esprit) contacts him via radio to return. In the meantime, he tells the press he was in charge. The film spends a significant amount of time on the confusion the egotistical Haig generated while Reagan was in surgery and Bush on his way back to D.C. The cabinet members and staff accuse each other of not knowing what the Constitution says.
Hinckley was determined to be mentally ill but he was not the only one with "issues" as the film shows. Haig and Nancy are especially interesting.
The producers did a remarkable job in choosing actors who resemble the characters they play including Brady, Haig, James Baker (Geoff Pierson) and Nancy. The film also nods to Reagan's background as an actor. Before joining the debate with Carter, Reagan says to Nancy, "Politics is just like show business. You give them a hell of an opening, coast for a little while then you give them a big finale." At the end of the film an aide says to Reagan, "You are like a hero in one of your movies."
That's about as deep as the dialogue gets in "Killing Reagan."
Hinckley is listed as a supporting character in the production notes but the film spends a lot of time on him, something I wish they had done more carefully. The way the film presents his suicidal ideation is quite explicit and violent. Given today's cultural context and the suicide rate so high, they could have dialed that back. Also, I cannot help but think that Jodie Foster is not going to appreciate having Hinckley brought up again in such vivid detail via a television movie. One can only imagine the influence on John Hinckley Jr. if he watches it from his mother's home.
"Killing Reagan" is being promoted to the Christian press and there will be a special screening of the film at Bel Air Presbyterian Church in Los Angeles where the Reagans sometimes worshipped. I don't think there is anything especially faith-based about "Killing Reagan" except that Reagan is held in such high regard by the religious right. I wonder how many of them know about Nancy's dependence -- and therefore Reagan's too -- on astrology, something that is decidedly not Christian.
Reagan's determination to bring down communism was part of his campaign platform and his ability to negotiate, his dedication to negotiation, is highlighted in the film. At one point not long after the inauguration when talking about making a deal with the USSR, he thunders, "Why would I risk losing it all if I can get 75 percent?"
As we know, James Brady carried the title of press secretary until the end of Reagan's second term because Reagan recognized his sacrifice. The Brady Bill, requiring background checks and a waiting period, came about largely because of Sarah Brady's efforts. Clinton signed it into effect in 1993, twelve years after Jim Brady was shot and disabled by Hinckley. It's pretty graphic when the bullet hits Brady in the head. The Brady Bill is noted at the end of the film. Someone ought to make a film about the Brady Bill, its 18 amendments, the opposition of the NRA, and its status today when gun control is practically nonexistent and 30,000 people die each year in America because of gun violence.
"Killing Reagan" follows three previous "Killing" television movies based on books by Bill O'Reilly and Martin Dugard (Jesus, Kennedy, and Lincoln.) Rob Lurie ("The Contender") directs using a no-frills straightforward approach. It looks low budget. Ideologically it's pretty fair-handed in how it tells the story and presents the key figures in the political-psychological drama. Eric Simonson and Bill O'Reilly are credited with writing the script. Ridley Scott, David W. Zucker and Simonson are executive producers.
Reagan was passionate when he campaigned but he listened to his advisors as they prepped him for the one and only debate that he had with President Carter back in 1980. Reagan was, without a doubt, a gentleman. The film shows that there was a sense of discipline among the white males who helped Reagan become president; the white guys who helped him run the government during the time covered in the film were not so orderly. The lack of any significant female roles in the film (except for Nancy Reagan) or showing people of color in leadership may be more or less historical but it is, well, rather glaring. Sarah Brady says barely a word and Nancy leaves her alone in the chapel once Ronnie is out of surgery. That was rather sad.
"Killing Reagan" premieres Oct. 16, 2016, on National Geographic Channel.
[Sr. Rose Pacatte, a member of the Daughters of St. Paul, is the director of the Pauline Center for Media Studies in Los Angeles.]