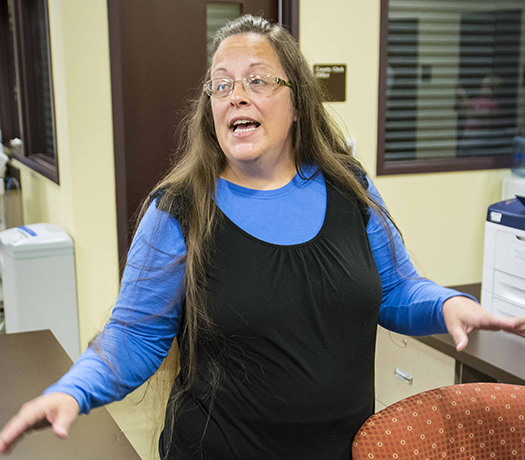 Rowan County, Ky., Clerk Kim Davis argues with David Moore and David Ermold, after they were denied a marriage license at the Rowan County Courthouse in Morehead on Sept. 1, 2015. (USA Today/The Courier-Journal, photo by Tim Webb)
The anti-marriage equality government official, Kim Davis, the county clerk for Rowan County, Kentucky, who has made headlines for refusing to issue marriage licenses to qualified applicants and who has gone to jail for her refusal, and who was granted a secretly-arranged visit with Pope Francis during his historic visit to the United States last month, now has the distinction of being represented by a law firm, Liberty Counsel, which has been designated as a "hate group."
According to an ABC News Report:
"The Southern Poverty Law Center lists the Liberty Counsel as an anti-gay hate groups for spreading false information.
"A group that regularly portrays gay people as perverse, diseased pedophiles putting Western civilization at risk are way, way over the line," said Mark Potok, a senior fellow at the center.
The Liberty Counsel has connected homosexuality to higher rates of promiscuity and incest, Potok said, despite scientific evidence to the contrary. The firm opposes laws banning hate crimes and supports discredited conversion therapies that purport to turn homosexuals into heterosexuals. Staver once declared that the Boy Scouts would become a "playground for pedophiles" once it allowed gay troop leaders."
The Southern Poverty Law Center lists 728 hate groups, e.g., Neo-Nazi groups (142 groups) and active Ku Klux Clan groups (72 groups), in the United States and has created a U.S. map identifying each group and its location, which you can view here.
You can read the center's analysis of Liberty Counsel and its lawyer, Mathew Staver, here.
The U.S. papal nuncio Carlo Maria Vigano, who remains silent about what, and who, prompted him to arrange the covert meeting between Pope Francis and Kim Davis, has single-handedly left an unprecedented and indelible stain on Pope Francis' entire visit to the United States. He should resign or be recalled and the sooner the better. At the very least, Vigano should disclose the back story to this disastrous and historic diplomatic blunder.
[Tom Gallagher is a regular contributor to NCR and writer of the Mission Management column.]