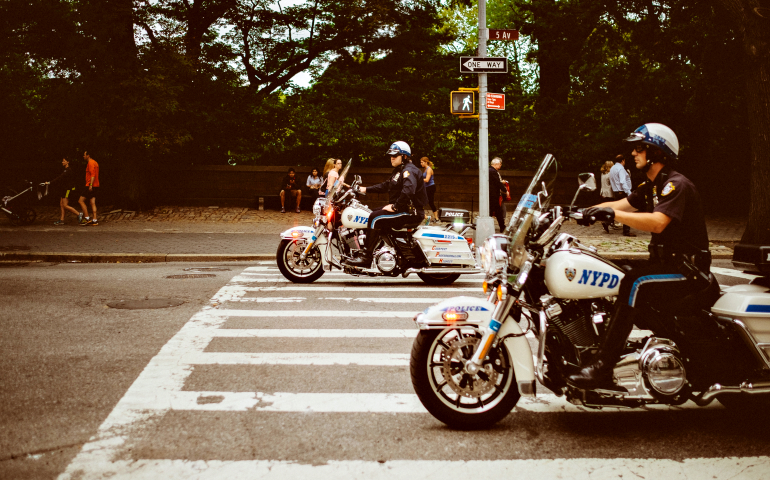 Police in Central Park, New York City (Unsplash/Tobias Zils)
Oh, dear. "Standing Up for Our Law Enforcement Community" is painful reading. It is a dark view of life in these United States, where men and women in uniform are dishonored and homicides are rampant.
Yes, homicides rose from 4.4 per 100,000 in 2014 to 4.9 per 100,000 in 2015 according to the FBI Uniform Crime Reports. The murder rate in the 1970s, '80s and '90s was twice as high. The murder rate in 2015 is still lower than it was in 2009. And crime generally continues to drop, being lower in 2015 than in 2012.
The White House website says:
Our country needs more law enforcement, more community engagement, and more effective policing. ...

Supporting law enforcement means supporting our citizens' ability to protect themselves. We will uphold Americans' Second Amendment rights at every level of our judicial system.
This is not President Donald Trump speaking off-the-cuff. It is carefully crafted language that manipulates the data. It lays the groundwork for more Pentagon arms to local police, more money for police hiring and less for anti-bias training, and disregard of local pleas for gun purchase background checks.
The statements in this White House policy brief are not the "alternative facts" about inauguration attendance that Kellyanne Conway named on "Meet the Press" on Sunday, but they do establish an alternative universe where crime is on the rise in a "dangerous anti-police atmosphere."
Aeschylus said, "In war, truth is the first casualty." Are we at war within the United States?