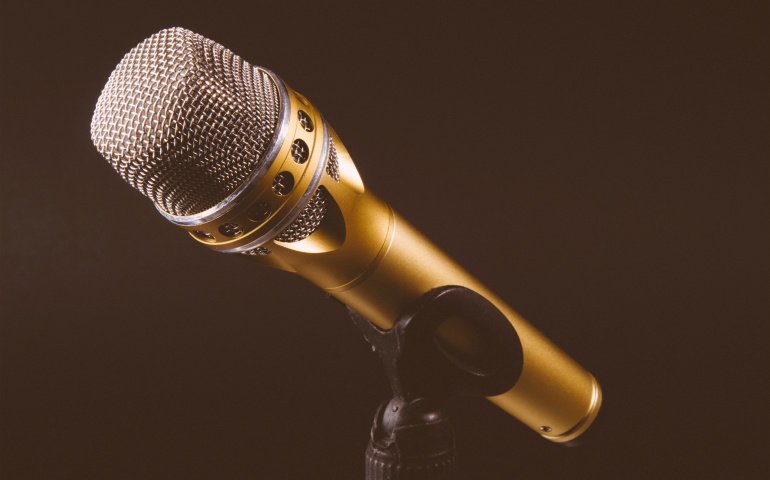 (unsplash.com/Kai Oberhauser)
Who is not hearing the proclamation of the Word?
Too many, according to Herb Ely of Charlottesville, Va. He said the Word is often more garbled than understood, as many worshipers can't hear what is being said from pulpits and lecterns.
An active Catholic, Ely, 75, belongs to prayer groups, including one that meets as part of a prison ministry once a month. Born in New Mexico, he is a graduate of the Catholic University in Washington and served in U.S. military intelligence until retiring in 1996.
He and his wife spend time visiting their four children and eight grandchildren around the country. And what he finds in many local churches is disturbing. Ely often has trouble hearing what is said, being part of the half of Americans over 75 who have developed a severe hearing loss. For him, the Word is intelligible.
"I've been extremely angered at what happens in church. I just couldn't hear," he said. This is true, Ely told NCR, even though there are low-cost solutions available to address the issue, which affects more and more graying American Catholics.
Meanwhile, too often the garbled Word is what's proclaimed from the pulpit.
There was the pastor in Northern Virginia who had the microphone turned away from his face, making it impossible for Ely and other hard-of-hearing congregants to understand the homily. Ely and his wife came across a Confirmation ceremony as part of a Mass in Georgia where the bishop walked the aisles, communicating directly with the young people receiving the sacrament. It was an effective homiletic technique, except Ely could only hear the bishop when he faced the back rows directly. The bishop's microphone was turned off.
"Hearing loss is the invisible disability," Ely told NCR. "People don't make allowances for it."
People using wheelchairs often will have doors opened for them. Even people who have had lifelong hearing impairment can find sign language Masses. All of these are good, emphasized Ely, but he would like to extend that kind of sensitivity towards those like himself.
Accommodations can be made. Ely shared the example of an African priest who was concerned that his accent would not be understood by some and so printed out the text of his homily for people to follow. And there are more technological fixes. A hearing loop installed at Ely's parish, Church of the Incarnation in Charlottesville, allows for those with hearing aids to tune directly to sounds coming from the microphone at the altar.
Ely has no organization to spread the word about reaching the hard-of hearing. For now, it's only himself. He published a column about his struggle in Celebration, the NCR sister publication devoted to worship. One concern he has is that worshipers who are unable to hear simply blame themselves and leave the issue unaddressed, not telling their pastor that there is a problem. He urges those trying to communicate with the hard-of-hearing avoid the temptation to talk louder. The best approach is to talk more slowly.
Awareness is being raised outside church circles. Last year The Washington Post described the hearing concerns of President Jimmy Carter and his wife Rosalynn. Carter said that 90 percent of their arguments revolved around hearing loss, including misunderstandings and his pleas for her to speak up, with Mrs. Carter responding in often exasperated tones. When they both went for hearing tests, the couple, married for more than 70 years, found out it was Rosalynn who had the more severe hearing problem.
Ely said adult hearing loss results in a lack of spiritual focus, with people turned in on themselves, filled with denial or anger. Obstacles to solving the problem is often a matter of pride; in other cases, people feel they can't afford sophisticated hearing aids. Ely said he is fortunate to have access to health insurance, as a former federal employee, that provides access to the best types of hearing aids.
"It's critical that it be addressed," said Ely, noting that solving hearing loss issues can help marriages as well as liturgical understanding. Parishes who fail to address the issue, he wrote for Celebration, are failing in their obligation.
"A parish that allows the words of the Gospel to be garbled is not just unwelcoming. It is failing in its mission to preach the Gospel," he wrote.
[Peter Feuerherd is a correspondent for NCR's Field Hospital series on parish life and a professor of journalism at St. John's University, New York.]
We can send you an email alert every time The Field Hospital is posted. Go to this page and follow directions: Email alert sign-up.