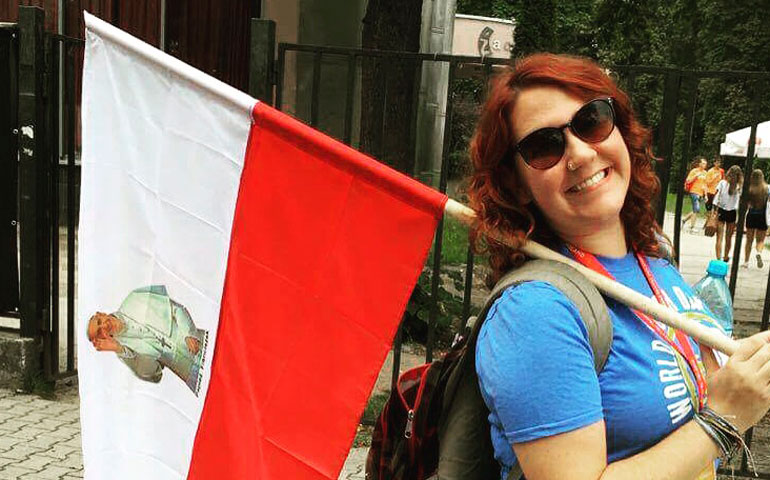 Kristen Whitney Daniels on assignment in Poland for NCR
After Kristen Whitney Daniels, our newest Bertelsen intern, completed her assignment covering World Youth Day in Poland for NCR, I sent her an email note thanking her for the excellent job she did. She replied saying how lucky she felt being able to do the assignment. Honestly, I don't know who was luckier, NCR or Daniels.
Daniels had applied for a Bertelsen internship at NCR in the spring. We ask all our intern candidates to write a story for us as a test. Her effort was printed in the Women Today special section of July 1-14. It featured the Tomorrow Project, a work-readiness training program for homeless women run by Catholic Charities of San Diego. After that story, we knew we wanted Daniels on our team.
Only after she was accepted for the position -- which usually begins in mid-August -- did we learn that Daniels had already scheduled a trip to Poland for World Youth Day with her home diocese of Bridgeport, Conn. We jumped on the opportunity and started Daniels' internship in July. How could we pass up the chance for an embedded reporter on the ground in Poland?
You can read some of her work here and at NCRonline.org/feature-series/world-youth-day-2016.
Daniels was born and raised in Shelton, Conn. In 2013, she graduated from Quinnipiac University with a bachelor's degree in psychology and minor in political science.
While at Quinnipiac, she received the university's Presidential Public Service Fellowship and worked for the town of Hamden's Economic and Community Development staff, assisting with social media, press releases and features on small, community businesses. She continued to work with the Economic and Community Development team until 2015.
During college, she enjoyed spending her time as a youth minister for her parish's high school youth group and as a leader in Quinnipiac's Catholic campus ministry.
Right after graduation, she completed her lifelong dream of living in California by volunteering during the inaugural year of the St. Joseph Worker volunteer program in Los Angeles. In the program, which is sponsored by the Sisters of St. Joseph, she served at St. Joseph Center in their food pantry for low-income individuals and in senior homeless services. As part of her St. Joseph Worker community's volunteer project, she raised awareness and money for clean water initiatives, culminating in running in a Los Angeles charity half-marathon.
Following her service year, Daniels continued her work at St. Joseph Center as a case manager for homeless seniors. Now, she tells me, she's ready for a new adventure.
"I'm excited for the opportunity to be a part of the National Catholic Reporter team," she told me in that email from Poland. "I'm thrilled to have the chance to write about the Catholic church and topics that matter to both me and NCR readers alike."
"I'm looking forward to learning how to take my unique experience with social justice issues and use writing as a vehicle to shed more light to them," she said.
It seems like Daniels has taken Francis' advice to the World Youth Day pilgrims: She has laced up her boots and jumped off the bench. Kristen, we're looking forward to having you on the team.
*******
This gives me a chance to mention that we are currently reviewing applications for our next Bertelsen intern, whose appointment will begin in January 2017 and run until the end of June, with the option of extending until December 2017.
We are looking for recent college graduates interested in learning journalism from the ground up. Because of the generosity of NCR board president Tom Bertelsen, the internship is an endowed position, so we can provide interns with a monthly stipend and housing allowance.
I can promise you that Bertelsen interns aren't stuck at the copy machine or making coffee (though I do encourage them to wash the editor's car from time to time!). I also can't promise all interns a trip to Poland, but I can guarantee that you will be part of our full-time staff.
Learn more about this opportunity at NCRonline.org/internship.
A version of this story appeared in the Aug 12-25, 2016 print issue under the headline: Lace up your boots.