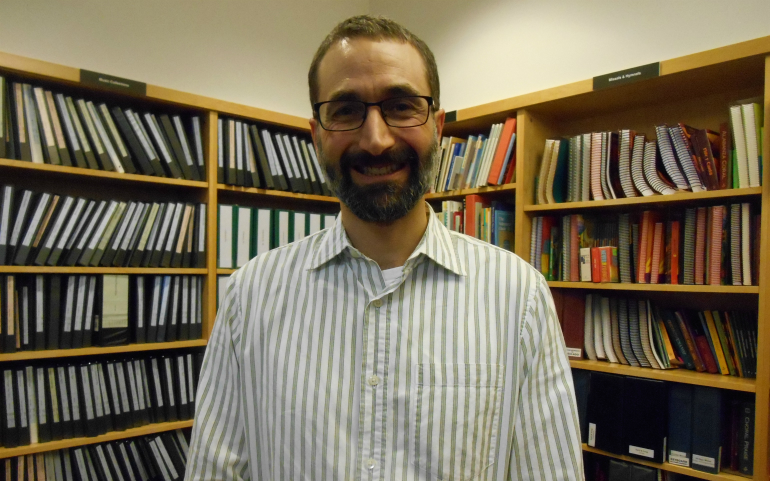 Wade Wisler is acting director of music development and outreach for Oregon Catholic Press. (Mercedes Gallese)
Portland, Ore. — November 10, 2016
Based at a former steel ship casting factory here, in a city known more for its ecological awareness and hipness than for organized religion, Oregon Catholic Press (OCP) sends out its church music across the country.
If you are a Catholic Mass-goer, it's likely you know some of the hits spawned here. For example, if you ever hummed or sang along to "Be Not Afraid" or "On Eagle's Wings" at your local parish, you can credit OCP. An estimated two-thirds of Catholic parishes in the U.S. use OCP materials, whether via the Breaking Bread missal and songbook or their Spanish-language hymnals, with music and lyrics composed for Latino audiences as well as those translated from English originals.
Wade Wisler, acting director of music development and outreach, told NCR during an interview Oct. 7 that the mission of OCP, a non-profit associated with the Portland archdiocese, is to serve the church's needs.
"We are not driving those needs," said Wisler, well aware that in the Catholic liturgy wars, music is a battleground frequently pitting traditionalists against contemporary songsters. Oregon Catholic Press is a decided noncombatant in those wars, feeding all sides.
With the mission of serving the church, OCP tries to reflect the diversity of musical styles used at Sunday Mass. The result is a varied collection, from antiphons done in a Gregorian chant style to contemporary hymns from composers such as Dan Schutte, Bob Hurd, and Bernadette Farrell. Wisler noted, however, that to say that most church music is "contemporary" is something of a misnomer, since it reflects songs and a style that was honed more than a generation ago.
OCP is the largest distributor of Catholic music for Americans. But it's a cooperative business, said Wisler, noting that other large large church music publishers, such as Chicago-based GIA, sometimes legally share composers and song titles for their books.
Catholic music producers face what is both a declining and expanding market.
As churches, especially in the Northeast and Midwest, are closed and consolidated, there are fewer markets available. Yet there is a demand that OCP is reaching as the Catholic church becomes increasingly more ethnically diverse.
Its Flor y Canto collection is the most widely-used selection of Spanish-language hymns for the growing Latino presence in the Church. A few of those hymns, such as "Pescador de los Hombres" ("fisher of people," known in English as "Lord, You Have Come"), have crossed over to English liturgies as well.
OCP also publishes hymnals for Vietnamese Catholics and music for Filipino Catholics, as well as African American Catholics. Much of that work is produced by OCP with the knowledge that it will likely never deliver profits yet fills a need for the church.
The company receives hundreds of submissions for new compositions every month. A relative handful make the grade. Still they are listened to, in office cubicles by OCP staff. For a music office, on this Friday afternoon the building is quiet (music is mostly heard filtered via headphones).
"It's not easy to hit the sweet spot, even for a seasoned professional," said Wisler, as he shows visitors through the massive offices, which include a large warehouse for shipping. That rare spot is reached with lyrics that connect to the Scripture readings and with a tune that can be sung by congregations.
There are 850 tunes in OCP's Breaking Bread. A typical parish might use a quarter of those. Another might use an entirely different set but still will only use a few hundred at most in any given year. For Wisler, that is an indication of how diverse Catholic music has become.
Oregon Catholic Press began in the 1920s and was originally named the Catholic Truth Society of Oregon. At the time, it specialized in pamphlets and a weekly radio program on Catholicism, which faced persecution, particularly with the emergence of the Ku Klux Klan in the Pacific Northwest. Its most popular seller was the My Sunday Missal.
In the post-Vatican II era, the company began marketing missals and hymnals for the new English-language Mass. By 1980, the name had been changed to Oregon Catholic Press, and it is still the publisher of the Catholic Sentinel, the Portland archdiocese's newspaper.
Today, OCP administers more than 20,000 music copyrights and more than 3,000 octavos/sheet music of completed scores for choral use. It also sponsors liturgical music conferences around the country and employs about 150 people.
OCP's president of the board of directors is Portland Archbishop Alexander K. Sample. Much of the profits from the company are given to the archdiocese. Sample came to Portland from Marquette, Mich., in 2013.
In Marquette, Sample became known for steering liturgical music towards a focus on antiphonal singing and chant. His successor in Marquette, Bishop John F. Doerfler, issued a follow-up statement calling upon parishes there to sing in antiphonal and chant style, with a promise that the diocese would issue its own hymnal within a few years.
For those who follow church liturgical music discussions, Sample's move to Portland was seen in some circles as a way to direct OCP's music towards a more traditional focus on chant and antiphonal singing. (Sample declined to be interviewed by NCR).
According to Wisler, the music debate in Catholic circles is a non-starter. He sees room for all kinds of liturgical music, from contemporary to chanting and varied ethnic expressions. That is the philosophy of OCP, he said, which has not wavered in recent years.
While the Catholic blogosphere may be filled with heated arguments about the merits of contemporary liturgical music versus traditional chant, Wisler said both can be done well or badly.
"So much depends upon the execution of the musicians in the parish," he said. Some parishes don't have the skilled leadership to do chant. Others, such as St. Mary's Cathedral Parish in Portland, under the leadership of music director Angela Westhoff-Johnson, who is also employed by OCP,* are equipped to do what can be relatively complex choral pieces.
At St. Mary's, said Wisler, "They have singers who perform at the Portland Opera. They can pull off anything. But the average parish doesn't have that."
Whether it's contemporary, traditional or ethnic music, Wisler said the goal is to encourage congregational singing. Differing musical styles can devolve into performances in which the congregation becomes a passive spectator, not an active prayer, a violation of the spirit of Vatican II.
"There is a place for all kinds of music," says Wisler. "We have to allow for a diversity of worship styles in the church."
[Peter Feuerherd is a correspondent for NCR's Field Hospital series on parish life and a professor of journalism at St. John's University, New York.]
We can send you an email alert every time The Field Hospital is posted. Go to this page and follow directions: Email alert sign-up.
*This article has been corrected to state that Angela Westhoff-Johnson is an employee of Oregan Catholic Press.