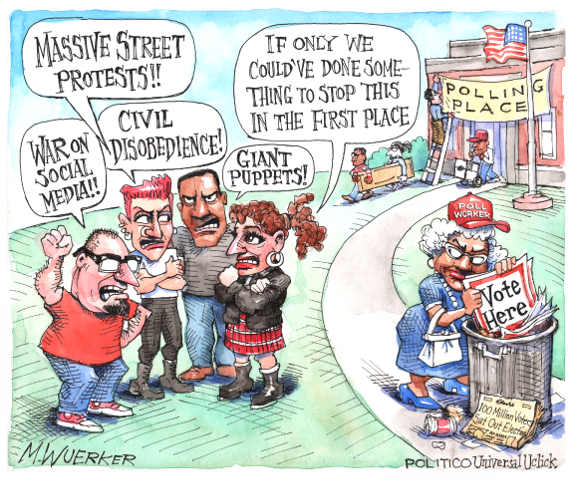 Today is Funny Friday! An editorial cartoon for your enjoyment, every Friday.
Haitians head to the polls Sunday: Of Haiti's 27 presidential contenders, six have the best shot at the seat
Ask Haitians about lingering problems of poverty and hunger, and talk inevitably returns to poor political leaders. In Haiti, poverty is the problem, chronic hunger the result
Detroit -- Approximately 400 participants will convene on Friday for the archdiocese's first synod in almost 50 years, which will focus on evangelization, transformation and innovation. Detroit synod aims to change archdiocese's 'DNA'
Vatican City -- The Catholic church gets a batch of new cardinals this weekend. Francis has searched for new faces and in new places, which is why David Gibson calls Pope Francis the ultimate recruiter
Vatican City -- Papua New Guinea's first ever Cardinal, Sir John Ribat, is preparing to receive the red hat from Pope Francis with the humbleness and simplicity that befit truly special people, reports Vatican Radio.
From the press box, Fr. Tom Reese observed the U.S. bishops meeting in Baltimore this week. His assessment: Bishops' meeting was boring, with flashes of inspiration
Lima, Peru -- The Asia-Pacific Economic Cooperation summit convening here has the unofficial theme: Goodbye Obama, hello uncertainty
Lima, Peru -- US-China contest set to liven up APEC stage The 21 nations gather here represent 50 percent of global trade and China wants to burnish its leadership credentials.
Lima, Peru -- Report: Obama, Putin may meet to discuss Syria while in Peru
Lima, Peru -- While China and Trump loom over APEC summit, many of the foreign media attending are eager to meet Philippine President Rodrigo Duterte. They wonder what controversial thing he will say.
Family, dioceses feuding over the final resting place for TV Bishop Fulton Sheen: Judge rules bishop's remains should be removed from a crypt in St. Patrick's Cathedral, New York, and sent to St. Mary's Cathedral in Peoria, Ill. "I think he would be very happy," said Sheen's 89-year-old niece, Yonkers resident Joan Sheen Cunningham.
The Vatican diplomat Archbishop Silvano Tomasi said the election of Archbishop José​ Gómez as vice president of the U.S. bishop's conference will serve as a great resource on immigration, especially in wake of the presidential election of Donald Trump -– known for his "fiery" comments on the issue.
Faith groups target California assisted suicide law Megachurch Pastor Rick Warren and Auxiliary Bishop Robert Barron of Los Angeles take center stage for the cause today.
Q & A with Sr. Virginia Longcope, providing supportive transitional living for former prisoners
---
Start your day inspired with daily scripture reflections. Join NCR's sister publication, Celebration, for Daily Bread, a series of short reflections written by four authors who meet regularly to share the readings.
Or reflect on
Pencil Preaching by Pat Marrin. Every morning Pat Marrin breaks open the Word with a pencil sketch and a short meditation.
---