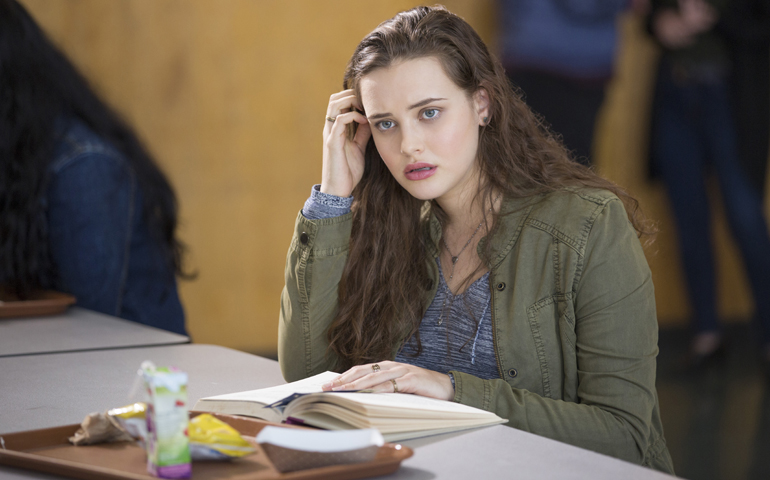 Katherine Langford in the Netflix series "13 Reasons Why" (Beth Dubber/Netflix)
This morning a friend, a father of a family, posted on social media that mean kids and adults suck. We had a conversation on Messenger where he explained that his child, a preteen, was late for school because she couldn't stop sobbing. Yesterday the child's friends, the ones she thought were closest, did something really embarrassing to her. The dad said that it is a heartbreaking situation for his child, and for his wife and him.
Sound familiar? Perhaps we all went through something like this when we were young. I remember sobbing to my parents when I was invited to an event by friends and then ignored by them. It was mean and terrible. I was 12. I also remember, and must confess, that when I was in sixth grade I said something about a girl in our grade that was true but personal and private. When she confronted me, and that took guts, I cried, but I played the victim. I still regret what I did. It was a mean and terrible thing for me to do that to this girl.
Sound familiar?
The new series on Netflix, "13 Reasons Why" is a 13-part dramatic series based on the 2007 young adult — teen — novel by Jay Asher, and adapted for Netflix by Brian Yorkey. It opens with Clay (Dylan Minnette) coming home from school to find a mysterious package. It contains seven cassette tapes recorded by Hannah Baker (Katherine Langford) before she takes her own life. One by one she goes through the people in her universe that she believes contributed to her decision to end it all. Clay and Hannah had been friends, but as her parents Olivia (Kate Walsh) and Andy (Brian d'Arcy James) talk to kids, most deny they were her friends, even Clay. At first.
Hannah's tapes weave an intricate web of bullying, sexual assault, rumors, secrets and tone-deaf adults, some loving and caring, with her in the middle.
I was riveted by the series from the very beginning. Yet, I could not watch more than two episodes at once. Each episode played with hope, then the dark cloud hanging over what I knew Hannah had already done, became too much. The producers have managed to make the audience feel something that Hannah felt. We can stop watching, but for the teen Hannah, it became too much.
She was not the only victim in this story, and she admits there are things she could have done but didn't. But when she weighed it all, she ended it all.
Toward the end Hannah does tell Mr. Porter (Derek Luke), an unprepared school counselor, that she thinks about killing herself. He basically tells her to move on after something happens for which she is unwilling to press charges.
In "13 Reasons Why: Beyond the Reasons" an interview piece that is listed on Netflix right beside the series, executive producer and pop singer Selena Gomez, author Jay Asher, executive producers Brian Yorkey and Mandy Teefey, mental health care professionals — and the actors — talk about the show and why they decided to participate. Gomez, who took a year off from performing to address her own mental health issues, says they wanted to do something "honest that can hopefully help people because suicide should never, ever be an option." Another executive producer who also directed two episodes, Tom McCarthy, (writer of "Spotlight," "The Visitor," and "The Station Agent") says that when storytellers have the opportunity to tell a story that is "about something," you take it seriously and hope the discussion will begin and continue.
A help website has been set up as a resource: http://13ReasonsWhy.info.
When any young person expresses the desire to commit suicide, take it seriously. Do something. Call a help line. Seek professional help. Don't leave your child alone, physically or emotionally.
The series began airing on March 31, and in the last couple of days school districts across the country have sent home letters warning parents about the series; a friend on Facebook called it a manual for suicide. The media rating board in New Zealand had mandated that any child under 17 must watch this series with an adult. I am not sure how you can legislate or police what kids watch in New Zealand or anywhere else. Devices to watch programming across platforms are ubiquitous. But I do know that saying "no" is not helpful without providing a solid motivation for not watching.
This series has the potential to save lives because it informs and moves the viewer to the depths of the soul and do something positive.
This series is raw, powerful, and tragic but not without hope.
Another person I know was furious at Netflix for producing such a series. I wonder, why are you angry? I don't think it's anger — it's fear. People are fearful that by merely speaking about teen suicide they will cause their child to go through with something like this. Although a causal relationship between what kids see and what they do has never been established, we do know that the media we consume can influence us, for good and for ill.
This situation of being fearful of what a television series and information can do cuts close to home for me. In 2005 my nephew Gabriel, at the age of 13, died as a result of engaging in "the choking game." It is not a game but a dangerous activity kids do to themselves or others to get high without using drugs. My sister Sarah and Gabriel's twin Sam, appeared on the talk show "Dr. Phil" to talk about the aftermath. My sister has since become an advocate for education in schools about "the choking game," but mostly schools don't want to address it because they think it will teach kids how to do it and the situation will just get worse.
"It's ignorance that kills; it's lack of awareness and lifesaving information," my sister told me on the phone this morning. "Not talking about it is not going to make it go away. It's always going to be there." Then she said, "I knew about this game but I never thought it would be my kids who would play it." Click here to see the flash video at Games Adolescents Shouldn't Play, or G.A.S.P., that contains the 911 call Sam made when they found Gabriel on the floor that terrible night. (As a note, a couple of weeks ago Dr. Phil aired a show with follow-ups to how past guests are doing now; Sarah and Sam are both doing well, thank God.)
I recommend that parents, clergy, teachers watch this series and the 2011 documentary "Bully" as well; as adults we cannot always imagine what kids go through. We need empathy for our children.
What to do then? Watch "13 Reasons Why" together and talk about it. Assume your child has already seen it. Shed light on issues — don't pretend they don't exist. Keep talking. Remember what it was like when you were young and walk in your children's shoes.
This will be more challenging for parents who don't already have a "talking" relationship about movies and television and video games with their kids. Not having a talking relationship is a good argument for making these conversations natural and normal from the time children are very, very young. This is a parenting issue and why one lay pastoral worker in the Archdiocese of New York told me twenty years ago that "parenting is the greatest pastoral need in the church today." Kids have to know they can trust someone to hear them and not be told to just "move on."
Should your kids watch "13 Reasons Why"? I don't know. But I can say this, they already are.
[Sr. Rose Pacatte, a member of the Daughters of St. Paul, is the director of the Pauline Center for Media Studies in Los Angeles.]