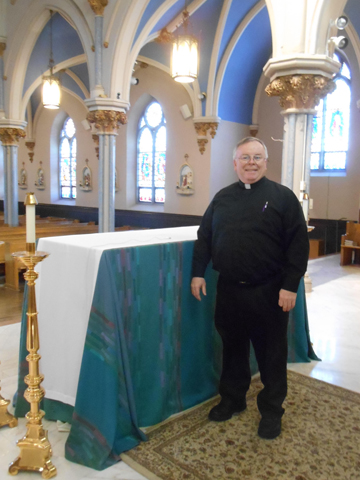 Fr. James J. Grogan
Ever since October of last year, when we began soliciting stories about parishes, especially those with thriving ministries to the poor and marginalized in the spirit of Pope Francis' famous metaphor that the church should bind the wounds of the injured, we have been inundated with upbeat, positive stories.
We've been more than happy to report on those.
We've also encountered scores of other story suggestions: namely, complaints about newly-ordained pastors, in particular, who come with an agenda seemingly turning back the clock on practices that have been well established in typical post-Vatican II parishes. This especially is evident in the liturgical realm, as the newly-ordained frequently suggest chant over contemporary hymns, and curtail lay Eucharistic ministers and the role of women and girls serving as altar servers. Some parishioners complain about an overemphasis on sexual morality issues emanating from the pulpit.
This widely-commented upon generation gap among pastors, with older clergy, ironically, frequently viewed as more liberal while younger clergy viewed as traditionalist, regularly impacts on parish life.
We wanted to find out about these newly-ordained priests (many of whom, by the way, do not embrace what's been called a quiet "restorationist" movement among younger clergy). Nurtured in a seminary system inspired by Pope John Paul II and Pope Benedict, how are these priests responding to the Age of Francis? We will be running occasional interviews exploring this theme.
---
Fr. James J. Grogan is running late for a morning appointment, and when he gets to the rectory he is profusely apologetic and ready with an explanation.
"Not every newly-ordained priest has to help his son change a tire," he says.
But so it is with Grogan, ordained in 2015 for the Diocese of Trenton and now the associate at Our Lady of Good Counsel Church in Moorestown, N.J.
At 59, his journey is unusual for a newly-ordained priest.
Married for 25 years, he and his late wife, Ellie, lived in the parish where he now serves and they raised three sons, who are now 23, 25 and 26. Ellie died in 2007 from cancer.
Ordained a deacon in 2004, Grogan earned a master's degree in theology at La Salle University in Philadelphia. Because of his background, he was able to move towards priestly ordination with only a year in seminary.
Previously, he was an executive for a firm specializing in crisis management and disaster recovery. When he told his bosses he was leaving to pursue priesthood training, they were flummoxed, knowing that a counter offer wouldn't be persuasive.
At the parish in Moorestown -- an older, affluent community located outside Camden and Philadelphia, said to be a real-life model for the village charms in Thornton Wilder's "Our Town" play -- Grogan experiences a range of emotions in his priesthood. It is a parish with 5,300 families and more than 16,000 people. The sheer numbers fill the church with worshipers for Sunday Mass, but Grogan knows, despite that, there are many who remain outside the walls of the church by choice.
For those part of Catholic life in Moorestown, Grogan has found himself deeply involved in their lives in his short time as a priest.
"I get invited by people into the most sacred and most joyful moments, when a child is born and when a child is dying," he says. "You are the only person in the room who is not family."
He brings his own experience of family into those settings.
"The whole of my life includes being a widower and being a father. I hope it makes me a better priest. And I hope being a priest makes me a better father," he says.
In a busy parish, Grogan says the regular swirl of activities distances him from the personal issues of loneliness that sometimes plague the celibate priesthood.
"I'm meeting 25 people a day," he says. "It is never lonely."
He's found the pace of work varies. Sometimes, it is slow, simply celebrating a daily Mass. Other times it is hectic, with the midnight calls of a family in crisis.
Nothing stops him from sick calls, he says. The parish has six nursing homes within its boundaries. Grogan studied the theology of hospice at La Salle, an experience that grew out of the long struggles he experienced with his wife's illness and death.
His father died at the age of 92, 11 days after Grogan's ordination. He was the first recipient of the sacrament of the sick performed by the new priest. "What a grace that was. It shapes how I do that," he says.
Grogan recalls that his decision to pursue priesthood caused him some anxiety, particularly when he thought of the impact on his sons. They had already lost their mother; would they be concerned about losing the father they knew to his vocation, and the changes it would necessitate for Grogan's role as a future grandfather?
His youngest came up with an answer in the middle of a long family car ride: "When the time comes, we'll figure it out," he said.
So new family traditions are gradually emerging, such as Christmas Eve at their father's Mass, followed by dinner with the family.
The nature of his parish life, says Grogan, removes him from clericalist temptations to lord it over his parishioners. They know him as the suburban dad around the neighborhood. His sons still call out, "Hey Pops."
"I can be in jeans and they know I'm Father Jim," he says. "The attire is not the thing. I'm comfortable with the people. The collar does not make me more of a priest. It identifies me as a priest, and that can be important at times."
He's aware of the ongoing struggle at times to integrate Vatican II into church life. Yet he says there is a long gap of time between today and the 1960s council's document on the church in the Modern World.
"The world we live in in 2016 is a different modern world," he says, noting the impact of social media and other technology.
Pope Francis' example provides an opportunity to promote evangelization, he says, a responsibility he feels as a newly-ordained, if not quite young, priest.
"I've got to give a homily that has substance and meat. I have to give people a welcoming environment. That's the Pope Francis Church. We have an opportunity to catch his enthusiasm," he says.
He takes advice from his sons. One suggested that the church should view itself -- especially on Christmas and Easter, days that attract people who don't come the rest of the year -- as a kind of college open house, ready to promote what it offers to the fallen away.
Grogan thinks it's not a bad idea, something he may incorporate into his ministry in the future, perhaps when he becomes a pastor.
For now, he says, life as an associate pastor has its charms. "I'm loving every minute of it. I'm having fun," he says.
[Peter Feuerherd is a professor of communications and journalism at St. John's University in New York and contributor to NCR's Field Hospital blog.]
Editor's note: "The Field Hospital" blog series covers life in U.S. and Canadian Catholic parishes. The title comes from Pope Francis' words: "I see the church as a field hospital after battle. It is useless to ask a seriously injured person if he has high cholesterol and about the level of his blood sugars! You have to heal his wounds. Then we can talk about everything else. …"
If you have a story suggestion, send it to Dan Morris-Young (dmyoung@ncronline.org) or Peter Feuerherd (pfeuerherd@ncronline.org).