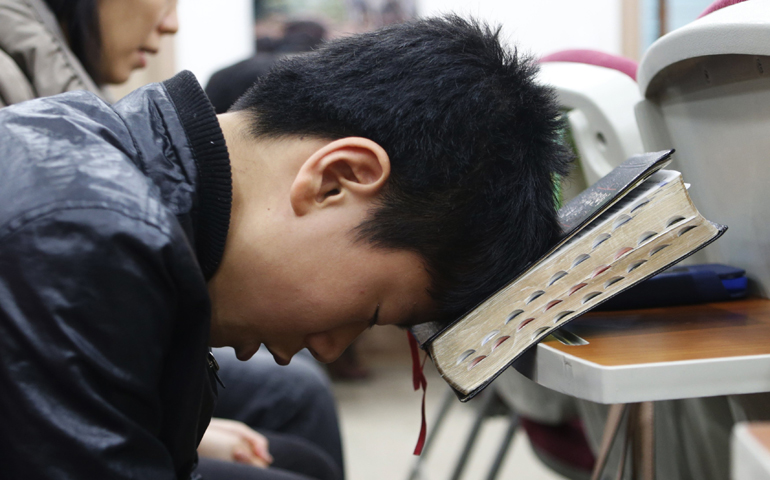 North Korean defectors living in Seoul, South Korea, pray for peace and reunification of the divided Korean Peninsula during an April 7, 2013, church service in Seoul. (CNS/Reuters/Lee Jae-Won)
North Korea has declined an invitation by South Korean Catholics to participate in a Mass to be celebrated by Pope Francis at the end of his five-day visit.
Francis is scheduled to celebrate a Mass for peace and reconciliation Aug. 18 on the Korean Peninsula at Myeong-dong Cathedral in central Seoul. Catholic church officials in Seoul extended several requests to Pyongyang to send a delegation of believers to attend the event.
According to several South Korean church officials, North Korea declined, saying they "found it regrettable" that the South had requested its attendance at a Mass praying for peace on the Korean Peninsula at a time of continued tension between the two nations, most recently stemming from recent joint U.S. and South Korean military exercises.
The North Koreans also cited sanctions imposed on North Korea by Seoul in 2010. Those sanctions halted most inter-Korean commercial ventures.
Those sanctions, in turn, were put in place after it was found a South Korean warship had been sunk by a North Korean torpedo. The incident killed 46 sailors.
According to Agence France-Presse, the North Korean Catholics Association expressed in a letter to the South Korean Catholic Bishops' Conference it would be difficult to accept an invitation to the Mass, as it would coincide with the launch of an annual military drill held jointly by Seoul and Washington.
Meanwhile, the preparatory committee for the papal visit said Wednesday that Pope Francis will meet with families of the victims of the April 16 Sewol ferry tragedy.
He is also expected to wear a hanbok, a traditional Korean garment, at a beatification ceremony of 124 Korean martyrs on Aug. 16 in Gwanghwamun, central Seoul. The 77-year-old bishop of Rome is visiting Korea on his first trip to Asia since he took over the papacy in March 2013.