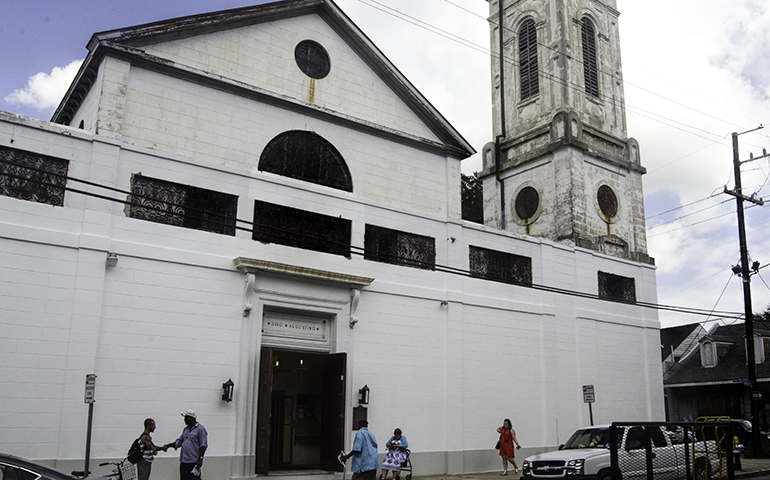 St. Augustine Church in New Orleans (Dennis Persica)
New Orleans — September 29, 2016
St. Augustine Church in New Orleans is showing its age.
Stained-glass windows depict saints whose names are probably unfamiliar to modern American Catholics: Radegunde, Clothilde, Hilaire, Rémi. Windows picturing better-known saints use the French versions of their names: "Saint Michel" for St. Michael, "Sainte Jeanne d'Arc" for St. Joan.
But more modern features also are evident. There are a piano and a drum set behind the altar rail, microphones and a sound system. There's likely to be a short saxophone break when churchgoers sing "The Lord's Prayer."
On Oct. 2, this small church in the city's Tremé neighborhood will celebrate its 175th birthday. But St. Augustine is not just an old church; it's the oldest Catholic parish created by and for African-Americans.
St. Augustine has been a lot of things in its life span, due to the complicated ethnic history of this city, founded and ruled by the French until it was ceded to Spain, then given back to France in time for Napoleon to sell the massive Louisiana Territory to the United States.
After the parish was formed in 1841, attendance was roughly one-third white, one-third free people of color, and one-third slaves. By the early 20th century, the church was the spiritual home of Italian immigrants who came to New Orleans in huge numbers at the end of the 1800s.
In the 1950s, St. Augustine was considered a white parish, not one of the designated black parishes in segregated New Orleans. Black Catholics could attend white churches, but they faced restrictions.
At that time, African-Americans were confined to three pews at the back of St. Augustine, said Lucille Benjamin, the church's oldest living member. She's lived in the same Tremé house, within walking distance of St. Augustine, her entire life -- 95 years.
"You had to go early to get them," Benjamin said of the designated pews. "If you didn't get them, you had to stand up."
When it was time to receive the Eucharist, she said, "You had to wait until white people got Communion, and then the black folks got Communion."
That seating practice contrasts with the earliest days of St. Augustine, when free people of color competed with white parishioners to see who could reserve the most pews, while slaves sat in side-facing seats along the walls. The church still has sections of side-facing pews, a remembrance of that time.
Though France had sold Louisiana nearly four decades before St. Augustine came into existence, the parish probably would never have been born had it not been for the earlier presence of the French.
While there were free blacks all over the slaveholding South before the Civil War, the free people of color in New Orleans were unique. Many were the offspring of French and black parents; some came from French colonial holdings in the Caribbean. They had French names, and some had been educated in Europe. Most importantly, they were Catholic.
Black Creoles, as they are generally known, existed as a group separate from whites and from enslaved blacks. But as Louisiana moved further from French ways and became more American, Creoles found their status changing. After the Civil War, when the last federal troops were gone and Reconstruction essentially over, blacks -- whether slave or free before the conflict -- became victims of the brutal Jim Crow system of segregation.
Even Catholic schools were segregated until 1962. Then, with both public and parochial schools integrating, whites started fleeing the city.
"They started moving out and the black people moved in," Benjamin said. St. Augustine became a predominantly black parish again.
Civil rights
Through its members, St. Augustine even played a role in the civil rights struggle.
Parishioner Homer Plessy, who was one-eighth black and thus considered black under state law, made the consequential decision to board a train at a depot about 15 blocks from the church. His presence in a railcar for white passengers sparked the legal fight that culminated in the Supreme Court's Plessy vs. Ferguson decision in 1896. Plessy's loss enshrined the "separate but equal" principle for the treatment of whites and blacks for the next half-century.
Another parishioner, A.P. Tureaud Sr., born nearly three years after the Plessy ruling, went on to become a leader in the civil rights movement, working with future Supreme Court Justice Thurgood Marshall challenging segregation in the South.
Tureaud and Plessy are part of a lineage of New Orleans Catholics of color who devoted themselves to the service of African-Americans. Best-known among them was Henriette Delille, whose portrait graces St. Augustine's sanctuary. A free woman of color born in 1813, Delille devoted her life to serving the needy, instructing both free and enslaved black people.
At St. Augustine, she founded the Sisters of the Holy Family, an order of black nuns that still exists today. She was declared venerable in 2010, putting her one step closer to becoming the first African-American saint.
In 2005, Hurricane Katrina changed the nature of New Orleans and its archdiocese. Its effect on St. Augustine was immense.
The church suffered wind damage but was not flooded. Its pastor at the time, Verbite Fr. Jerome LeDoux, stayed at the church in the days after the storm, despite having no electricity. His presence was a beacon to others in the neighborhood, Catholic or not, who would come to him for counsel and help.
Many of the city's black residents who left were slow to return after the storm. Some did not come back at all, crimping attendance and collections at St. Augustine and other New Orleans parishes.
Months after Katrina struck, the archdiocese announced that because of its decline, St. Augustine would be closed as a parish and merged with St. Peter Claver, a historically black church about seven blocks away. That decision prompted protests, and a Mass to be celebrated at St. Augustine to mark the change descended into chaos.
"They were holding up signs, they were holding up everything," said Gerald Stone, Benjamin's son.
"There was so much confusion that Fr. Michael just left," he said, referring to Fr. Michael Jacques, St. Peter Claver's white pastor.
Particularly galling for St. Augustine supporters was the presence of armed off-duty police officers accompanying Jacques and other archidocesan officials into the church.
Eventually, the protests and the national and international attention paid off, and St. Augustine was restored as a parish. LeDoux — who recounted his experiences in a book, War of the Pews: A Personal Account of St. Augustine Church in New Orleans — was replaced, however.
On the tourist map
Today, old St. Augustine, which has contributed artifacts to the Smithsonian's new National Museum of African American History and Culture, is facing more change.
The church, which can seat about 600, attracts around 200 on an average Sunday, church secretary Linda Harris said, though semiannual jazz Masses fill the building.
It has about 260 subscribed members. Harris and the pastor, Oblate Fr. Emmanuel Mulenga, think the membership is about equal racially.
"It's hard to even think in terms of whites and blacks because we don't really see that," Harris said.
Mulenga said St. Augustine is fortunate that its white members are as passionate as its black parishioners about preserving the church's African-American culture.
Sunday attendance usually is slightly more white than black, partly because of the church's attraction to tourists. It's not uncommon to see an Uber driver dropping off people for Mass. Others walk from the French Quarter and from bed-and-breakfast bookings in Tremé itself.
The church works with the tourism industry, a major employer in New Orleans, to draw attention. That helps "put us on the map as far as visitors are concerned," said Mulenga, who was born in Zambia and is on his first parish assignment in America.
But the neighborhood surrounding St. Augustine is evolving.
"The complexion of Tremé has changed," said Harris, who has lived a block from the church for 30 years. "Culturally, it's different. You sort of get a different vibe."
Tremé is facing the pernicious effects of gentrification, an issue not only in other parts of New Orleans, but in other American cities too.
"White folks are buying all the property," Stone said. The house he had rented for 19 years was sold and he had to find a new place to live at a time when housing was scarce because so many homes had been damaged in the hurricane.
He said his old home is on the market again now for $840,000, a price that would have been unthinkable for that area a decade ago.
"You're talking about a community that has shrunk in many ways," Mulenga said. "We have people who still maintain a membership but they are not living anywhere close to where we are. They make it a committment to show up whenever they can, maybe once a month. They keep the connection, but due to circumstances in life, have moved to another area."
Meanwhile, Benjamin remembers the days of a vibrant parish life.
"We used to have good times over there because they always had some kind of entertainment," she said. "They'd have suppers; they'd have bingo, summer dances at night.
"It was nice. Everybody was nice."
[Dennis Persica is a former reporter and editor for The Times-Picayune newspaper. From 2012 until 2015, he wrote a weekly column for The New Orleans Advocate newspaper and still occasionally reports for that daily paper.]
A version of this story appeared in the Oct. 7-20, 2016 print issue under the headline: Black history runs deep at St. Augustine.