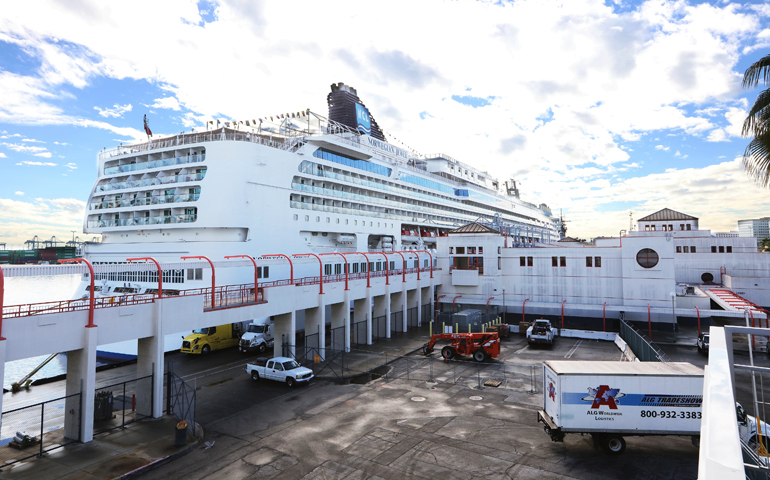 A cruise ship at Port of Los Angeles is seen Dec. 30, 2016, just outside the Stella Maris Chapel and Hospitality Center in Los Angeles. (CNS/Victor Aleman, Angelus News)
Scott Weeman shares his journey and insights into recovery from alcohol and drug addiction on the website for the organization he has founded, Catholic in Recovery and in a recent profile carried in The Southern Cross, newspaper of the San Diego diocese. Weeman is a much-requested speaker at parishes, youth gatherings, and diocesan events.
The 31-year-old newlywed credits much of his success to inspiration and friendships secured through St. Brigid Parish in the Pacific Beach neighborhood of San Diego where he remains a very active parishioner. The parish itself fields several ministries from homeless feeding programs and prison ministry to outreach to the homebound and nurturing a culture of life.
About a hundred navigational miles to the north lies Mary Star of the Sea Parish in San Pedro, a municipality that resists being called a Los Angeles "neighborhood." For more than 80 years, San Pedro parishioners have been the wellspring of ministry to the men and women of the maritime world who flow through the Port of Los Angeles. Linked with the church's ministry to the seagoing, the Apostleship of the Sea, much of their work is done in concert with the Stella Maris Chapel & Hospitality Center at the port's World Cruise Center, Berth 93.
"Arriving in port, seafarers and fishers often find themselves in unfamiliar surroundings, foreign language, foreign currency, and a different culture. What is familiar is the seafarers' center. A seafarer can come to a port knowing that there is a place where he will be welcomed and cared for -- a home away from home," states the Mary Star of the Sea website.
The parish describes itself as "perhaps the most ethnically diverse parish in the entire Archdiocese of Los Angeles," noting that mass is celebrated in English, Italian, Spanish and Croatian. "Star of the Sea" is a translation of an ancient Latin title for the Virgin Mary, Stella Maris.
The Apostleship of the Sea is also a partner in the International Christian Maritime Association, founded in 1969.
In late 2012, The XXIII World Congress of the Apostleship of the Sea was held at the Vatican.
A recent Catholic News Service story also reported on the challenges facing crews in the global fishing industry.
[Dan Morris-Young is NCR's West Coast correspondent. His email is dmyoung@ncronline.org.]
We can send you an email alert every time The Field Hospital is posted. Go to this page and follow directions: Email alert sign-up.