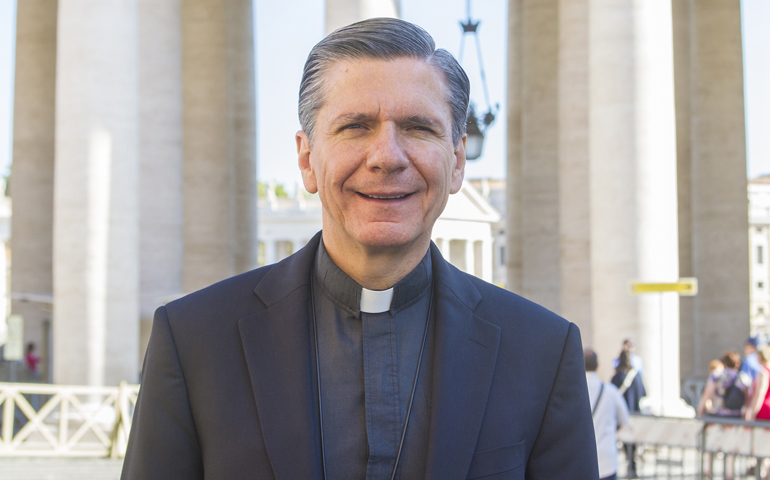 Archbishop Gustavo Garcia-Siller of San Antonio stands in St. Peter's Square Sept. 26, 2016, at the Vatican. (CNS/Robert Duncan)
A North Carolina woman feels drawn to the Catholic church after visiting the new Raleigh cathedral under construction. She is aching to be a Catholic, but finds that, being on a second marriage, is proving to be an obstacle. Particularly a problem is her atheist husband's first marriage. Can these knots be untied? What would Pope Francis say?
National Public Radio reports on the case of the San Antonio, Texas, pastor recently relieved of his duties by the archbishop. The future of his Anglican-tradition parish welcomed into the Roman Catholic archdiocese appears to be under question.
The voice of the Catholic church is heard in statehouses around the country.
Making the church in America great again. In our search for parish news, certain themes emerge. One seen across the country are struggling urban parishes finding new life thanks to emerging immigrant communities. This is about the Vietnamese of Burlington, Vt.
An unexpected impact: voucher programs for schools in Milwaukee lead to parishes staying open that might otherwise have closed. However, for some mysterious reason, parishes with voucher schools see a drop-off in donations.
A how-to guide for that Catholic wedding.
The Cincinnati archdiocese grapples with race.
This Pittsbrugh diocese pastor shepherds multiple parishes. A reporter followed him around to see how he does it.
[Peter Feuerherd is a correspondent for NCR's Field Hospital series on parish life and a professor of journalism at St. John's University, New York.]
We can send you an email alert every time The Field Hospital is posted. Go to this page and follow directions: Email alert sign-up.