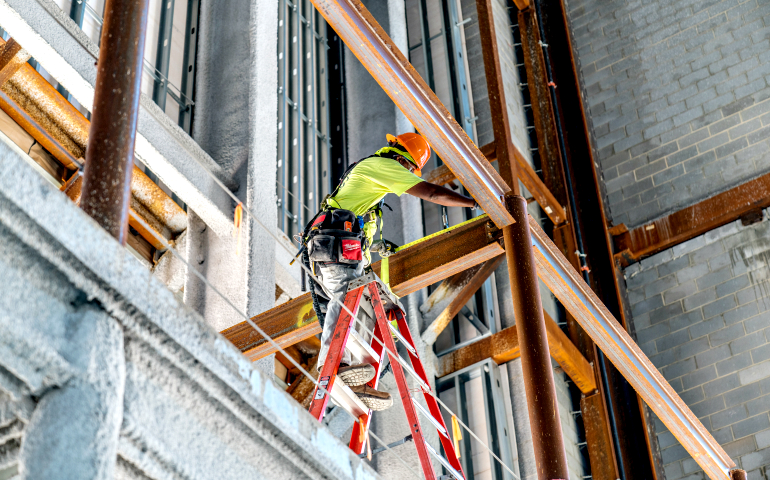 Construction progresses Sept. 21, 2016, on the new Holy Name of Jesus Cathedral in Raleigh, N.C., expected to be completed by the middle of 2017. (CNS/Courtesy of the Diocese of Raleigh)
Preparing for the unthinkable: A retired U.S. Secret Service agent, now an official of the diocese of Portland, Maine, directs how-to meetings on security for churches to respond to potential violent incidents at services.
Parishes throughout the United States serve as contact points for the annual March for Life in Washington, D.C., scheduled this year for Jan. 27. It remains the largest mass movement of Catholic parishioners coming together for a public demonstration. Could that Catholic energy get applied to other issues in the Trump era, such as immigration reform?
The City of Raleigh Museum in North Carolina is offering an exhibit on the impact of cathedrals. The Raleigh diocese is in the process of building a new cathedral, which is scheduled to open later this year. The windows for the new structure come from a closed church in the Philadelphia archdiocese.
The diocese of Albany, N.Y., hits a watermark: There are now more retired priests than active priests. However, many of the retired clergy continue to work and say Mass regularly. Ordinations have seen a slight uptick in the past few years, but the situation remains dire.
An event that never will go away: Parishioners in Newtown, Conn., grieve over the loss of their children in the infamous mass murder at Sandy Hook Elementary School in December 2012. St. Rose of Lima Church in Newtown has received more than a half million pieces of sympathy mail since the horrific event.
Leaders of the St. Vincent de Paul Society, active in direct service to the poor in many parishes, will be among those attending an international conference of Vincentian groups to be held in Philadelphia this month. Besides the St. Vincent de Paul Society, Vincentian groups include the Vincentian Fathers as well as the Daughters of Charity. The organizations have 400-year-old roots, started in France by St. Vincent de Paul and St. Louise de Marillac. The gathering is the first time the 14-member executive committee of the Vincentian Family will meet outside Europe.
Cultural diversity in the heartland is celebrated by the Indianapolis archdiocese.
[Peter Feuerherd is a correspondent for NCR's Field Hospital series on parish life and a professor of journalism at St. John's University, New York.]
We can send you an email alert every time The Field Hospital is posted. Go to this page and follow directions: Email alert sign-up.