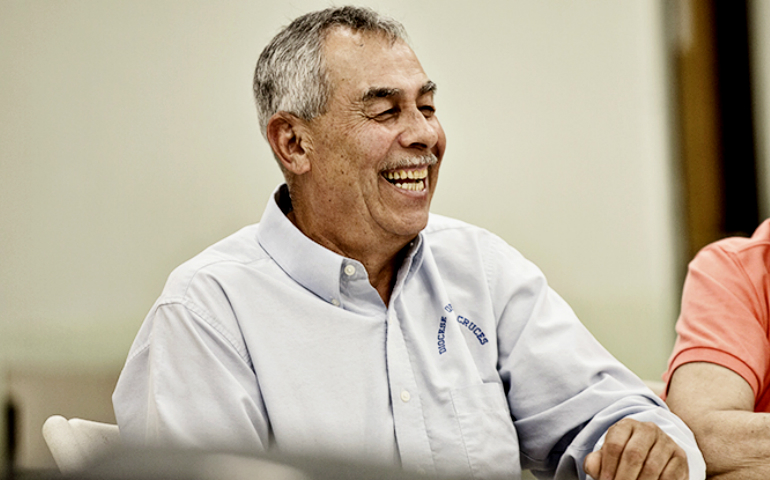 Deacon Jesus Herrera (Courtesy of Catholic Extension)
The varied and selfless ministry of Deacon Jesus Herrera of the diocese of Las Cruces, N.M., has resulted in the repair of many spiritual lives and marriages — and houses. A now-retired roofer, Herrera sought to be trained and ordained as a permanent deacon years ago, even when the diocese did not have a formal diaconal formation program. One area of special interest to the native of Mexico has been outreach to persons estranged from the church. Another has been hands-on help for persons needing home repair — either he himself doing the work and/or recruiting skilled help and materials. He is currently the administrator for mission parishes in Dexter, Hagerman and Lake Arthur. The father of three was a finalist for this year's Catholic Extension Lumen Christi Award.
Prayers for Daniel Wesley*, notably those led by his godmother and from members of the St. Alphonsus Ligouri Parish youth group in Greenwell Springs, La., have helped the 17-year-old forgive the man who reportedly shot him twice and hit him with a car in late November. Wesley drew national attention when he was severely injured attempting to aid a wounded woman on the roadside.
In nearby Baton Rouge: It means much to those in prison or jail to be able to send Christmas and holiday greetings to friends and family.
More than 300 attended a liturgy focused on solidarity with immigrants on Dec. 1 at Our Lady of Guadalupe Church in Colorado Springs. "The Catholic church is aware that the recent election campaign has generated consternation and fear among immigrants," Fr. Francisco Quezada, vicar for Hispanic ministry in the Colorado Springs diocese and pastor of St. Mark Parish in Highlands Ranch, said in his homily.
A "village" of parishioners from Holy Trinity Parish in Peachtree City, Ga., has sponsored a refugee family of 11 from Myanmar, addressing challenges from transportation, schooling and language to employment, housing and the American culture, reports The Georgia Bulletin. Among parishioners active in support of the multigenerational family is Milaim Hoti, a member of a family adopted 16 years ago by the parish from war-torn Kosovo. The current refugee family is of the Rohingya people, widely discriminated against in Myanmar. The Peachtree congregation also fields active food-sharing and prison ministries.
St. Ann Place, a ministry to the homeless and hungry, has grown from a food pantry, lunch program and van service sponsored by St. Ann Parish in West Palm Beach, Fla. During 2016, St. Ann Place "provided services to 762 different individuals and served more than 50,000 bag lunches with the help of (nearly 100) volunteers," reports Linda Reeves in the Florida Catholic.
St. Ann Place supporters include members of close-by Holy Name of Jesus Parish, such as Nellie Ortiz and Barbara Hamilton, mainstays of the parish prayer shawl ministry. About a half-dozen women meet on first and third Wednesdays of the month to knit and crochet items for the sick and in-need, including St. Ann clients.
[Dan Morris-Young is NCR's West Coast correspondent. His email is dmyoung@ncronline.org.]
We can send you an email alert every time The Field Hospital is posted. Go to this page and follow directions: Email alert sign-up.
*This blog was edited to remove an incorrect link.