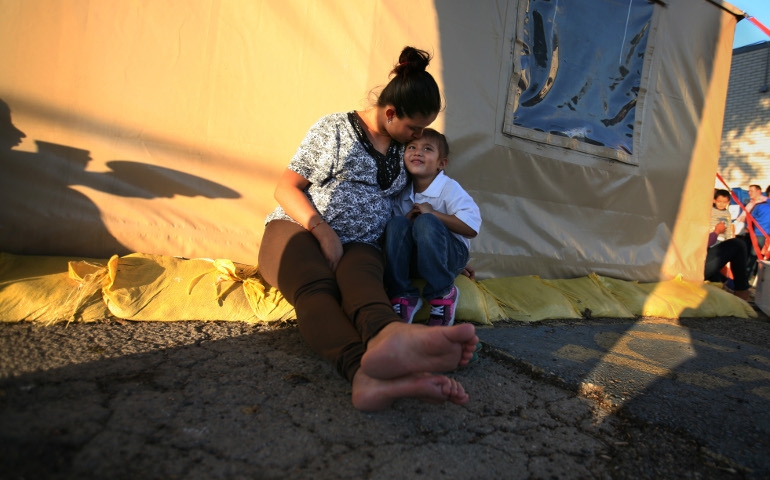 Yesenia Matilde Martinez of Guatemala kisses her daughter, Leslie Jasmin Martinez, 5, as they wait for a bus ride at the Humanitarian Respite Center on the U.S.-Mexico border in McAllen, Texas. They are among the thousands of families that have stayed at the center after crossing the border. Overseen by Catholic Charities of the Brownsville Diocese, a special facility will be built to house the center's work. (Nuri Vallbona)
Editor's note: The Field Hospital blog shares parish and other grassroots efforts across the U.S. and Canada to accompany those on the margins and in need. Pope Francis said he sees the church as a "field hospital" that labors "from the ground up" to "heal wounds."
Bishop Patrick McGrath of San Jose, California, issued an open letter to "Father/Sister/Brother" June 29 in reaction to "recent news reports of policies and practices related to members of the LGBT community in other dioceses." The San Jose diocese's "pastoral response … remains just that: compassionate and pastoral," he wrote. "We will not refuse sacraments or Christian Burial to anyone who requests them in good faith." Bishop Thomas Paprocki of the Diocese of Springfield, Illinois, recently decreed that persons in same-sex marriages are barred from Communion and a Catholic funeral in his diocese.
In "A Pastoral Letter on the Drug Abuse Crisis: From Death and Despair to Life and Hope" issued June 29, Bishop Edward C. Malesic of Greensburg, Pennsylvania, called the U.S. opioid crisis a scourge and urged the people of his diocese to take action against it. More than 300 people in the four counties that comprise the Greensburg Diocese reportedly died as a result of opioid use last year.
Thirty college students from four Arkansas schools took part in a week-long mission trip to Texas that expanded their awareness of challenges faced by the homeless. The young people visited and worked at an Austin "village" overseen by Mobile Loaves and Fishes, an organization that has provided more than 4 million meals to the homeless across four states.
The U.S. Environmental Protection Agency has recognized Elizabeth Sajan, a fifth-grade student at St. Mary Magdalen School in Everett, Washington, for outstanding work to protect bees and other pollinators in her local community. Elizabeth's project is among 15 student efforts from 13 states to receive the 2016-17 President's Environmental Youth Award for environmental education and stewardship achievements.
The St. Matthew Parish, Long Beach, California, ministry to the gay and lesbian community, called Comunidad, celebrated its 31st anniversary with a Pride Mass June 25, according to a note from the Los Angeles Archdiocese's Catholic Ministry with Gay and Lesbian Persons.
A ministry to individuals and families fleeing poverty and oppression in Central America that began in the parish hall of Sacred Heart Church in McAllen, Texas, has expanded exponentially and marked its third anniversary as the Humanitarian Respite Center recently with announcement that a new facility will be built.
What topples despots and evil empires is the individual who goes into the square in the middle of the town in the dark of night and scrawls "No!" on the wall, Cardinal Joseph Tobin told an early-May inter-faith gathering in Newark, New Jersey, staged in opposition to the Trump administration immigration and deportation policies.
The founding pastor of St. Martha Parish in Okemos, Michigan, was arrested on his 39th ordination anniversary in May and charged with embezzlement of more than $100,000 of parish funds. Fr. Jonathan W. Wehrle, 66, is on administrative leave while the case moves forward, according to a diocesan statement. Auditors reportedly believe more than $1.8 million of parish monies were invested in the priest's personal residence. Wehrle's attorney has confidence in the long-time pastor and says the priest has independent family assets. A preliminary hearing is scheduled July 7.
Follow-up: For Field Hospital readers intrigued by the recent segment on the restoration of classic muscle cars auctioned online to raise funds for seminary education in the Gallup, New Mexico, Diocese: the June 17 V8s for Vocations auction of a 1969 Pontiac Firebird convertible brought in just over $100,000, the effort's goal. Debbie Diaz Vazquez of Phoenix, Arizona, was the winner.
[Dan Morris-Young is NCR's West Coast correspondent. His email is dmyoung@ncronline.org.]
We can send you an email alert every time The Field Hospital is posted. Go to this page and follow directions: Email alert sign-up.