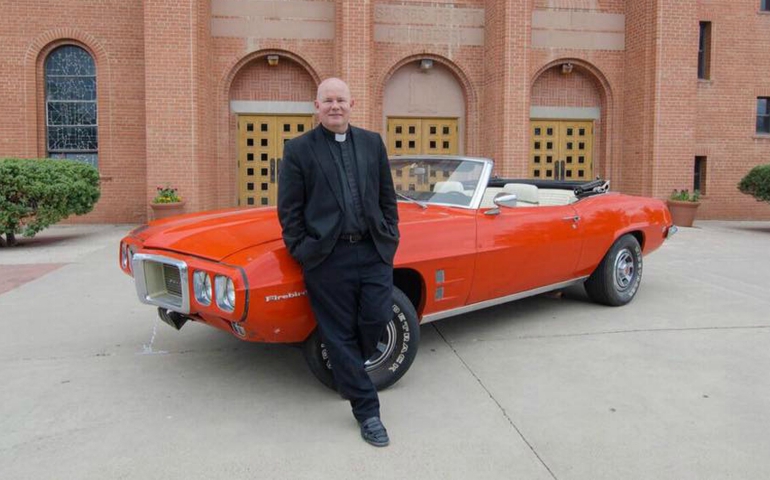 Fr. Matthew Keller poses June 8 with a 1969 Pontiac Firebird Convertible that he refurbished for a raffle in support of vocations for the Diocese of Gallup, New Mexico. (CNS/V8 for Vocations)
Editor's note: The Field Hospital blog shares parish and other grassroots efforts across the U.S. and Canada to accompany those on the margins and in need. Pope Francis said he sees the church as a "field hospital" that labors "from the ground up" to "heal wounds."
---
Eyebrows are in the air as nearly two-thirds of active priests in the Diocese of Memphis, Tennessee, are being reassigned by Bishop Martin Holley, who was installed last October. Rather than being named pastors, many are being assigned as "parochial administrators." There is much conjecture about the bishop's rationale.
---
The garage of Sacred Heart Cathedral in Gallup, New Mexico, has become the nexus of fundraising for seminary education and a unique form of evangelization. That is where mechanic-now-priest Fr. Matthew Keller and a growing "Garage Gang" of classic car aficionados have restored two old-timey muscle cars to be raffled off online.
Held on Dec. 12, 2015, the Feast of Our Lady of Guadalupe, the first raffle of a show-room condition 1972 Chevrolet Chevelle Super Sport raised $140,000 for seminary education, not a small thing in the less-than-affluent Gallup Diocese. The result far exceeded expectations of Keller, the diocese's vocations director. The goal of last Saturday's (June 17) $25-per-ticket raffle of a 1969 Pontiac Firebird convertible was $100,000.
The effort, now dubbed V8s for Vocations, has also surfaced as an unanticipated "rallying point for evangelization, and I just didn't see that coming," Keller told National Catholic Register. "There are some men that would come to the garage on the back side of the church that wouldn't necessarily come through the front doors," he explained, "and they're spending hours and hours. … And it's their way of contributing and being a part of something for God."
"It's that whole thing that Pope Francis is asking of us — to go to the periphery," he added. He's even been approached for confession in the shop.
---
A June 11 candlelight vigil at St. John the Baptist Parish in Baldwin Park, California, was among events marking the anniversary of the June 12, 2016, nightclub shooting tragedy in Orlando, Florida. The shooting left 49 LGBT persons dead and dozens wounded. Several ministries were represented at the vigil, including the Los Angeles Archdiocese's Catholic Ministry with Lesbian and Gay Persons.
---
An altar crafted by the late Rabbi Raphael Levine for his dear friend Fr. William Treacy 50 years ago has been donated to Seattle's Temple De Hirsch Sinai synagogue, where Levine was senior rabbi for many years. "The altar is probably the only one in the world made for a Catholic priest by a rabbi," said Treacy, an interfaith pioneer who turned 98 on May 31. "Driving to the synagogue to unload the altar for display was one of the most moving events of my life," he said.
---
The Mass to pray for victims of sexual abuse celebrated June 14 during the U.S. bishops' gathering in Indianapolis had notable meaning for Bishop Joseph Tyson of Yakima, Washington. In a June 12 press release, Tyson announced that Fr. Gustavo Gómez Santos had been "permanently removed from all public ministry in the Roman Catholic Church after an allegation of sexual of abuse of a minor was determined to be credible." Ordained in 2002, Gómez had been pastor of Our Lady of Guadalupe Parish in Granger and Immaculate Conception Church in Mabton since 2013. Gomez has denied the allegations, reported the Yakima Herald.
Related: In a June 14 address, the chair of the National Review Board, which works with the U.S. Conference of Catholic Bishops on issues regarding sexual abuse of minors, cautioned that a weak spot in the review and audit process is "the overall lack of parish participation." Francesco Cesareo urged bishops to address that topic to enhance transparency and child safety, reported Catholic News Service.
---
Talk about grass-roots feedback: The Vatican has posted an online questionnaire to involve young people in preparations for the 2018 Synod of Bishops on youth. Available in English, Spanish, French and Italian, the survey is open to any person 16 to 29, regardless of religious belief or affiliation.
[Dan Morris-Young is NCR's West Coast correspondent. His email is dmyoung@ncronline.org.]
We can send you an email alert every time The Field Hospital is posted. Go to this page and follow directions: Email alert sign-up.