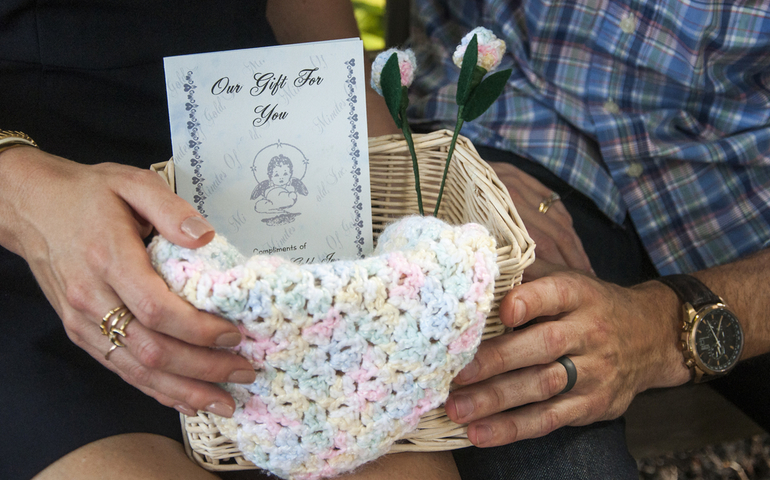 Kayla and Matt Boesch of Clarksville, Tenn., suffered a miscarriage earlier this year and have come forward to talk about their experience. (CNS/Tennessee Register/Theresa Laurence)
Editor's note: "The Field Hospital" blog series covers life in U.S. and Canadian Catholic parishes. The title comes from Pope Francis' words: "I see the church as a field hospital after battle. It is useless to ask a seriously injured person if he has high cholesterol and about the level of his blood sugars! You have to heal his wounds. Then we can talk about everything else. …"
If you have a story suggestion, send it to Dan Morris-Young (dmyoung@ncronline.org) or Peter Feuerherd (pfeuerherd@ncronline.org).
---
What to do about Halloween? Avoid glorifying the demonic, consider having a parish Halloween event rather than trick-or-treating, and bypass Freddy Krueger costumes, advise some moms and a Vatican-trained exorcist.
Prison ministry volunteer Jim Preisendorfer believes that New Hampshire State Prison for Men in Concord, N.H., might be the only prison in the world with a door designated as a holy door for the Holy Year of Mercy proclaimed by Pope Francis. The holy door was blessed and dedicated by Bishop Peter Libasci of the Manchester diocese in response to a request made by an inmate during a Mass celebrated by the bishop in the prison chapel, reports Katie Fiermonti in Parable Magazine. A 10-year prison ministry veteran, Preisendorfer also works with Kairos Prison Ministry and oversaw what might be the first application of the small-group, faith-sharing program All Hearts Afire in a prison setting.
Our Father's Table, a ministry to the chronically homeless of South Orange County, Calif., will itself mark moving into permanent headquarters on Oct. 29 during a ribbon-cutting and blessing ceremony overseen by Bishop Tod Brown, bishop emeritus of the Orange diocese. According to Gina Seriel, Our Father's Table founder and executive director, the all-volunteer organization "cooperates with the diocese of Orange in several areas" and greatly appreciates support from Mission Basilica Church in San Juan Capistrano, notably from the parish's Serra's Pantry Outreach.
Kayla and Matt Boesch, members of Immaculate Conception Parish in Clarksville, Tenn., have made the decision to speak out about their experiences following the loss of their child in the 11th week of Kayla's pregnancy. Miscarriage forces difficult decisions, such as how to handle, transport and honor the remains of the child, as well as memorial, burial and counseling questions. The church could do more, say experts. October is National Pregnancy and Infant Loss Awareness Month.
What role do, should or can Catholic parishes play when gentrification turns the socioeconomic status of a formerly lower-income area on its head? A Washington, D.C., pastor and San Francisco priest weigh in.
Nearly 200 Seattle-area parishioners publicly committed themselves to "active nonviolence and just peace" during a Sept. 24 event at St. Francis of Assisi Parish in Burien, a Seattle suburb. Gathered on the steps linking the parish center and church, the participants recited a statement pledging active work toward "a more just and peaceful world." Marie Dennis, co-president of Pax Christ International, addressed the group, focusing on the Nonviolence and Just Peace Conference held last April in Rome and the landmark document it produced.
Things have not been as peace-oriented at Assumption School in Bellingham, about two hours north of Seattle on the I-5 corridor. The issue: If a parent of a student is a registered sex offender, should school officials notify all parents, notably if the parent in question drives the student to campus? The Survivors Network for those Abused by Priests has called for the principal's firing.
[Dan Morris-Young is NCR's West Coast correspondent. His email is dmyoung@ncronline.org.]
We can send you an email alert every time The Field Hospital is posted. Go to this page and follow directions: Email alert sign-up.