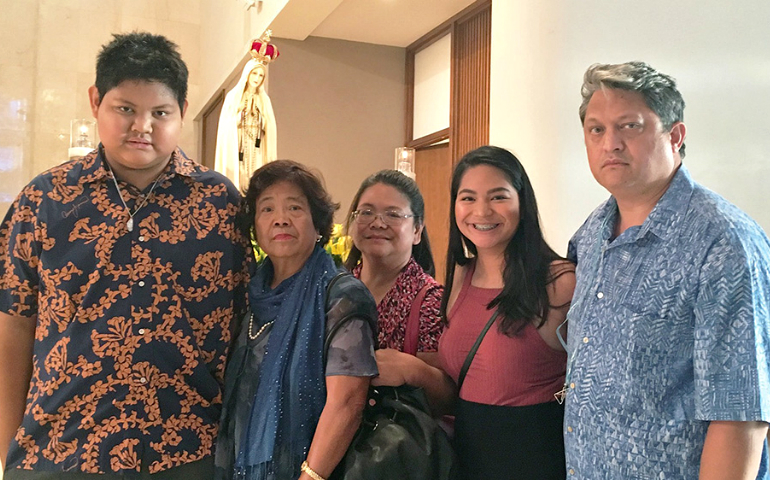 The Kaahaaina family, including Luke (left), stands before the International Pilgrim Virgin Statue of Our Lady of Fatima during its stop at the Co-Cathedral of St. Theresa of the Child Jesus in Honolulu. (Courtesy of the Kaahaaina family)
Luke Kaahaaina, a 14-year-old parishioner at the Co-Cathedral of St. Theresa of the Child Jesus in Honolulu, is scheduled to undergo a bone marrow transplant at the end of this month to greatly improve his odds against acute lymphoblastic leukemia. His severe illness, however, might also provide hope and healing for hundreds of others through the Kahie Project, initiated by his family to create awareness and activism around enlisting potential marrow donors . By the time of Luke's procedure, it looked like Kahie Project backers would have secured some 500 persons to register as potential marrow donors. Kahie is Luke's middle name and, according to his father, David, refers to a tree that is strong and durable.
St. Vincent de Paul Community Pharmacy, located in Biloxi, Mississippi, annually distributes well over 22,000 prescriptions valued in excess of $1 million to "more than 5,000 medically needy South Mississippians," reports its website. While the ministry was founded by the St. Vincent de Paul Society in 1998, it is an independently incorporated 501(c)(3) organization.
The Jesuit parish in Baltimore, St. Ignatius, staged a recent educational event about the Syrian refugee crisis and held special collections for school supplies on two April weekends. Parish officials noted that the Baltimore area receives "about 1,000 new refugees and humanitarian migrants per year."
Our Mother of Sorrows Parish in Tucson, Arizona, embraced alternative energy sources and protecting the environment long before Pope Francis' landmark 2015 encyclical, "Laudato Si', on Care for Our Common Home," sharpened global attention on the topic. In 2008, through its Care for Creation committee, the parish installed its first solar panels and a more efficient water-heating system. Among more recent innovations is the installation of 250 more solar panels that also power a fueling station for electric or hybrid cars. More than 70 ministries are active in the parish.
Our Lady of Guadalupe Parish in Midland, Texas, hosted a gathering of area religious leaders in March to "affirm the incalculable value of human dignity, emphasizing how much positive difference immigrants have made and continue to make in our country," reports the West Texas Angelus monthly newspaper. Belief communities included were Catholic, Baptist, Unitarian, Hindu and Muslim. The parish is well-known for its Our Lady of Guadalupe Shrine.
TOPSoccer, a program for young athletes with mental or physical disabilities interested in soccer, will hold a spring event on the campus of Holy Redeemer School of Holy Redeemer Parish in Portland, Oregon. Holy Redeemer Soccer Club and Saints Soccer Academy are hosts.
Employing Skype, the Diocese of Springfield, Illinois, recently interconnected some six municipalities to hold its first "prayer and listening sessions" for its current synod process. Announced in January, the synod was officially opened by Bishop Thomas Paprocki during the April 11 Chrism Mass at Springfield's Cathedral of the Immaculate Conception. Synod deliberations will culminate in November.
[Dan Morris-Young is NCR's West Coast correspondent. His email is dmyoung@ncronline.org.]
We can send you an email alert every time The Field Hospital is posted. Go to this page and follow directions: Email alert sign-up.