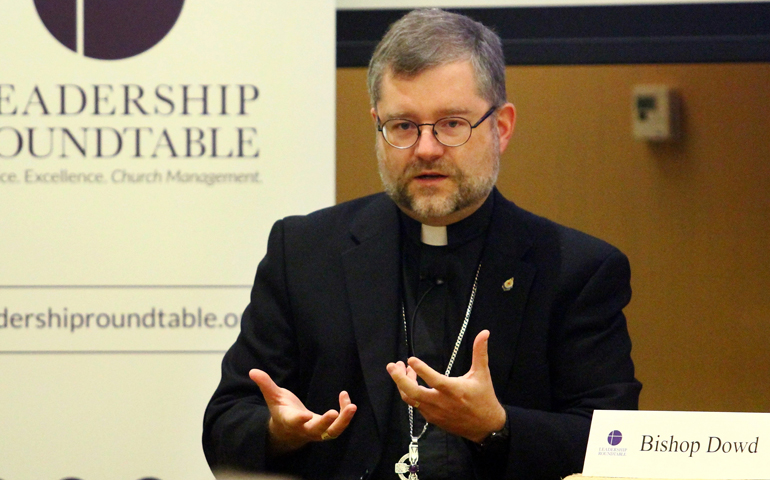 Montreal Auxiliary Bishop Thomas Dowd speaks June 30 in Philadelphia about what his archdiocese has learned by changing its managerial practices. (CNS/Sarah Webb, CatholicPhilly.com)
Editor's note: "The Field Hospital" blog series covers life in U.S. and Canadian Catholic parishes. The title comes from Pope Francis' words: "I see the church as a field hospital after battle. It is useless to ask a seriously injured person if he has high cholesterol and about the level of his blood sugars! You have to heal his wounds. Then we can talk about everything else. …"
If you have a story suggestion, send it to Dan Morris-Young (dmyoung@ncronline.org) or Peter Feuerherd (pfeuerherd@ncronline.org).
---
English-speaking parishes in Montreal face a crisis. It looks like many will have to close.
If it's not there already, cultural diversity is coming to a parish near you, says a new study.
Syro-Malabar Catholics undergo a cultural and religious identity crisis. Mass in English? Or in Malayalam? Syro-Malabar parishes, with their roots in India and now serving an immigrant population in the U.S., wrestle with the choice between tradition and communicating with a younger, English-speaking Americanized generation.
Also, in Rockland County, New York, a Syro-Malabar parish merges with a Roman Rite church, and the marriage is apparently a happy one.
Is there a post-election divide in your parish? Are the Clintonistas not talking to the Trumpers? Just in time, a professor addresses polarization in the Catholic church and what can be done about it.
Think your parish is warm and welcoming to newcomers? Maybe not so much, participants hear at a conference on evangelization for the Washington archdiocese. The focus is on how newcomers view Catholic parish life. A hint: they are seeking out how the faith has an impact on people's lives.
Catholics hear a similar message at a conference in New Orleans. They are told to make sure that directions to the parish office are clear, among other simple evangelization tips.
Altar boys? Altar girls? In one aging Iowa parish, there's another approach: senior citizen altar servers.
[Peter Feuerherd is a correspondent for NCR's Field Hospital series on parish life and a professor of journalism at St. John's University, New York.]
We can send you an email alert every time The Field Hospital is posted. Go to this page and follow directions: Email alert sign-up.