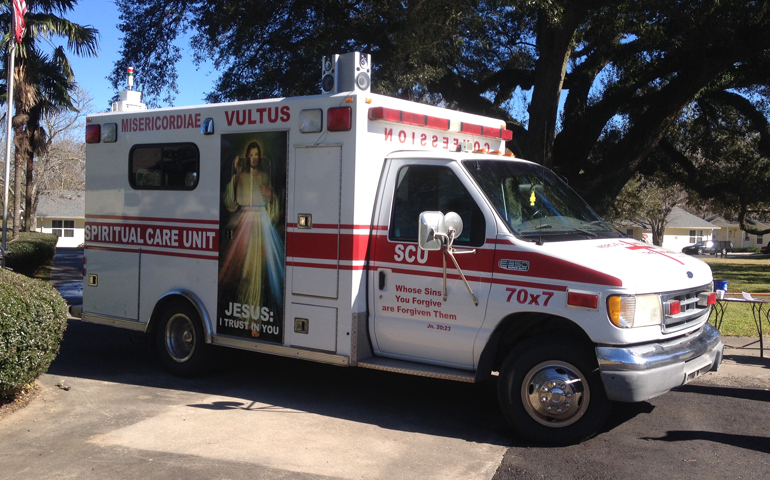 A converted ambulance has logged more than 6,400 miles in its re-purposed mission of providing spiritual outreach in Louisiana. (Photo courtesy of Fr. Michael Champagne)
Prisco "Paco" Limon, 38, a member of St. Mary Parish in Anderson, Ind., in the Lafayette diocese, recounts his 20-year journey to become a U.S. citizen in a report by John Shaughnessy in The Criterion Online Edition. Tim Winn, director of immigration legal services of Catholic Charities Indianapolis, told Shaughnessy that he is humbled by the refugees and immigrants CCI supports. "I know of clients from Burma who waited over 10 years in a refugee camp for the chance to come to the United States," Winn said. "And once they're here, they must wait another five years to be citizens. When they come, they have to learn a new language, which is not easy, and learn to navigate the complexities of transportation, health care and employment."
Meanwhile in the other Lafayette diocese (in Louisiana), as of Dec. 16, Fr. Michael Champagne had heard more than 3,000 confessions (well over 300 hours worth) and drove more than 6,400 miles with his team throughout the state — traveling in what they call the "Spiritual Care Unit," a converted ambulance complete with confessional space. In response to Pope Francis' calls to meet those in need where they are, the priest and his volunteer assistants have rolled up to some 140 stops — grocery outlets, health clubs. Mardi Gras, nursing homes, dance halls, shopping malls, among other sites. While the idea of a mobile evangelization station dates to 2012 when Champagne was a hospital chaplain, the actual conversion and deployment of the SCU was achieved as the Holy Year of Mercy got underway last year. The priest told NCR that the SCU ministry has added "a second unit, a converted U-Haul trailer" nicknamed "Church-Haul" that is "especially used for nursing homes. We can roll in the wheel chairs." A member of the Community of Jesus Crucified, Champagne told the Acadiana Catholic magazine: "We have seen literally hundreds return to the church after 30, 40 and 50 years. Getting on 'their turf' makes a tremendous difference in getting people back to practicing the sacramental life of the church." A significant number of those taking part in the rite of reconciliation had been away from the sacrament "at least 15 years," Champagne told NCR.
The extraordinary civic and church involvement of Francisco Barrientes, long-time member of Holy Family Parish in Edinburg, Texas, is described in a moving profile of the decorated Vietnam veteran. The Valley Catholic of the Brownsville diocese notes that Barrientes is a mainstay of the parish — from assisting with masses, funerals and groundskeeping to volunteering as an usher, sacristan and religious educator. In 2006, the Edinburg education board named a middle school after the father of three.
A recent Field Hospital account of the funeral of Thomas Myron Hooker stirred childhood memories of reaching out to the homeless and hungry for Gwen Johnston of Peterborough, Ontario, Canada. In an email to NCR, the 80-year-old, long-time parishioner at St. Alphonsus Liguori Parish remembers "maps drawn on [railroad] cars for locations for meals" and how her mother would provide food and respite for the men who would knock on the door of their home's "back kitchen, off our main kitchen." The experience was seminal for Johnston's helping found the "Out of the Cold" program in her area, which provides weekly meals to those in need and overnight housing. Johnston recently moved to Immaculate Conception Parish in Peterborough.
The original co-founder of the Toronto-based Out of the Cold program, Sr. Susan Moran, a member of the Our Ladies Missionaries, died Dec. 18 at the order's residence in Toronto. Among many honors, Moran was awarded the Order of Canada for her work with the homeless.
"It does not matter to me from where you have come, when you came, or whether you have the proper documents or not. You are loved!" Portland, Ore., Archbishop Alexander Sample said in a bilingual homily at St. Mary's Cathedral of the Immaculate Conception in Portland on Dec. 10, anticipating the Dec. 12 feast day of Our Lady of Guadalupe. "You are loved by God and precious in his eyes. You are loved by Our Lady of Guadalupe. You are her special children, her little ones, and she will not abandon you," he told the congregation, urging Catholics of western Oregon to condemn bigotry and hatred.
The archbishop said that Catholic Charities of Oregon is advocating for humane and just treatment of immigrants and that the nation's bishops are committed to being a voice for immigrants. "We will make your voice heard and work hard to see that a just and merciful solution for our broken immigration system is found that honors the dignity of the human person and keeps families together," the archbishop said. "His words of support to our community at this time made me feel full of grace," said Cleotilde Batista of Ascension Parish in Portland. "This gives us hope."
The Phoenix diocese also marked the feast of Our Lady of Guadalupe in a big way on Dec. 3 during its 11th annual "Honor Your Mother" event. "Hundreds of Catholics from every corner of the Diocese of Phoenix descended on the [Phoenix] downtown area... for a day of festivities, fanfare, food and, most of all, faith," reported Joyce Coronel in The Catholic Sun newspaper. A procession featuring 70 groups jump-started the day, each being blessed this year as they passed by Bishop Thomas Olmstead, Auxiliary Bishop Eduardo Nevares, and visiting Sante Fe Archbishop John Wester who were standing on a stage set up across the street from St. Mary's Basilica.
[Dan Morris-Young is NCR's West Coast correspondent. His email is dmyoung@ncronline.org.]
We can send you an email alert every time The Field Hospital is posted. Go to this page and follow directions: Email alert sign-up.