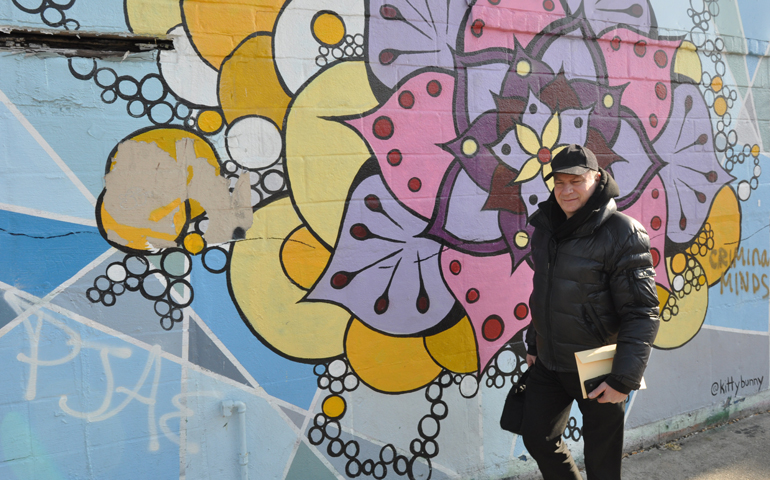 Father Frank Mann views some of the street art Feb. 8 in the Bushwick section of Brooklyn, N.Y. (CNS /Ed Wilkinson, The Tablet)
"When Pope Francis urged that the Gospel be preached at the peripheries of society, he may not have had the street artists of Bushwick in mind," conjectures journalist Ed Wilkinson in the Brooklyn diocese's newspaper The Tablet, then adding: "But then again, Fr. Frank Mann is not so sure he wasn't talking about them." Street artists "are visionaries and influential prophets" and "their work points to a vast array of transcendent truth and meaning," artist-priest Mann says in a recent profile of his ministry in the burgeoning art scene of Bushwick, a working-class Brooklyn neighborhood. Mann resides at St. Martin of Tours Parish.
A priest, a grandmother, a counselor and a police chaplain share their insights, fears and experiences with the opioid-epidemic affecting Virginia and the rest of the nation.

Ann MacMahon holds a funeral program Feb. 1 for her grandson Jamie, who died of an accidental opioid overdose in Broad Run, Va., last October at age 18. (CNS/Zoey Maraist, Catholic Herald)
Substance abuse is also at the root of challenges facing the vast majority of men who have benefited at a residence for prison parolees in Surrey, British Columbia. Luke 15 House celebrated its silver jubilee at a mass and dinner Feb. 18 at St. Mary's Parish, Vancouver, B.C. Archbishop J. Michael Miller of the Basilian Fathers, who presided at the Mass, described Luke 15 House as "a point of light and hope for its residents who sincerely desire to turn their lives around with the help of God's grace."
"In a culture which is often harsh and unforgiving," the Basilian prelate said, "Luke 15 shines out as an authentic beacon of God's love, and of what can be accomplished when generous people open their hearts to their brothers in need."
Pope Francis is no stranger to the drug pandemic, according to the leader of a grassroots organization in Buenos Aires, the pontiff's home town, which works with marginalized populations. About a decade ago, then-Cardinal Jorge Bergoglio visited with Juan Grabois of the Confederation of Workers of the Popular Economy about the impact of crack on "slum-dweller boys," said Grabois recently while in Modesto, Calif., taking part in the U.S. Regional World Meeting of Popular Movements in California's Central Valley. Grabois and Francis have stayed in touch, the activist said.

Juan Grabois, pictured Feb. 17, was among the speakers at the U.S. Regional World Meeting of Popular Movements in Modesto, Calif. (CNS/Dennis Sadowski)
What began as a gathering of six "students" in 2003 in Mario Gamboa's basement apartment in Washington, D.C. has grown into a full-fledged Spanish literacy program with some 130 students, 20 volunteer teachers and classes six days a week in Washington, Maryland and Virginia. A parishioner at Our Lady Queen of the Americas Parish in Washington, where he now has an office, Gamboa was inspired to launch the ministry when he left a task list for two workers in his painting and lawn maintenance business. "When I returned later that evening, nothing had been done. They told me they were very sorry, but that they couldn't read or write." The Peruvian native offered to teach the men and their friends basic Spanish literacy from his apartment.

Video by Catholic News Service
There has been an outpouring of support at St. Mary's Catholic Church in Pontiac, Ill. for Jonathan Becker, a fifth-grader in the parish school. Son of Matt and Marie Becker, Jonathan was diagnosed in January with a brain tumor and is currently undergoing treatment at Lurie Children's Hospital of Chicago. "Jonathan recently received a visit from Anthony Rizzo of the Chicago Cubs, a cancer survivor, and hundreds of bracelets made by Maria Long, a fourth-grade student at St. Mary School, have been sold to raise funds for his family. Meanwhile, the 37th annual Kevin Casson Memorial Basketball Tournament in early February, usually a fundraiser for the St. Mary's Booster Club and to fund eighth-grade field trips, was amended this year to collect donations for Jonathan," reports Tom Dermody in the Peoria diocese's newspaper, The Catholic Post. A benefit trivia night is scheduled March 11 in the parish hall.
[Dan Morris-Young is NCR's West Coast correspondent. His email is dmyoung@ncronline.org.]
We can send you an email alert every time The Field Hospital is posted. Go to this page and follow directions: Email alert sign-up.