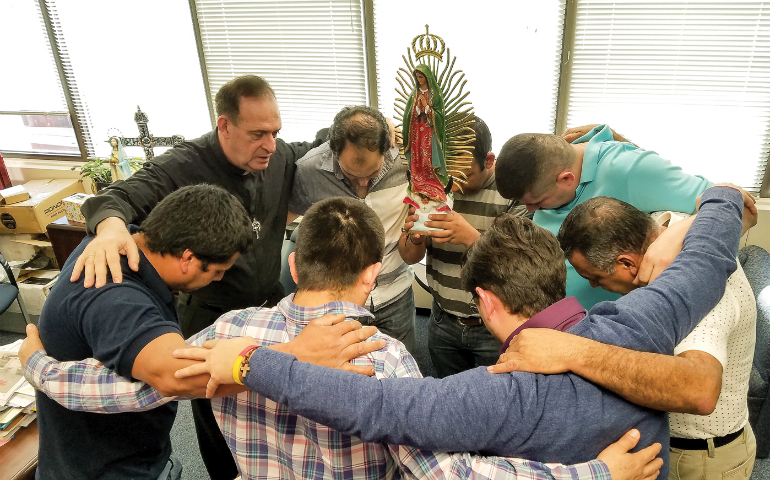 Fr. Jose E. Hoyos, director of the Spanish Apostolate Office of the Arlington diocese prays with a group of Hispanic leaders in his office Feb. 24. (CNS photo/Mary Stachyra Lopez, Arlington Catholic Herald)
The times we live in, with immigrants and refugees: This is more than the usual church volunteer commitment. Chicago parishes sign up volunteers to care for the children of immigrants eligible to be deported under President Donald Trump's new expanded policies.
Bishop Jaime Soto of Sacramento says that parishes may be called upon to offer sanctuary to immigrants.
Immigrant Catholics in Utah learn their rights.
Refugees resettled by Catholic Charities in the Cincinnati archdiocese are fearful.
Priests in the Arlington diocese are getting a lot of calls for help with immigration matters.
---
A struggling New Orleans parish seeks out greater Mass attendance and finds it by partnering with local seminarians. (There's a group with a high percentage of Mass attendance!)
What it's like to be a gay, liberal and political Catholic. An extensive profile of Seattle's mayor, with a glimpse into what Catholic life is like in the highly secular Pacific Northwest.
A plan to massively realign parishes in the Archdiocese of Hartford is delayed.
A parish in the Diocese of Youngstown is missing $160,000. Suspicion has fallen on the pastor. The twist? The 51-year-old priest died of a heart attack last year. He was said to be beloved by his congregation.
Holy Rosary Church in Richmond, Va., a historic African American parish, is profiled. It was also a sanctuary site.
The Boy Scouts changes its rules on transgender inclusion. How should Catholic parishes that sponsor troops react? According to this story, they should be suspicious.
[Peter Feuerherd is a correspondent for NCR's Field Hospital series on parish life and a professor of journalism at St. John's University, New York.]
We can send you an email alert every time The Field Hospital is posted. Go to this page and follow directions: Email alert sign-up.