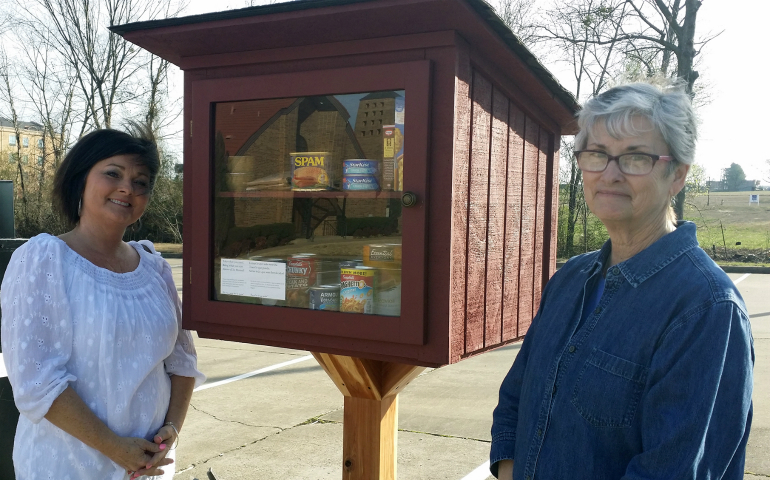 Betty Rose Neumeier and Annie Woody, members of St. Michael's Catholic Church in Van Buren, Arkansas, are two of the volunteers who stock the parish's blessing boxes. (CNS photo/Maryanne Meyerriecks, Arkansas Catholic)
Parishes and dioceses across the country continue to gear up to accept, welcome and care for refugees from across the globe, and often in potential conflict with federal agencies or seemingly fluid immigration regulations:
Printouts of detailed instructions on how to deal with immigration officials were made available March 12 to members of St. Camillus Parish in Silver Spring, Maryland. The guide, headlined, "Know Your Rights: A Guide to Your Rights When Interacting with Law Enforcement," in Spanish and English, is available electronically on the website of the Catholic Legal Immigration Network, Inc. (CLINIC).
The parish, with about 100 countries represented in the congregation, describes itself as an "intercultural community," and on its website, declares its "solidarity with our immigrant brothers and sisters. They are a blessing to us. We are deeply disheartened by the severe and unjustifiable federal measures targeting the vulnerable, immigrant community."
St. Camillus has recently hosted sessions in which free legal advice was available to people unsure of their immigrant status or fearful of deportation.
Other parishes taking action:
• In San Francisco, about 125 members of various faith communities, including several Catholic parishes, signed up at the St. Dominic parish hall on Feb. 24 to serve on a unified "rapid response" team to support immigrants during anticipated enforcement actions by Immigration and Customs Enforcement officers, reports Christina Gray for Catholic San Francisco newspaper.
• The Ignatian Solidarity Network website logs materials, methods and motivation for persons and organizations "willing to share a message of human dignity and respect in the public sphere" for immigrants and refugees.
• In Marietta, Georgia, Transfiguration Parish is strongly supporting Catholic Charities of Atlanta's work in refugee resettlement.
• In St. Petersburg, Florida, St. Mary Our Lady of Grace Parish has embraced two refugee families from the Democratic Republic of the Congo.
• In the Rochester Diocese of New York, more than 500 people took part in a Feb. 3 "Stand with Refugees" rally in front of Rochester City Hall, and two days later, a standing-room-only crowd attended a Welcoming the Stranger interfaith prayer service at Brighton's Temple B'rith Kodesh in which Bishop Salvatore Matano participated.
Liberian native Ap Bishop, now an employee of Catholic Family Center in Rochester, "will never forget the way he felt looking out at America for the first time as his plane touched down at New York's John F. Kennedy International Airport in 2003," reports the diocesan newspaper, The Catholic Courier.
"It was emotional. I broke into tears. Too many things were coming into my mind," Bishop told the newspaper.
---
In other news from Rochester, on Feb. 26 an overflow crowd attended a 50th anniversary memorial Mass at Rochester's Church of the Annunciation for Fr. George Weinmann and Sr. Lilian Marie McLaughlin who perished on Feb. 20, 1967, when they attempted to retrieve the Blessed Sacrament inside the tabernacle of a burning St. Philip Neri Church. McLaughlin, a School Sister of Notre Dame, was a teacher at St. Philip Neri School, and Weinmann was pastor. Bishop Matano presided at the memorial liturgy.
---
Support, appreciation and use of what are being called "blessing boxes" have been growing since January when the mini-ministry was launched at St. Michael's Catholic Church in Van Buren, Arkansas. Two moderately sized boxes are mounted on poles in the parish front lawn. Resembling the free exchange mini-libraries now seen around the country, one box contains food, the other hygiene and first-aid items. The small parish community started the effort to augment the large food pantry located across the street at Heritage United Methodist Church, which is open two mornings and one evening per week. St. Michael volunteers often re-stock the blessing boxes multiple times daily. The parish blessing boxes dovetail with the Little Free Pantry movement.
---
One group who do not quickly pop to mind when asking, "Who are the marginalized?" is the large and growing number of persons whose rare diseases leave them at the curbside of research and effective treatment. Fr. Patrick Beretta, pastor of Catholic Community North in Butte, Montana, addresses the issue in the Huffington Post. As a case study, Beretta documents the struggles faced by Matt Bellina of Pennsylvania. In 2014, the 32-year-old former Navy pilot was diagnosed with amyotrophic lateral sclerosis, best known as ALS or Lou Gehrig's disease.
The young father of three, writes Beretta, "has become an unlikely but highly effective and articulate crusader to find a cure for ALS and persuade the FDA to authorize, more freely, experimental treatments. He captures perfectly the absurdity of the current situation by observing that he could, more easily, find a U.S. state that allows physician-assisted suicide than an experimental drug to prolong his life."
[Dan Morris-Young is NCR's West Coast correspondent. His email is dmyoung@ncronline.org. Tom Roberts, NCR editor at large, contributed to this report.]
We can send you an email alert every time The Field Hospital is posted. Go to this page and follow directions: Email alert sign-up.