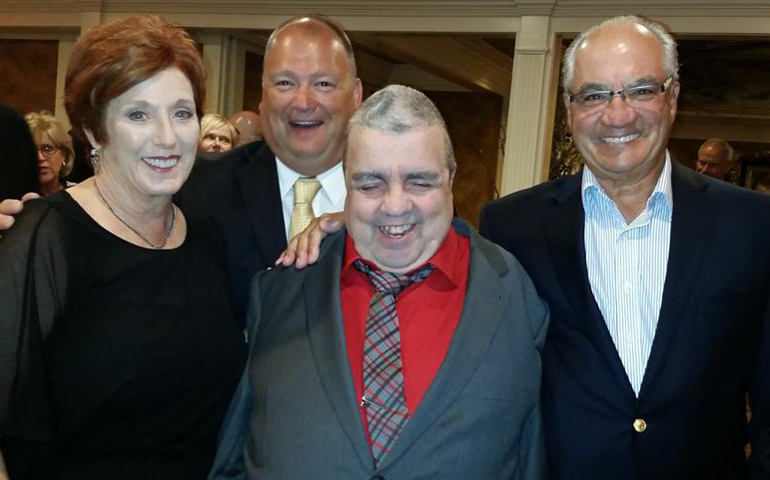 Denise Avagliano, Department for Persons with Disabilities executive director Scott Milliken, Bill, and Denis Avagliano pose at the department's 50th anniversary celebration last September. Bill was honored with a "50 Years of Love Award." (Photo courtesy Department for Persons with Disabilities)
More than 50 years ago, a single mother's tragic suicide -- which also claimed the lives of her three children -- became the seminal moment for a still-growing movement in the Diocese of Paterson to reach out to families and individuals who are impacted by developmental disabilities.
Then a young priest at St. Philip the Apostle Parish in Clifton, N.J., now-retired Monsignor John Wehrlen recalls, "It seems just like yesterday."
One evening, I heard a knock at the back door of the rectory and to my surprise it was a detective from the Clifton Police Department. He said, "We need a priest." … I had no clue what it was about. I soon found out that a tragedy occurred that we may have been able to prevent.

One of our parishioners, Lucia, had a young son with a neurological impairment. She didn't have any help with taking care of him and there were no services back then. She was a single mother of three, whose husband had left her to fend for herself emotionally and financially. She felt alone, overwhelmed and isolated. Her third child, an infant at the time, was also believed to have a developmental disability. That evening, she put her three children in her Volvo Sedan, put a vacuum cleaner hose through the tailpipe and the other end into the backseat of her car, and took the lives of herself and her children.
The deaths were a "defining moment in my life," the priest says, "and the one that really motivated me to jump-start the Department (for Persons with Disabilities) in the early 1960s."
"Many of the young parents of children with disabilities needed support and the church was just not giving it to them," the Department for Persons with Disabilities founding leader recalls.
The first outreach efforts were simple, such as starting a catechetical program for young people with disabilities.
Today, the Paterson diocese's Department for Persons with Disabilities "is the largest Catholic organization in the United States that provides care for adults with intellectual and developmental disabilities," states a department media release.
A Catholic Charities entity unto itself, the Department for Persons with Disabilities serves hundreds of individuals and their families, operates 10 group homes, two supervised apartments, a vocational day program, plus offers spiritual formation, recreational activities, and services coordination for people who live in the community at large.
While the Department for Persons with Disabilities currently employs roughly 160 and fields large numbers of volunteers, its officials and supporters consistently underscore its grassroots genesis and how the work has remained rooted in large part in parishes, Knights of Columbus councils, and parishioners' homes.
Denis and Denise Avagliano, for example, attended a 1993 presentation in their parish, Our Lady of the Magnificat in Kinnelon, N.J., on the Department for Persons with Disabilities' "People Need Friends" program, which links volunteers to persons with disabilities who are short on family and friends.
That led to the Avaglianos meeting Bill. Over time, Bill, now 68, has become part of the Avagliano Family, the couple told NCR.
They extoll Bill's zest for food, fun and life, and they admit to at times indulging his affection for Mickey Mouse and Italian food. Bill's limited lingual skills do not make him any less part of holiday gatherings, vacations, bowling, movies, amusement park outings, or just hanging out with the family.
"One of the things he loves to do is be part of the kitchen work," Denis Avagliano laughs. "He will say, 'I will make the gravy,' and so he does the stirring. He loves to help out, and he is proud when he can help out at church as an usher with the collection basket."
Scott Milliken, Department for Persons with Disabilities executive director, and Chris Brancato, development director, both pointed to the organization's clients' generous spirits. "They love to give back," Milliken said. "For example, a group of our folks collects food for pantries. Others have collected cell phones for our troops. They volunteer at animal shelters. …"
Now that the Avaglianos spend part of their year in Florida, they make arrangements for Bill to visit them there. They also send post cards and call him almost weekly. "He loves postcards."
"We are surrogate family, almost like surrogate parents," Denise Avagliano says. "Friends and others will tell us that we have made a big impact on Bill, socially and so on, but truly the key is that you get back way more than you give."
Bill resides at Basile Apartments in Wayne, N.J., one of the Department for Persons with Disabilities' residential facilities.
Department for Persons with Disabilities Executive Director Scott Milliken and Development Director Chris Brancato often segway to anecdotes and examples when asked about statistics or programmatic successes, of which there are many. They prefer to talk about Bill or Patti or Frank or Margaret than their successful capital campaigns.
Margaret's story, they said, underscores the agency's mission.
In December, Department for Persons with Disabilities received a call about Margaret, a 26-year-old woman with Down syndrome. The father had resided for months in a nursing home. Margaret and her mother were surviving "mostly on cauliflower soup and milk," Milliken said.
Margaret had spent most of her time since high school graduation in her bedroom.
Just hours after Department for Persons with Disabilities learned of Margaret, her mother became ill. The pair took a cab to seek medical help. Her mother died en route.
Margaret was left with no one. A couple from St. Jude Parish in Hopatcong, N.J., came to her aide as temporary guardians and advocates.
The couple quickly reached out to Department for Persons with Disabilities, which called an emergency meeting that included the couple, Milliken, two Department for Persons with Disabilities case managers, the department's associate executive director and agency nurse, a court-appointed guardian, the director and associate director of Wallace House residence in Sparta, N.J., the regional administrator for New Jersey's Division of Developmental Disabilities, and others.
By 6 p.m. Margaret had moved into Department for Persons with Disabilities' Wallace House.
Catholic Charities USA recently featured a story on her.
And when Milliken recently visited Catholic Charities' national office in Alexandria, Va., he was surprised to see a large poster of one of the Paterson agency's residential clients.
Margaret's story illustrates the department's flexibility and focus, Milliken says, noting that the agency was able to rally resources from parish, state, courts and its own staff. "In everything we do, we really preach kindness, trying to treat others as you would want to be treated."
What would have happened to Margaret if the Department for Persons with Disabilities did not exist? "She probably would have been institutionalized, maybe the rest of her life. People can slip through the cracks. We feel she came to us through divine intervention," Milliken answered.
"We have an amazing staff who provide hope and care with dignity and respect," he told NCR, citing the agency's low employment turnover rate -- half the national average for such organizations -- as indicative of employees' commitment.
"It is really magical how people come together to support our organization," Milliken said.
Department for Persons with Disabilities backing is broad and varied, he continued, including strong support at the diocesan level from Bishop Arthur J. Serratelli and Chancellor Christian Charity Sr. Joan Daniel Healy.
Brancato holds up the Knights of Columbus for particular praise, noting that between parish councils and regional cooperation the Knights have contributed more than $3 million to the agency since its inception.
It was with the Knights' help, Brancato said, that in 1971 the Department for Persons with Disabilities opened its first group home in Paterson, Murray House, "the longest-running facility of its kind in the state." Murray House moved to Clifton in 1992.
Eight of the department's 14 trustees are Knights, he said, and some of the group homes bear names of Knights who have been deeply involved: in Oak Ridge, Columbus House and Finnegan House, the latter after John Finnegan, the former #5510 Joseph F. Lamb Council Grand Knight; in Parsippany, Calabrese House after the late, past state deputy Dominick Calabrese.
Milliken explained that Calabrase, a long-time advocate for persons with physical or intellectual challenges, spearheaded a drive to have various Knights of Colombus councils contribute toward retirement of one residential facility's mortgage "so that it could be re-mortgaged to expand" housing opportunities for Department for Persons with Disabilities clients.
Tragically, in 1997 while presenting a plan to raise monies for additional Department for Persons with Disabilities housing, the Knights leader "suffered a fatal heart attack," Milliken said.
Calabrese's death galvanized even further Knights of Columbus support for the Department for Persons with Disabilities. The 55 councils of the Knights of Columbus Paterson Federation established the "Dominick's Dream" annual fund raiser to generate support for Department for Persons with Disabilities' residential and other programs.
Milliken said that the Catholic Charities structure is unique in the Paterson diocese, since there are three Catholic Charities agencies: the Department for Persons with Disabilities, Straight and Narrow (which provides drug and alcohol rehabilitation services), and Catholic Family Community Services (which includes counseling for HIV and AIDS, adoption services, migrant ministry and food pantries).
The Department for Persons with Disabilities is "90 percent government funded" today, Milliken said, adding that there has been little or no increase in that support in nearly a decade.
"There are more than 8,000 people on a waiting list in the state to get into services like ours," Milliken said.
[Dan Morris-Young is NCR's West Coast correspondent. His email is dmyoung@ncronline.org.]
Editor's note: "The Field Hospital" blog series covers life in U.S. and Canadian Catholic parishes. The title comes from Pope Francis' words: "I see the church as a field hospital after battle. It is useless to ask a seriously injured person if he has high cholesterol and about the level of his blood sugars! You have to heal his wounds. Then we can talk about everything else. …"
If you have a story suggestion, send it to Dan Morris-Young (dmyoung@ncronline.org) or Peter Feuerherd (pfeuerherd@ncronline.org).