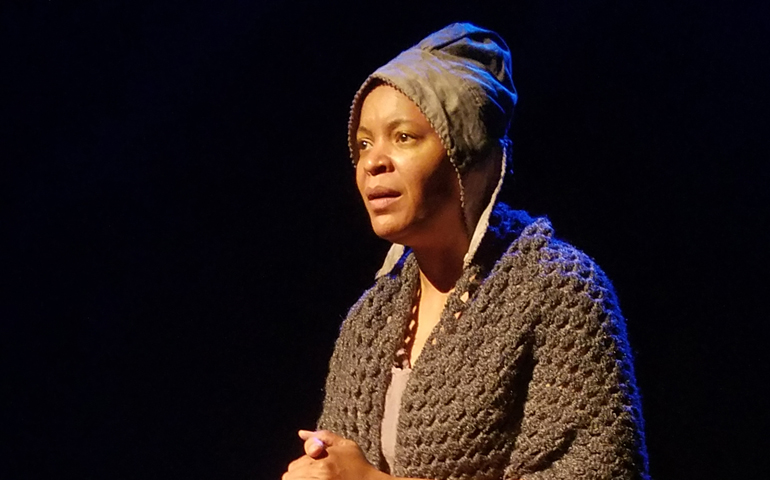 Can you name three African-American women who lived before 1865? Valerie M. Joyce asks this question to people young and old and rarely finds anyone who can meet the challenge.
"That's 250 years of women in this country," she noted. "Why can't we name more of them?"
Joyce, an associate professor in Villanova University's theatre department, first asked herself this question five years ago while doing historical research in an unrelated field. Reading a book of laws, she came upon a reference to an indentured servant in the Virginia Colony in 1649 who was forced to stand in a white shroud and recite a psalm of repentance for having fornicated with a white man.
In a moment of inspiration, she pictured her graduate acting student, Kimberly S. Fairbanks, bringing that woman and her public shaming to life. Although she is white and had never written a play, Joyce felt called to tell the story of that long ago black woman in dramatic form. Through extensive research of slave narratives, memoirs, diaries, court records, poems, public addresses and newspaper advertisements she fashioned "I Will Speak for Myself," a play giving voice to the stories of 16 women who were nurses, slaves, educators and activists in America from the Colonial days to the Civil War. Fairbanks portrays them all.
"This had nothing to do with my education or dissertation," Joyce said. "I had no African-American history. I saw a vision of Kimberly wrapped in that white sheet and I didn't look back."
Joyce and Fairbanks sat at the empty bar in 59E59 Theaters where "I Will Speak for Myself" was being presented before heading to the Edinburgh Festival Fringe, the world's largest arts festival, where it will be performed Aug. 22-27.
"These were real women I did not know and I feel honored and blessed and that they are speaking through me," Fairbanks said. "As an actress I don't often get to research people and allow them to be heard. I feel them before I go out and I say, 'Please be with me.'"
The show presented in New York had been pared down to 45 minutes from 81 minutes to meet the requirements for Edinburgh. Five women's stories had to be sacrificed and others shortened. The staging, under Joyce's direction, is simple, just a few props for Fairbanks to use. Projections of old photos showing little girls in party dresses and elderly women with weary faces effectively set the scene before the show begins and provide the name, date and location for each new woman portrayed.
Joyce used the women's own words when available and chose whom to portray based on "if I could imagine a moment of dramatic conflict in their life, a very specific actable moment."
Some of the women express their faith, although Joyce said this wasn't planned.
"It is there, the deep faith and spirituality just came. It was not an agenda."
Fairbanks thinks this is to be expected. "How else could they survive? They had to have faith."
Joyce and Fairbanks say they each have "a lot of faith," although they aren't part of any congregation. Joyce calls herself "a believing Catholic" who attended Villanova for graduate and undergraduate school and "ran back as fast as I could to be a professor there." Fairbanks said she "a believing Episcopalian" who grew up in that tradition in Wallingford, Pa. "Before every performance I thank God and my angels," she said.
It was actually the misuse of religion that gave birth to the play. Joyce was struck by the injustice of making the young indentured servant, Mary, do public penance for something she had no control over. She would have been forcefully brought to a country that wasn't her own, abused by her master, then made to speak with everyone looking at her in a language that wasn't hers and profess in a faith that wasn't hers.
She portrays this by showing Mary in her white robe, holding a rod and standing in front of a chapel beside the Elizabeth River in the Virginia Colony. "Have mercy upon me, O God, according to thy loving kindness: according to the multitude of thy compassions put away mine iniquities. Wash me thoroughly from mine iniquity, and cleanse me from my sin."
The prayer continues in a recording of Mary's voice while the angry words of her heart are expressed simultaneously, with an African drum beating insistently. "Master Cornelius, you made me forsake my gods and baptized me in the Church of England. Your wife taught me this psalm of penitence. You know William Watts is not my lover. Our 'filth sin' was not of my desire. You know he comes into the barn at night and forces me to comply. With a knife at my throat so I don't make a sound."
Both voices come together again to conclude: "The sacrifices of God are a contrite spirit: a contrite and a broken heart, O God, thou wilt not despise."
The racial hatred of the characters' era is not as extreme now, but it is still quite present, Fairbanks said.
"We're able to see it now," she said, mentioning the influence of social media. "There's still a fear of someone else. It's been learned, the thought that someone else is not worthy. Now you can see it."
Perhaps, though, we are not educated enough in some areas. When Joyce asks that "Can you name …" question, some people mention Harriet Tubman and Sojourner Truth, but are hard pressed to think of a third black woman from the era.
"I'm fascinated that we can't name more," she said. "We can all name the white men but never the black women. There's a complete blind spot in our education. They're not in the textbooks. No one was writing about them and they couldn't write for themselves. I hope people will come away with knowing 11 more now."
[Retta Blaney is an award-winning journalist and the author of Working on the Inside: The Spiritual Life Through the Eyes of Actors.]