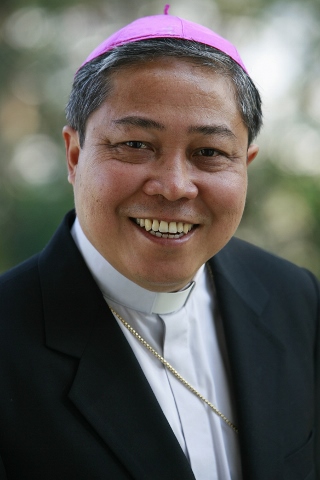 Archbishop Bernardito Auza, papal nuncio to Haiti, poses for a photo after the 2010 earthquake outside his residence near Port-au-Prince, Haiti. Archbishop Auza was named head of the Holy See Observer Mission to the U.N. (CNS photo/Bob Roller)
Manila, Philippines — July 2, 2014
Pope Francis has appointed Filipino Archbishop Bernardito Cleopas Auza, the Apostolic Nuncio to Haiti, as the Holy See's Permanent Observer to the United Nations in New York.
The appointment was announced over Vatican Radio on July 1.
The 55-year old Auza will replace Archbishop Francis Chullikatt from India, the first non-Italian to have acted as the Holy See's Permanent Observer to the U.N. Chullikatt leaves his diplomatic position after the normal four-year stint expected of a Vatican diplomat.
A native of Talibon, Bohol, Auza was consecrated Titular Archbishop of Suacia on May 8, 2008, the same day he was appointed Nuncio to Haiti. He was Apostolic Nuncio to Haiti and also Apostolic Administrator of the capital city Porte-au-Prince after the magnitude 7.0 earthquake in 2010. He is a career diplomat, having worked at various diplomatic posts.
His first assignment was in Madagascar and the South Indian Ocean from 1990 to 1993 and was a member of the Permanent Mission of the Holy See to the U.N. before assuming his post in Haiti.
The Holy See and the State of Palestine have received a standing invitation to participate as observers in the sessions and the work of the General Assembly and maintain permanent observer missions at headquarters.
Its official website says the Holy See Mission "works to advance freedom of religion and respect for the sanctity of all human life – from conception to natural death – and thus all aspects of authentic human development including, for example, marriage and family, the primary role of parents, adequate employment, solidarity with the poor and suffering, ending violence against women and children, poverty eradication, food, basic healthcare and education."
[N.J. Viehland is an NCR correspondent based in the Philippines.]