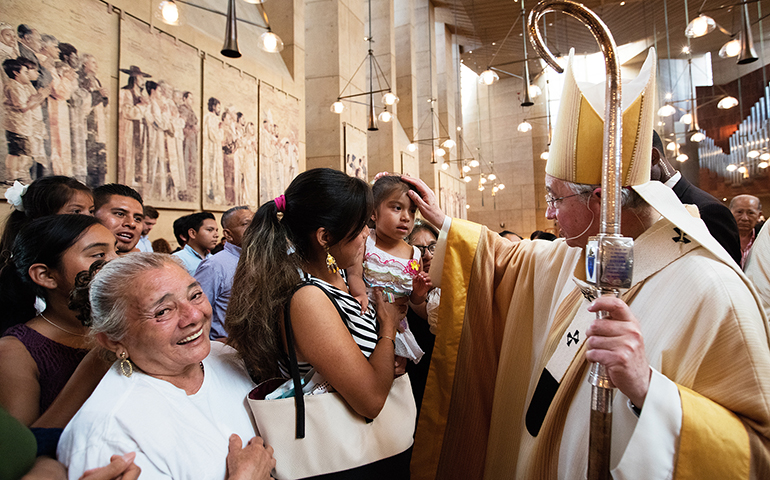 Archbishop José Gomez blesses a girl during a Mass celebrated July 17 in recognition of all immigrants at the Cathedral of Our Lady of the Angels in Los Angeles. (CNS/Vida Nueva/Victor Aleman)
St. Louis — August 23, 2016
Editor's note: La Iglesia Hispana is a new NCR Today blog series that focuses on Hispanic Catholics, the church's new emerging majority.
The V Encuentro, a national gathering, is slated for September 2018 in Dallas.
But it's the four years leading up to the event that are of particular consequence.
"Much of what happens in the U.S. in the Catholic church usually centers on big events, whether it's a committee meeting, or the launching of a document, or a papal visit," said Hosffman Ospino, director of graduate programs in Hispanic ministry at Boston College School of Theology and Ministry. "Everyone is usually prepared for something that is going to happen in a very specific period of time. What the V Encuentro process does is it defies a little bit this pragmatic approach to ministry and to church life."
In 2014, the ENAVE team (the National Team of Accompaniment, with 42 representatives from various Catholic national organizations) developed the guide and consultation process that parishes, dioceses and regions would use in their discussions. Ospino is one of the primary thinkers on this team.
---
Related: Hispanics chart pastoral direction (Aug. 23, 2016)
---
After regional, diocesan and parish teams complete their training at the end of this year, parishes will host five sessions throughout the first half of 2017, using ENAVE's official guide to steer the conversation. The goal is to connect the local community with a national initiative.
Ospino said the guide is based on the see/judge/act methodology. It challenges its participants to, first, analyze their own realities -- as a mom, Latino, farmworker, whatever -- and the realities of their Catholic Hispanic community.
The "judge" section then asks participants to consider how God accompanies them, or how Jesus engages them. Finally, the "act" section invites them to go into the peripheries, literally sending participants out into mission.
"This is key," Ospino said. "It's not the individualistic approach that we normally see in prayer groups, where you ask how much does Jesus love me or how good it makes me feel or how do I feel God's love."
"What we want is for participants to say, this is what we've seen, this is what we've experienced, and for them to identify someone from the community who is not coming to church, or a family that's struggling, an undocumented person, a single mother, someone who is disaffected with the church -- and literally go and say, 'We are here in the name of the church as Catholics. We want to listen to you, walk with you, and announce and share our faith.' "
Encuentros at the parish level are slated for January to June 2017, and can be conducted however the parish chooses (weekly, biweekly, monthly, etc.). All U.S. parishes are invited to join, though those with Hispanic ministry or large Hispanic populations are more likely to have the program. At the end of the five sessions, parishes will have large celebratory gatherings where parishioners can share insights and reflect on what they've learned as a group.
Representatives from each parish are then sent to the diocesan Encuentros, to take place September to November of that same year. Delegates from the dioceses later attend the regional Encuentros sometime between March and June 2018. All of this is meant to generate information for pastoral planning, to help integrate communities while tending to their needs in a more creative way.
But once the national event in September 2018 concludes, the process continues.
"The idea is to return, undo the structures, and implement the recommendations that were discussed at the national Encuentro at the parishes, dioceses and regions," Ospino said, adding that sometimes documents or specific strategies emerge, advising how to evangelize fellow Latinos, and later implemented through workshops.
"It's defined primarily as a process, but with three prongs: evangelization, consultation and a process of building communion."
The V Encuentro is proposed as a priority activity of the U.S. bishops' Strategic Plan for 2017-2020.
A version of this story appeared in the Aug 26-Sept 8, 2016 print issue under the headline: Process asks participants to analyze their own realities.