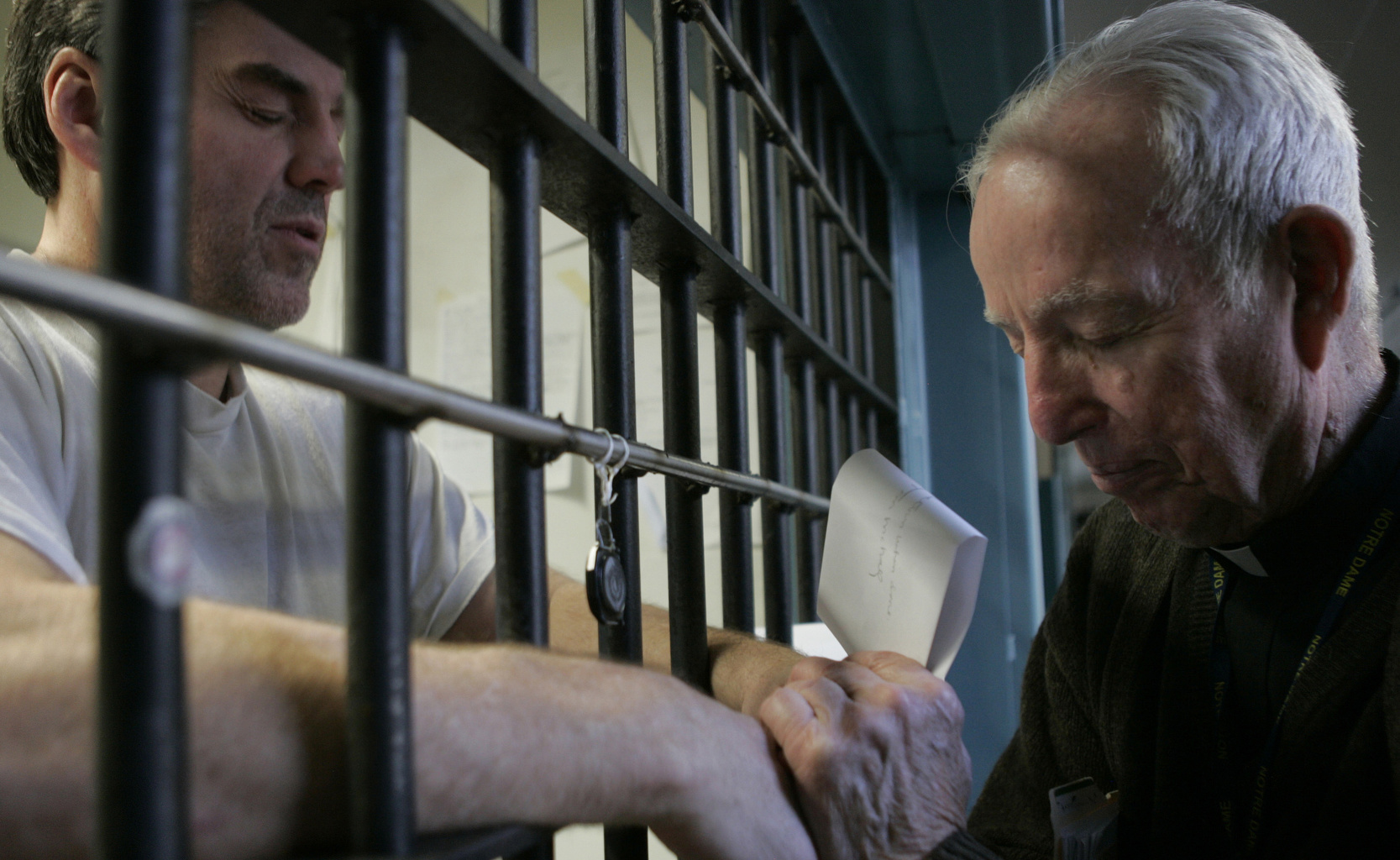 A priest prays with a death-row inmate in 2008 at Indiana State Prison in Michigan City, Ind. Karen Clifton, executive director of the Catholic Mobilizing Network, said during a Washington conference on restorative justice Nov. 21 that the U.S. "has 5 percent of the world's population and 25 percent of its imprisoned." (CNS photo/Tim Hunt, Northwest Indiana Catholic)
During Lent, we looked at one corporal work of mercy each week, sharing past NCR stories to show each work in action. We solicited your experiences via email and in the comments section, and many of you responded to share your stories. We've collected some of the best responses here to share with our community during this Easter season. The posts have been edited for clarity.
Readers share their own stories:
Sometime before Christmas, we cleaned out our front coat closet. I was appalled to realize how many barely used coats and jackets my family owned. We each kept one jacket for fall and one coat for winter and donated the rest to a charity that specialized in providing cold-weather gear for the homeless.
I don't share this with any sense of pride. Those excess garments were becoming a burden for us. I was often haunted by the thought of a good coat hanging, useless, in my closet when somebody was freezing. And I can't describe how good it felt to release that burden.
We Americans are so tempted to allow ourselves to be owned by our belongings. Lent is a good time to remember that. – RockChalkWombat
Perhaps it's because I am helping a family whose mom (and my dear friend) is dying this week and we have all spent a lot of time with each other and hospice on occasion that I am very much in touch with the "burying" the dead. Although I think it a lot more like "hanging out with the dying" and their family.
This "hanging out" is going on all over the country with families who are choosing to care for a dying member at home with hospice. It's the fourth to fifth time I've been directly involved and about the tenth time I've been partially involved.
And I really recommend it as not only an obvious work of mercy but as a very serious heads up on doing the right (if difficult) thing.
Not everyone can handle the in your face dying stuff. I find it very hard to see my very dear friend losing so much ground each day. Now it's sight. She can hear but not see who is talking and more morphine is being used and time draws short. This is brain cancer with renal dysfunction (considered by some as a gentle death).
Her family have been gathering every evening for the last few weeks for dinner with her (she's in a hospital bed in the living room, adjacent to the dining room). Sometimes she's there sometimes not but she appears to enjoy all the family chaos and can minimally respond. It's a big family; one member is institutionalized but was brought in to visit with her a few days ago, a rather Herculean task.
Children and grandchildren are all, over the place. Food is donated, the oldest daughter runs the deal, and there are 24/7 care takers as well, but they need the help of that oldest daughter who has taken yet another FEMLA break.
I think this is an almost perfect scene for my daily communicant friend and a school of learning for her family in "how to do it well," which may well get replicated in the next generations. I hope so. Meanwhile it's been a huge privilege to "hang out," not an onerous burden but an amazing privilege! – AnonAJ
For 20 years I was a chaplain in a women's prison. In that capacity I facilitated retreats, anger management classes, grief support, family liaison, etc. Not physically able to continue at 80, I maintain mail contact with 10 women who will never leave. I visit one I've known for 20 years, a Muslim woman. She was one of several who together built two portable labyrinths. My deceased husband, a deacon, was chaplain in the men's unit here. These experiences have had a continuing and profound influence in my life. There is no "us and them." It is all "we." I have experienced extraordinary courage and extreme pathos in the prison among not only the inmates but the employees as well. – Dona
One of the responsibilities of Larimer County Search and Rescue, an all-volunteer team that provides search and rescue services in the mountains of Northern Colorado, is to recover the dead. Sometimes these are joyful missions -- like the time when a 75 year-old was with his best friends at a beautiful lake high in Rocky Mountain National Park and sat down under a tree and passed peacefully. At other times, they are difficult and tragic, like the ice climber who tied in to the wrong end of a rope, fell to his death and still had to be lowered from high up on a frozen waterfall. We carried him out over a frozen lake bed and miles of snowy trail.
Recently we recovered a despondent person who had ended his life by snowshoeing to a high cliff and jumping. Regardless of the mission, we each invest hundreds of hours in training, thousands of dollars in individual and team equipment, and maintain a level of fitness and availability that enables us to respond when these events occur.
Of course, not all our missions concern the dead -- we're often able to reunite lost hikers with families or extract and then carry injured climbers, hikers and skiers out for lifesaving medical care. About every other year, we oil up a person who was on a vision quest and got stuck at a narrow point in a cave. We do this at night, in blizzards, and at places so remote it can take four hours to drive to the trail head and hours of walking beyond that. I consider every member of this team a saint in the making. – Dick Borowski
My husband has esophageal cancer; we are in our 70s and have three adult children with us. I am in remission from two primary cancers. Our daughter (who is bipolar) has a friend from high school who is homeless and unemployed; he is now with us. I sometimes feel overwhelmed but, at the end of the day I think I am doing what Christ would do. – Rita Schick
Readers write about how sharing examples can spark more mercy:
My experience has been that observing others performing works of mercy has given me the courage and confidence I lacked to step forward and do likewise. – Kate
And some broadened the discussion:
Imprisoned can be also imprisoned in the many forms of pride: intellectual pride, spiritual pride, professional pride.
Imprisoned by vanity, over-concern about the opinions of "some" others.
Imprisoned by comfort seeking. – Redemptionis Donum
And some are prisoners of sickness or physical infirmity either temporarily or permanently. The possibilities are myriad. – Aloysia Moss