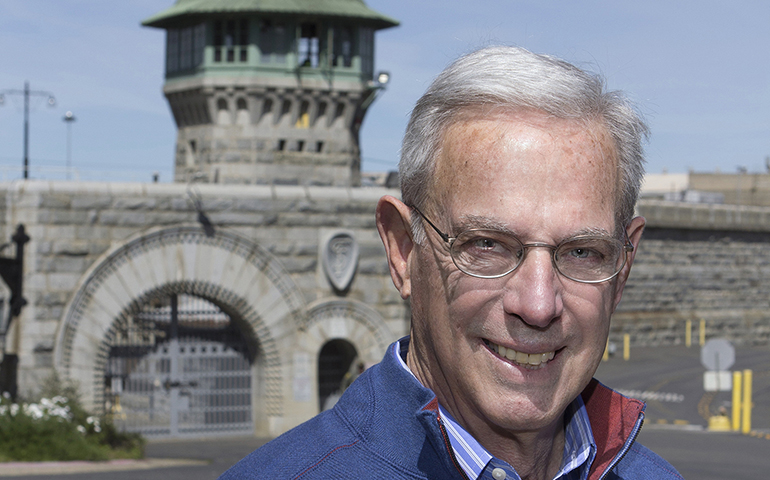 Ray Leonardini, a member of Divine Savior Parish in Orangevale, Calif. (Cathy Joyce/courtesy Catholic Herald)
Editor's note: "The Field Hospital" blog series covers life in U.S. and Canadian Catholic parishes. The title comes from Pope Francis' words: "I see the church as a field hospital after battle. It is useless to ask a seriously injured person if he has high cholesterol and about the level of his blood sugars! You have to heal his wounds. Then we can talk about everything else. …"
If you have a story suggestion, send it to Dan Morris-Young (dmyoung@ncronline.org) or Peter Feuerherd (pfeuerherd@ncronline.org).
---
Dozens of parishioners from parishes of the Sacramento diocese share their insights and experiences of prison ministry in a special edition of Catholic Herald magazine. Mary Jo Buettner, for example, has become deeply involved with Get on the Bus, a program devoted to arranging visits between incarcerated persons and their children. A member of St. Teresa of Avila Parish in Auburn, Buettner coordinated a late-May, 430-mile journey to the California Institution for Women in Corona. Her bus picked up youngsters in Oakland, Fresno and San Jose.
Irma Michel and Kerry Joseph of Good Shepherd Catholic Church in Elk Grove have become mainstays of Catholic prison ministry in Sacramento County. And Ray Leonardini, a member of Divine Savior Catholic Church in Orangevale, talks about contemplative prayer's impact on inmates. A lay volunteer at Folsom Prison since 2008, Leonardini is the author of Finding God Within: Contemplative Prayer for Prisoners.
Even Sacramento Bishop Jaime Soto writes about his experience with prison ministry.
According to The Center for Restorative Justice Works, based in North Hollywood, California "has the largest prison system in the nation with 46 adult prisons/facilities that house more than 165,000 men and women who leave approximately 200,000 children without one or both of their parents." CRJW helps sponsor Get on the Bus.
Since 2003, Theresa Meurs has been active in ministry to the homeless in Bellingham, Wash. A member of the college town's Church of the Assumption, Meurs is a strong advocate for Hope House, a cooperative ministry of Bellingham parishes and Catholic Community Services of Western Washington for Whatcom County's estimated 250 chronically homeless.
The fundamental role that an atmosphere of welcome plays in a parish attracting and keeping new members was emphasized by Christine Heusinger during a workshop at the Oct. 2-5 International Catholic Stewardship Council held in New Orleans. Associate director of stewardship for the Atlanta archdiocese, Heusinger echoed many of the points made in a recent commentary by NCR senior analyst Jesuit Fr. Thomas Reese about the key role played by parish hospitality -- or lack thereof.
A sizable number of migrant workers, many of them Guatemalans and Mexicans, work in the little-seen "backside" of the horse and horse-racing industries, according to Chicago Auxiliary Bishop John Manz. For more than a decade the bishop has been the U.S. bishops' point man on visiting varied groups of migrant workers to assess pastoral needs and how local Catholic communities can respond.
Our Lady of the Assumption Catholic Church, Brookhaven, Ga., celebrated the fourth anniversary of its monthly "Addiction Mass" on Oct. 8. The liturgy supports "anyone who struggles with addiction or is impacted by the addiction of someone else," reports the parish website. The celebrant was Bishop David Talley, recently named coadjutor bishop of the Alexandria diocese and a former Baptist.
Under the umbrella of the St. Vincent de Paul Society and with substantial financial and material help from the Knights of Columbus, a Great Falls, Mont., building that once served as a Redemptorist monastery and later as a rectory for St. Gerard Church has been remodeled into a housing facility to serve up to 10 homeless veterans. Called Grace Home, the facility is the first residential offering for homeless veterans in north-central Montana.
[Dan Morris-Young is NCR's West Coast correspondent. His email is dmyoung@ncronline.org.]
We can send you an email alert every time The Field Hospital is posted. Go to this page and follow directions: Email alert sign-up.