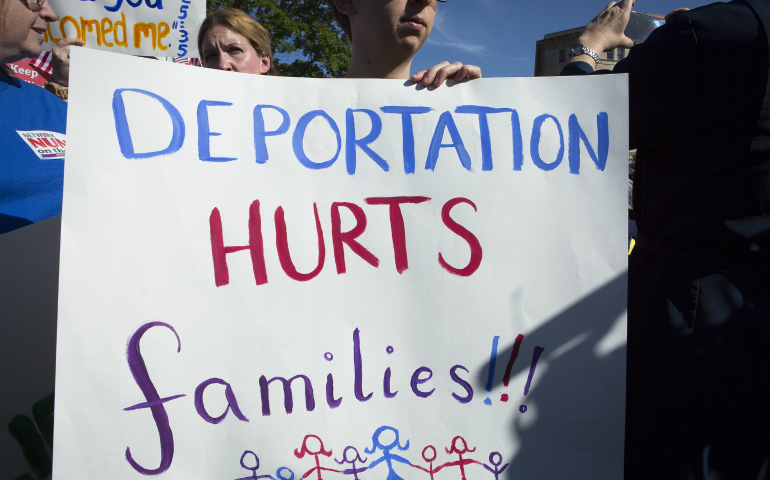 Demonstrators gather outside the U.S. Supreme Court in Washington April 18, 2016. (CNS photo/Tyler Orsburn)
The San Jose diocese is quietly taking a key role in organizing a loose-knit consortium of faith congregations willing to provide housing and other assistance to immigrants who have been locally displaced for various reasons including "being triggered by some kind of deportation proceeding," according to the priest assigned by Bishop Patrick McGrath to oversee that effort.
Fr. Jon Pedigo, director of the diocese's Project for Peace and Justice, told NCR the goal "is not a sanctuary effort per se" and that "we do not want to create some kind of political statement, poking the bear as it were."
Meanwhile, two San Francisco parishes — St. John of God and St. Agnes — declared themselves part of a growing number of Bay Area congregations willing to provide ''safe refuge from the threat of a Trump administration attack on immigrants and refugees." Their statement was part of a release shared prior to a Jan. 17 press conference.
Both Pedigo and organizers of that Oakland gathering stressed they were also focusing on defense of Deferred Action for Childhood Arrival, an immigration policy that allows work authorization, Social Security numbers and protections against deportation for undocumented immigrants who came to the United States before age 16.
A quarter-century veteran of working with immigrants and immigration issues, Pedigo said the working goal for the San Jose area is affiliating 20 or more congregations of various faiths "to create a network that can offer an array of services to the undocumented" and others who become homeless.
Pedigo said he hopes that eventually "a bunch" of Catholic parishes will take part. Which parishes do join in the effort will not be publicized, he added, "for various reasons."
Pedigo, who reports directly to McGrath, said he is working with San Jose's People Acting Together in Community (PACT), an affiliate of the PICO National Network, "to help create a local network of faith communities providing an array of support to immigrants facing deportation and separation. I'm not leading the efforts but working with PACT in developing a local response. Residential support is only one aspect of the full array of services we hope to offer to families in crisis."
"The plan is part of a coordinated effort by churches, community organizations and local leaders in response to the election of [Donald] Trump, who's advocated for an aggressive crackdown on illegal immigration," reported San Francisco Bay Area television station KPIX on Jan. 10.
"San Jose Mayor Sam Liccardo wants to relax some city regulations and make it easier for churches to provide sanctuary to immigrant families," according to KPIX.
Trump supporters contacted by KPIX bristled at the mayor's stance. Juan Hernandez, for example, told a newscaster, "I don't think the San Jose mayor has the right to pick and choose which laws he wants to abide by and which ones he doesn't. Because, in essence, what that creates is divisiveness. Instead of trying to support the president and making sure America succeeds, it's being very divisive."
The city of San Jose and Santa Clara County "are both developing plans to protect immigrant communities," KPIX reported, "including increased access to information and legal aid as they wait to see how much of Trump's campaign rhetoric becomes reality."
The San Jose diocese's website states, "Santa Clara County is home to one of the largest immigrant populations in the country, of whom many are undocumented."
On Jan. 14 about 250 demonstrators gathered outside San Jose City Hall in solidarity with a national "Day of Action" calling for protection of immigrants, Muslims and refugees.
In another similar national show of support called "Prayers of Light," the national Ignatian Solidarity Network, based at John Carroll University in University Heights, Ohio, has invited its "partner universities, high schools, and parishes to host vigils or Catholic masses to offer prayers of solidarity for immigrant members of local communities," on Jan. 19 states the organization's website.
The Ignatian Spirituality Center associated with San Francisco's Jesuit-staffed St. Agnes Parish will be among participating groups, said Natalie Terry, its director.
St. Agnes pastor, Jesuit Fr. Ray Allender, told NCR that the parish declaring itself as a sanctuary site was a staff decision "that we know is supported by our entire parish community."
"It is keeping with the social justice orientation of our parish and is in line with the teaching of the church and Pope Francis," Allender said. "It is the Gospel. In my opinion, there is no other option if we are to follow the footsteps of the Lord and our call and mission as Christians."
A member of the San Francisco priests' council, Allender said San Francisco Archbishop Salvatore Cordileone has spoken in support of efforts to welcome refugees and protect immigrants.
[Dan Morris-Young is NCR's West Coast correspondent. His email is dmyoung@ncronline.org.]
We can send you an email alert every time The Field Hospital is posted. Go to this page and follow directions: Email alert sign-up.