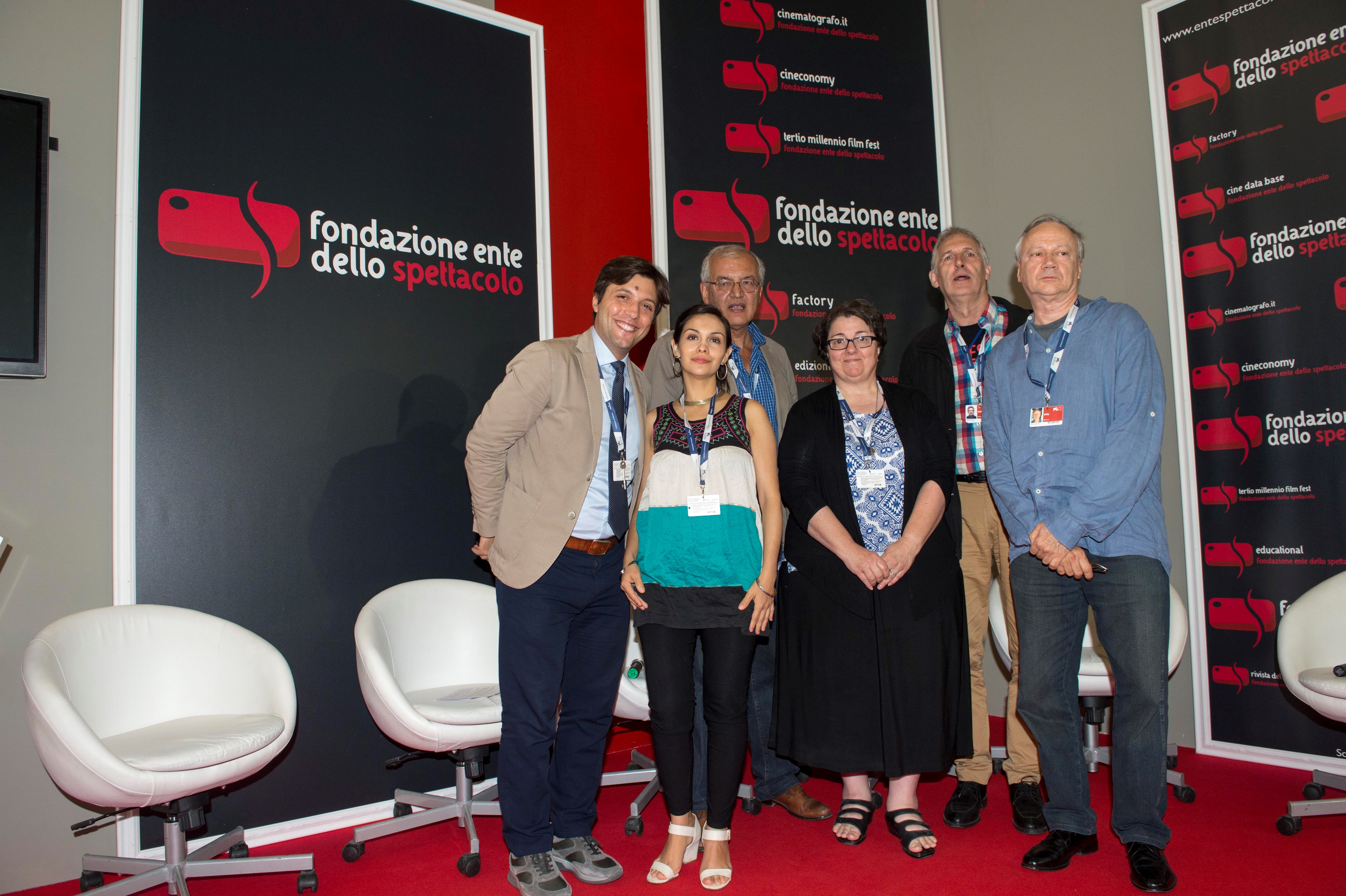 The SIGNIS jury, from left: Sergio Perugini, Maria José Martinez, Massimo Giraldi, Rose Pacatte, Freddy Sartor, Jorge Yglesias
Venice, Italy — September 18, 2015
As most people know, Venice, Italy, is one of the most beautiful places on earth. The very first world cinema festival was held there in 1932, with Moscow, Cannes, Locarno and others following. The Venice "Biennale" missed the war years, reconvening in 1947. At that time, the very first of the now numerous independent juries was established: the International Catholic Organization for Cinema (O.C.I.C.), now called SIGNIS, the international Catholic organization for communication.
This was my third time as a member of the Catholic jury; the others were in 2000 and 2009. Jury members receive press credentials and can attend screenings for all of the films. My fellow SIGNIS jury members hailed from Italy, Belgium, Ecuador and Cuba. We all watched a minimum of 21 films as required of jury members: those in the main competition. But most of us watched 30 or more films. Personally, I saw 33.
Three major U.S. films appeared out of the main competition: "Everest," "Black Mass" and "Spotlight." "Everest" dramatizes the 1996 tragedy on Mt. Everest when a storm suddenly hit as four teams clogged the route as they made their descent from the summit. For a disaster film, it's a fairly good watch but it seems as if it's trying to clear up the controversy between heroes and cowards caused by journalist Jon Krakauer's 1997 account, "Into Thin Air." Krakauer, a journalist that one adventure team agreed to take along hoping for good publicity, does not come off so well in the film, though his book is one of the best non-fiction books I've ever read.
It's interesting that "Black Mass" and "Spotlight" screened at the festival because they have so much in common, both true crime stories that took place in Boston. "Spotlight" is about the Boston Globe Spotlight team's investigation of the clergy abuses scandal. My review will appear in the Nov. 6-19 edition of NCR. "Black Mass" is based on a book by Boston Globe reporters Dick Lehr and Gerard O'Neill: Black Mass: The True Story of an Unholy Alliance Between the FBI and the Irish Mob, that is, FBI agent John Connolly and mobster Whitey Bulger.
An almost unrecognizable Johnny Depp plays sociopath Whitey Bulger and Joel Edgerton is John Connolly, the FBI agent and former childhood friend of Bulger who talks the FBI into letting Bulger's activities slide in return for information about the Italian mob. As you can imagine, mobsters are cruel and violent even as they offer a prayer in church when things get tough.
There's not much religion in "Black Mass" despite its inverted title and that most of the characters, if not all, are or were Catholic in real life. But there is a lot of violence in this story with twists and turns between good guys, bad guys, good guys who turned bad and bad guys turned informants to avoid prosecution or long prison terms.
The themes the two films share are the power, corruption, crime, intimidation, intrigue, cover-ups, and violence — so much violence.
Our SIGNIS jury awarded its prize to the artistic documentary "Behemoth" (Beixi Moshuo) by 29 year-old Chinese director Zhao Liang.
Our award motivational statement reads: "For its ability to illuminate in a poetic way the consequences of over-industrialization to the detriment of humanity, especially the poor. The director has a courageous and lucid grasp on contemporary issues such as that of migrant workers, the environment, and broad social conditions. The film is a visual representation of Pope Francis' recent encyclical on the environment and the responsibilities, from government to the individual, in caring for the earth. If a film can be a prayer, Behemoth is one made from the depths of the soul of an artist who speaks of the suffering of those who have no name."
I hope that "Behemoth" gets a U.S. release because it is a unique documentary framed by Dante's epic poem The Divine Comedy that takes aim at the coal and energy industry's rape of resources and mistreatment of workers for profit, or in China's case, to build "ghost cities," paradises where no one lives.
Our jury gave a commendation to "L'attesa" or "The Wait" by Italy's Piero Messina starring Juliette Binoche: "It is remarkable for a first time director to demonstrate such a strong personal voice in his first film. 'L'attesa' translates profound human experiences into comprehensive iconic and spiritual languages, giving substance to the invisibility of the beloved one, transforming grief and loneliness into hope."
My favorite film from the festival, and winner of the ecumenical InterFilm jury's prize, was "Wednesday, May 19" from Iranian director Vahid Jalilvand. A man in Tehran advertises that he wants to give away a large sum of money. Too many needy people apply and his wife berates him for creating a stunt to make up for his guilt over their young son's death. Three stories come together and we discover the heart of a man who is stronger and more generous than anyone would ever know.
Tom Hooper's "The Danish Girl" did not win any awards at Venice though I imagine it will following U.S and British release. It's based on the 2000 biographical novel by David Ebershoff and tells of real people and events. Eddie Redmayne is Einar Wegener and Alicia Vikander plays his wife Gerda. They are both artists in 1920s Copenhagen. Einar admires his wife's clothing and she is at first amused but then realizes that Einar is dealing with profound identity issues. They seek all kinds of psychological, psychiatric and medical help and treatments until finally a doctor offers to perform the first ever transgender surgery.
"The Danish Girl" elicits great empathy and as can be imagined, the performances are fine and the cinematography is beautiful. Redmayne may get another Oscar nod for his performance.
"A Bigger Splash" will be released in the U.S. starring Ralph Fiennes as Harry, a washed up concert promoter and Tilda Swinton as Marianne, a former protégée and lover. When the hyperkinetic Harry and his sensual daughter Penelope (Dakota Johnson) turn up at the rustic Italian island villa where Marianne is recuperating from throat surgery with her boyfriend, Paul (Matthias Schoenaerts), the beauty of the wild place and past and present relationships are upset, and frankly, when Harry finally dives in for a swim in the pool I hoped he would stay there; he's that annoying.
As director Luca Guadagnino writes, this is a film that asks: what happens when desire and pleasure clash? And if the object of desire is the authority (father) figure? I am not sure the director answers the questions in a satisfactory way, or if audiences will even think this is the real plot of the film, but fans of Fiennes have never seen him like this, that's for sure.
"Rabin, the Last Day" by director Amos Gitai was high on our list for an award. It documents the days leading up to the assassination of Israel's Prime Minister Yitzhak Rabin in 1995 and dramatizes the investigation and witness testimonies after his death based on court transcripts. Would the situation between Israel and the Palestinians be better today of Rabin had lived because of his dedication to finding a peaceful solution? The documentary unequivocally says, "Yes." Was there a conspiracy to assassinate Rabin or was everything coincidental? Riveting.
"Equals" from director Drake Doremus, is a futuristic sci-fi flick with Kristen Stewart. It's derivative and we've seen it before, most recently last year in "The Giver."
"Beasts of No Nation" starring Idris Elba and 14-year old Abraham Attah and directed by Cary Joji Fukunaga, was an early favorite for our jury. It follows the story of a boy who becomes a child soldier among mercenaries in Africa's continual wars. Attah won the Marcello Mastroianni's Best Young Actor Award.
Laurie Anderson's rambling documentary "Heart of a Dog" is an somewhat interesting and unique existential reflection on "love, death and language" after 9/11 that will probably attract some attention when it's released in the U.S.
The festival's Grand Jury prize went to Charlie Kaufman and Duke Johnson's "Anomalisa" a stop action animation film about a man who has trouble connecting with people. The film is beautiful to look at indeed.
The first film ever submitted by the Vatican screened this year out of competition, "The Smallest Army in the World" by director Gianfranco Pannone. Over 90 minutes we see young Swiss men from a variety of backgrounds prepare to serve as Swiss Guards at the Vatican, go through training and experience standing post at different sites in Vatican City over a year's time. While the film is long on visuals there's not much information about how one becomes a Swiss Guard, how long they serve, or even why. However, if the film gets a U.S. release I imagine many will want to see it.
The Robert Bresson Award is given each year in collaboration with the Pontifical Councils for Social Communication and Culture. This year, the award went to Iranian director Mohsen Makmalbaf, who reminded all of us that just a few days before, Ukrainian film director Oleg Sentsov was sentenced by a Russian military court to 20 years in a maximum security prison. He was arrested in 2014 when he took part in a protest march against Russian annexation of Crimea.
Going from 9 a.m. until 10 p.m. for 12 days watching film after film, spliced in with jury meetings, a panel discussion on film and interfaith dialogue, and press conferences with directors and talent, all make for busy days and I guarantee that every glass of wine you will enjoy in Venice, will be very, very good.
It's always an honor to serve on a jury that celebrates cinema rather than "movies" because they reflect universal human experiences that our industry frequently sanitizes or turns into fairy tales. Few world films convey our happy endings; many are raw and harsh. But what they do show are the authentic faces and realities of our brothers and sisters. Film is, indeed, a table around which we can gather to talk about things that matter and hopefully respond to.
[Rose Pacatte, a member of the Daughters of St. Paul, is the director of the Pauline Center for Media Studies in Los Angeles.]