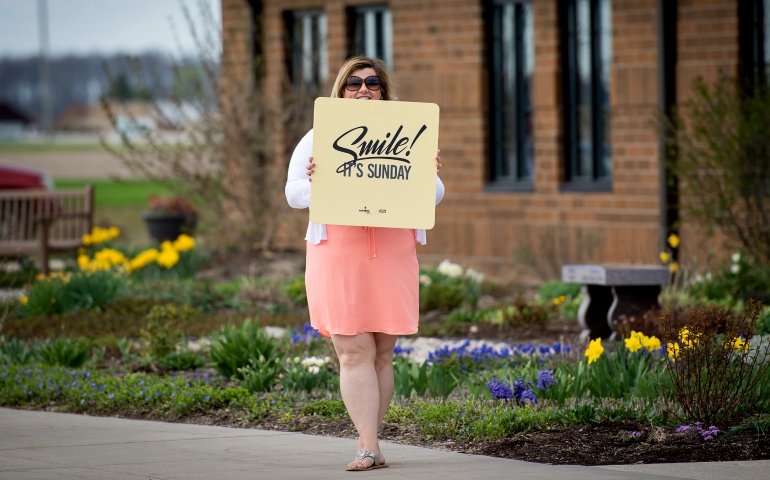 A parishioner welcomes people in the parking lot of St. John XXIII Catholic Community in Perrysburg, Ohio, on Easter Sunday, April 16. (Jeff Montross)
Fr. Herb Weber, a priest of the Diocese of Toledo, Ohio, will soon be 70 years old, decades into a priesthood forged with the spirit of Vatican II, which opened in 1962, back when he was in high school.
When assigned by his bishop to begin a new parish in the Toledo suburb of Perrysburg in 2005, Weber was asked to submit five names for the proposed church. The first he offered was Pope John XXIII, famous for calling the Second Vatican Council. The second name was Pope John XXIII. The same for names three, four and five. The pastor got his wish.
Today, St. John XXIII Catholic Community is a rarity — a parish in the Rust Belt that is rapidly gaining in size. When it began, the parish had 200 regular worshipers; it now has more than 4,000. In June, ground was broken on a new church and meeting space to accommodate that growth. The parish is halfway through an $8 million fundraising effort to fund the buildings and keep the church out of long-term debt.
Much of that growth can be attributed to the growing size of Perrysburg, located some 12 miles from downtown Toledo. The region had longed been tagged by diocesan planners charting those pockets where the otherwise-declining population of Northwest Ohio was actually growing. The rest is credited to the dynamism and welcoming spirit of the parish.

St. John XXIII parishioner Katie Fineske with her son, John, on Easter Sunday (Jeff Montross)
"It's not just people from the area. There are people coming back to the church and others who had one foot in and one foot out," Weber told NCR.
Weber said the weekend Masses are built around a "big three": hospitality, homily and music.
"It's a very welcoming place, very family-oriented, with lots of kids. If the kids make noise during Mass everyone says, 'Thanks be to God,' " he said.
The median age of the parish is 35. The parish goal is to welcome personally anyone who comes through the doors. The anonymous pew sitter does not exist at St. John XXIII.
Homilies are a process worked out through the week. Weber gets feedback from a prayer/Scripture study group he meets with regularly. "They are not afraid to tell me if it makes sense or not," he said.
The music at Mass is contemporary, with a keyboard (the temporary church has no organ), flute, violin and chorus.
Weber is joined on weekends by Oblate Fr. Geoff Rose, a visiting priest who is also a high school principal.

The Kids Zone at St. John XXIII's annual parish picnic (Jeff Montross)
The parish is aware that it ought not become a kind of feel-good social club for its patrons. The focus is on reaching out beyond Perrysburg, seeing the wider, catholic world in all its diversity and social needs.
There is an active St. Vincent de Paul Society, which assists the local poor. Projects supported by the parish are also likely to bring parishioners into service in urban Toledo with sex workers, on the border with refugees in south Texas, and with a sister mission parish in Guatemala. Youth volunteers from the parish also work with a parish in Appalachian Kentucky.
John XXIII parishioners are a main source of support for Rahab's Heart, an outreach to sex workers in Toledo. Volunteers regularly visit the street people, offering them assistance and an invitation to a monthly dinner.
That participation grew out of the parish's "Dining for Women" chapter, an interdenominational group that brings women together for regular potluck suppers and discussions over generating support for worthwhile domestic and international charities.
The parish chapter has contributed $20,000 for development projects in poor countries as well as providing the spark for the parish involvement in Rahab's Heart.
"It's a ministry of presence," said Margaret Sears, a parishioner and leader of the volunteer effort, which regularly attracts up to eight women from the parish. The sex workers receive no unsolicited lectures. "We let them know they are loveable and we care about them," said Sears.

Parishioners pray during the Easter Vigil April 15. (Jeff Montross)
Notre Dame Sr. Anne Mary Molyet is pastoral associate at St. John XXIII for evangelization, enrichment and engagement. Her portfolio includes bringing parishioners on four yearly trips to Sacred Heart Parish in McAllen, Texas, near the Mexican border. The volunteers work at a center for refugees.
The refugees — who have earned legal status to stay in the United States — are mostly Central American, although some have come from as far as Africa. They are provided food, a shower and new clothes before they go to the bus station to embark on their permanent resettlement.
There is immediate positive feedback from the work. "The transformation of people when their basic needs are taken care of is amazing," said Molyet. "They start to smile; their kids start to play again."
The parishioners who go to the border are transformed into advocates for immigrant rights when they return to Ohio. "They are on fire. They are communicating the real story of what is going on. They are getting involved on a local level," Molyet said. Many have volunteered on local projects for refugee resettlement.
St. John XXIII continues to grow with its combination of hospitality, liturgical creativity and social outreach. Its new building, due to be completed by November 2018, will reflect that energy.

Parishioners stand around the perimeter of St. John XXIII's planned new building during a June 4 groundbreaking ceremony.
It will feature a 50-foot tall transparent glass structure that will hover over the Ohio landscape. The clear glass will serve as a potent symbol, says Weber.
"We are not afraid of the outside world and we want to be a beacon of light to the community," he said, a reflection of the landmark council called for by the parish patron in the last century.
[Peter Feuerherd is a correspondent for NCR's Field Hospital series on parish life and is a professor of journalism at St. John's University, New York.]
We can send you an email alert every time The Field Hospital is posted. Go to this page and follow directions: Email alert sign-up.