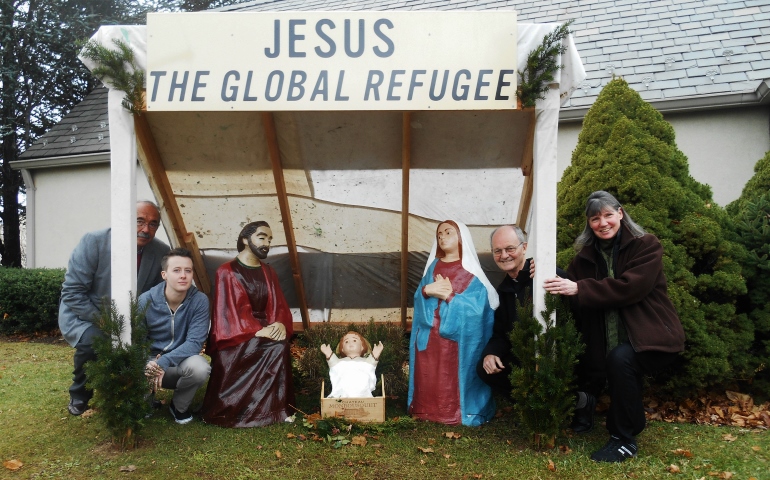 Parishioners pose with the creche at Our Lady of the Miraculous Medal Church. From left to right are Richard Koubek, Anita Halasz, Fr. Bill Brisotti and Alexis Stafford. (NCR photo / Peter Feuerherd)
Wyandanch, N.Y. — December 15, 2016
While planning last summer, parish leaders at Our Lady of the Miraculous Medal Church didn't consider that an Advent creche proclaiming "Jesus the Global Refugee" might be controversial.
The thought was that a creche symbolizing the parish's commitment to refugees and immigrants would be a witness to the Gospel account of how the Holy Family was forced into exile in Egypt to escape the clutches of the despotic King Herod. Construction began, using a crate borrowed from a nearby wine store.
And then the election of Donald Trump, who won handily in Suffok County, where Wyandanch is located, changed that. With a president-elect who began his campaign by calling Mexican migrants murderers and rapists, promising to deport the estimated 11 million undocumented immigrants living in the U.S., the creche sign accidentally became a more potent symbol.
Support for immigrants "is part of the fabric of the life of our parish," Fr. Bill Brisotti, long-time pastor here, told NCR.
Located in the heart of Long Island suburbia, Wyandanch is a small hamlet that has attracted immigrants and other struggling people. The parish of 1,200 families is comprised of three quarters immigrants, most of whom have Latino roots. They come from 15 different countries, with a large group from Central America.
The creche was formally dedicated by the parish at the first Sunday of Advent Nov. 27.
"Once the election occurred, this took on an urgency," said Richard Koubek, a parishioner who works for Long Island Jobs With Justice, an agency dedicated to workers' and immigrants' rights.
The creche, said Brisotti, is intended to make parishioners and passers-by make the connection between today's immigrants and refugees and that of the plight of Jesus, Mary and Joseph.
In today's immigration climate, the creche is a sign that "in real life that folks are in danger. We can find solidarity with the Holy Family," said the pastor.
Parishioners Alexis Stafford said that early in the Advent season, the creche is making an impact. One Latino young man walking by saw the sign, and gave a thumbs-up. "He got it," she said.
The parish has a long commitment to refugees, being part of the original Sanctuary Movement during the 1980s that assisted Salvadorans fleeing a brutal military dictatorship in their home country. Now Central Americans are fleeing drug gangs going after their children.
The parish is a center for social services, English-as-a-second language training, and it recently began participation in a Jobs With Justice program, which trained some 60 advocates to accompany immigrants to legal hearings across Long Island.
In the aftermath of the election, there is a palpable fear across the clusters of immigrant communities around Long Island, said Koubek. His group works with 22 Catholic and Protestant congregations active in social service work, and they report "the same thing, silence, except for the children." For people used to living below the radar, there is even more emphasis on avoiding being part of public gatherings, including school and jobs, and even fear of walking on the streets in some communities.
In some Long Island public school districts, Anita Halasz, executive director of Long Island Jobs With Justice, said that Latino students have heard chants of "Build that Wall" and "Now We're in Charge" from their fellow students proud of the Trump victory.
While the parish clings to the words of Pope Francis, who clearly champions immigrants and refugees, there is a sense that the Diocese of Rockville Centre, which directs the church on Long Island, has been quiet about what immigrants perceive as threats from the incoming administration in Washington.
Bishop William Murphy, before the election, wrote a letter to parishioners that was widely viewed as an endorsement of Trump. The letter and article were "disgraceful," said Koubek, a case not of moral reasoning but of "partisan proselytizing."
Murphy, who submitted his resignation to Pope Francis after reaching the mandatory retirement age of 75 this summer and will be replaced by Bishop John O. Barres, formerly of the Diocese of Allentown, Pa., wrote, "Do you think our country is going in the right direction or the wrong direction? I believe it is heading in the wrong direction. If I am right, then, of the two candidates running for President (and for other offices) ... which ones will continue to lead us in the current direction or which are more likely to restore justice in those areas that cry out for such a restoration?" Trump positioned himself as a change agent in the campaign.
In an article in the diocese publication The Long Island Catholic, Murphy offered a pre-election analysis condemning abortion, as well as labor union leadership, Occupy Wall Street and universities. The leaders of the parish here are hoping that Barres will be, in the spirit of Francis, focused more on immigrant concerns as the policies of the Trump administration develops.
[Peter Feuerherd is a correspondent for NCR's Field Hospital series on parish life and a professor of journalism at St. John's University, New York.]
We can send you an email alert every time The Field Hospital is posted. Go to this page and follow directions: Email alert sign-up.