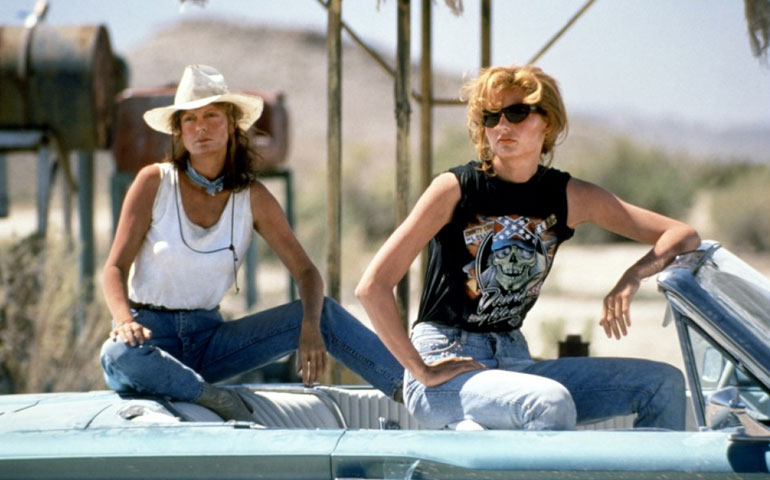 Susan Sarandon, left, and Geena Davis in "Thelma & Louise" (MGM)
I first saw "Thelma and Louise" while studying for a master's in education in media studies in London in 1995. We gathered to watch the film and not one male student of the 12 or so in our class showed up for the screening. Not one. What were they afraid of? When we asked some of them, they just shrugged.
"Thelma and Louise" was hugely successful when it opened in 1991. It is critically acclaimed as a feminist, or neo-feminist film, or a road trip film for women.
At least one convent critic believes it is an excellent parallel to the 1969 Western buddy road trip film "Butch Cassidy and the Sundance Kid." Thelma (Geena Davis) and Louise (Susan Sarandon) are the protagonists who, in the iconic closing scene, drive off the edge of the Grand Canyon in their 1966 Ford Thunderbird. Train robbers Butch (Paul Newman) and the Sundance Kid (Robert Redford) jump off a cliff midstory into a river with a posse in pursuit. Both films end with a freeze frame that some critics believe detract from the overall films but the technique works for me. Life is there and in an instant, it is gone, a memory trapped in the mind of the beholder.
The U.S. bishops' Office for Film and Broadcasting judged "Thelma and Louise" as morally offensive because it glamorized murder, robbery and other actions. As a woman, I interpret the women's gleefulness as a way to repress pain, darkness, and a growing awareness that no one will believe them no matter what they do.
This is not to excuse their choices, but to understand why they do what they do. The judgment of the film as morally offensive lacks empathy, I think, because we ought all to be morally offended by the situation the women are caught up in.
In addition, the culture of rape and disrespect for women that the film points to continues unabated 25 years later, despite efforts of writers, journalists, filmmakers, educators, television producers -- and a few lawmakers -- to hold aggressors responsible and accountable. Pope Francis bemoans the objectification of women in the media in his recent encyclical, Amoris Laetitia -- media such as advertising, entertainment and pornography that certainly contribute to and influence such behaviors.
The characters Thelma and Louise deserve our compassion, not our condemnation. Arkansas State Police Investigator Hal Slocumb (Harvey Keitel), the only man who empathizes with them and never condemns them, tirelessly attempts to mediate between law enforcement and the women.
In case you don't remember the story, Louise is a waitress, perhaps 15 years older than Thelma. Louise lives with her boyfriend, Jimmy (Michael Madsen), and Thelma is married to car salesman Darryl (Christopher McDonald). The two friends plan a weekend away in the Arkansas country but Thelma is afraid to ask her husband's permission. Louise accuses her of not knowing if Darryl is her husband or her father.
Louise is well put-together, mature and wears a scarf neatly wrapped around her hair. Thelma dumps everything in her suitcase, including a gun, just in case someone wants to murder them; her hair flies free in the wind.
Thelma and Louise stop at a truck stop, have some drinks, and Thelma dances with Harlan (Timothy Carhart). In the parking lot, Harlan tries to rape Thelma. Louise rescues her, but when Harlan taunts her, Louise's demeanor changes. Now enraged, she shoots and kills Harlan. The women get in the car and take off. We learn that Louise has a secret about something that happened in Texas long ago that she does not want to talk about.
Things go from bad to worse. The shy, naive Thelma lets loose, heartbreakingly wild and free at last. Jimmy brings money to them in Oklahoma City, but it is stolen by a vagabond named J.D. (Brad Pitt) that Thelma takes a liking to. Thelma takes the gun and robs a store. The women head for Mexico using secondary roads. Louise knows that the police must be after them and she finally speaks to Slocumb, who pleads with them to turn themselves in.
Heading west into Arizona, the women reach the Grand Canyon with state troopers and the FBI in helicopters in pursuit. The police and their automatic weapons are locked and loaded in a kind of semicircle around the car, prepared as if for war. As Slocumb runs after the Thunderbird, still trying to save them, the women drive off the edge of the canyon.
Does director Ridley Scott and first-time writer Callie Khouri's film hold up after all these years? Even though the men are stereotypically shown in an unfavorable light, one man stands alone as an unrequited hero.
Although always uncomfortable to watch, I believe the film endures, especially in an era when university campus and military rapes are frequent headline news, where thousands of rape kits go unanalyzed because there is no budget for justice for women. It is rape, after all, that drives the narrative. For Thelma, it is an actual assault. For Louise, it is the memory of one.
The film uses every mode of transportation known to humanity (planes, trains, cars, trucks, horses, helicopters and so forth) and the web of roads, highways and train tracks create the dominant visual motif in the women's escape nightmare. Their maps become useless. They are off the grid. Their prayer or utterances to God come too late to save them.
The Western landscape is wild, remote, polluted, dusty, a catchall for the anonymous to seek a new life. A storm or rain is a cinematic sign that something bad is going to happen. In "Thelma and Louise," there is too much rain, a sign that things are only going to get worse.
Even though Jimmy proposes to Louise in Oklahoma City, it is too late for love and the women are running very low on hope. The entitled lack of respect for and aggression toward women leads to the series of fateful decisions that end at the edge of one of the most beautiful places on Earth. They are two women caught in a web of sinfulness not all of their own weaving, but with only one man who understands their dilemma and wants to save them.
"Thelma and Louise" is a film about rape from the female victims' perspective. If that makes it a feminist film, it is a tragic one. The challenge of the film remains: What will we do to change the culture of male entitlement, the use of force to get what you want, that permits the culture of rape to endure?
[Sr. Rose Pacatte, a member of the Daughters of St. Paul, is the director of the Pauline Center for Media Studies in Los Angeles.]
A version of this story appeared in the July 1-14, 2016 print issue under the headline: 'Thelma and Louise' still poses a challenge to male entitlement.