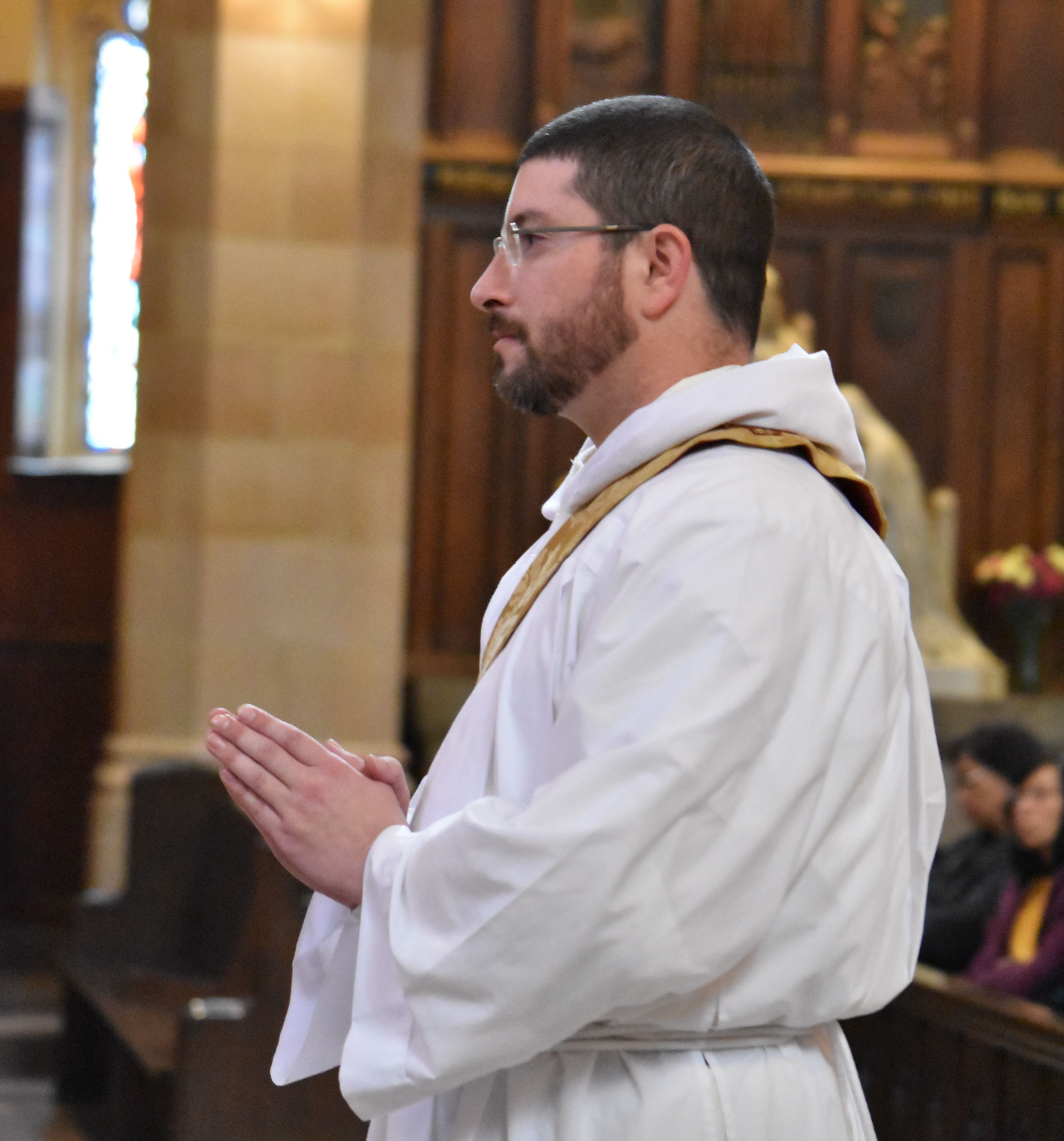 Dominican Fr. Gabriel Thomas Mosher (Lorelei Low, courtesy of the Dominican Friars, Western Province, www.opwest.org)
Ever since October of last year, when we began soliciting stories about parishes, especially those with thriving ministries to the poor and marginalized in the spirit of Pope Francis' famous metaphor that the church should bind the wounds of the injured, we have been inundated with upbeat, positive stories.
We've also encountered scores of other story suggestions: namely, complaints about newly ordained pastors, in particular, who come with an agenda seemingly to turn back the clock on practices that have been well-established in typical post-Vatican II parishes. This especially is evident in the liturgical realm, as the newly ordained frequently suggest chant over contemporary hymns, and curtail lay eucharistic ministers, the role of women, and girls serving as altar servers.
We wanted to find out about these newly ordained priests (many of whom, by the way, do not embrace what's been called a quiet "restorationist" movement among younger clergy). Nurtured in a seminary system inspired by Pope John Paul II and Pope Benedict XVI, how are these priests responding to the age of Francis?
---
Dominican Fr. Gabriel Thomas Mosher
Age: 36
Year ordained: 2015
NCR: What were your family life and early years like?
Mosher: I am from Albuquerque, N.M. I began my formation as a diocesan seminarian with the archdiocese of Santa Fe in 2001 at Holy Apostles College & Seminary in Cromwell, Conn., where I earned a B.A. (cum laude) in philosophy.
I then spent one year at Mount Angel Seminary in Mount Angel, Ore., to begin theological studies, but I withdrew from the program in 2004. I then entered the Order of Preachers as a novice for the Province of the Most Holy Name of Jesus in 2007. In 2008, I began postgraduate studies at the Dominican School of Philosophy & Theology in Berkeley, Calif., where I earned an M.A. in philosophy and a Master's of Divinity. Prior to entering Holy Apostles, I began my undergraduate studies in history and political science at Texas A&M University.
I grew up in a mixed family. I have an older half-brother, an older step-sister, a younger step-brother, one full brother, a younger half-brother, and a younger half-sister. My parents were divorced when I was 5 and so I have a stepmother and stepfather. I grew up very close to my grandparents and great-grandparents, aunts and uncles, cousins, and other extended family. As a child, I wanted to be an astrophysicist. As I got older, I simply wanted to be a Marine, a husband and a father.
What kind of ministry are you engaged in?
It entails all of the usual obligations of a parish priest, plus those of the conventual life imposed by my order's constitutions.
In addition to these, I'm a spiritual director and [also serve as] the chaplain to the local Knights of Columbus council. Currently, my primary assignment is parochial vicar at Queen of the Most Holy Rosary Parish in Portland, Ore.; the religious assistant to one of our Dominican Laity chapters; the chaplain to our young adult and youth groups; director of our RCIA program; bursar of our Dominican community; member of the board of directors for Mater Dei Radio; and I'm a contributing author to Catholic Exchange.
In addition to these formal responsibilities, I'm also very active on various forms of social media; I'm an occasional guest on a number of podcasts; I give retreats, conferences and days of reflection; and I continue to work on my own academic projects and interest.
What do you enjoy most about your work?
Hearing confessions.
The least?
The requirement of sleep.
What attracted you to the Dominicans?
Generally, I was attracted to religious life for two reasons: I wanted to live the evangelical counsels* in a community and I wanted to live a life of penance in reparation for my sins and the sins of the world. I chose to do this in the Order of Preachers because, in addition to the common life, I was attracted to our charism of sapiential [wisdom] preaching.
Did your seminary education prepare you for priesthood?
Yes and no. There are many practical details for which formation didn't prepare me. However, I'm not sure that formal education is able to address all of these issues. Some things can only be learned "on the job" with a good senior priest to help as a mentor. Fortunately, I live in a wonderful community of friars who are a great resource for a young priest.
You were trained during the Pope Benedict era. Do you think Pope Francis has changed the expectations about priesthood?
I began my formation while St. John Paul II was the reigning pontiff and I completed my initial formation during the pontificate of Pope Francis. This allows me an interesting, and rather unique, perspective. From this perspective, I don't see any difference in the core responsibilities, obligations or dispositions expected of a priest.
When St. John Paul II wrote Pastores Dabo Vobis [a 1992 document on priestly formation], he set in motion a plan of formation that each succeeding pontiff has reaffirmed, strengthened and encouraged. What may appear to be differences to some, I'd suggest, is simply a manifestation of the individual gifts that each of these popes possesses as given to them by God for our edification.
Each of them have emphasized different aspects of the total vision of what it is to be a priest by the example of their own lives. I feel very fortunate to have had these three examples in my initial formation.
Here's a complaint we hear about at NCR: newly ordained priest comes to a parish, alienates people by imposing a traditionalist view on liturgy, the role of women, and other issues. Have you heard about that happening?
I have heard about this. In my own experience, there can be two primary sources of these situations. The first source could be when an individual priest may lack some virtues that would help him relate to the flock that has been entrusted to his care. The second source can be when a priest discerns some well-intentioned, but legitimate problems with the practices in a parish that has been entrusted to his care that he feels must be corrected. The most unfortunate situation is when these two phenomena collide.
Another likely source of this problem is the unfortunate reality that so many young pastors have very little practical experience as priests before they are given the responsibility of being the pastor of a parish. I know many dioceses where a priest can be made pastor after only a year of priesthood. I believe that this is an unwise normative practice and can often result in a lot of unnecessary conflict in a parochial environment.
It is also unhealthy for the individual priest's interior life. As I hinted above, the prudence needed to be an effective priest cannot be taught, it can only be earned through actual life experience.
When you were in seminary, was there talk about a "restorationist" movement to bring parish life back to more traditionalist approaches in liturgy and governance?
I've never heard the term "restorationist" used by anyone when I was in initial formation. Nor have I personally encountered anyone who simply wanted to "turn back the clock." I have, however, been part of many conversations about how some traditional practices may or may not be the best solution to any number of existing contemporary needs.
Pope Francis talks regularly about the dangers of clericalism. Is that worse in this generation of priests than before? Or has it taken another form?
In my experience, the term clericalism is a red herring. I find it to be an unhelpful shorthand to describe any number of undesirable attributes.
The real problem is priests who lack a robust prayer life, humility, prudence and discernment. They are men who "bind heavy burdens, hard to bear, and lay them on men's shoulders; but they themselves will not move them with their finger" (Matthew 23:4 RSV-CE).
No generation, theological, ideological, ecclesiological, liturgical or dispositional grouping is exempt from clerics who fit this description. The problem is rooted in the brokenness we all experience due to the effects of original sin. We should all continually seek God's forgiveness when we fail to be charitable, and be ready to extend mercy when we are the object of another's failure to be charitable.
*An earlier version of this story used the wrong instance of the word counsels.
[Peter Feuerherd is a professor of communications and journalism at St. John's University in New York and contributor to NCR's Field Hospital blog.]
Editor's note: "The Field Hospital" blog series covers life in U.S. and Canadian Catholic parishes. The title comes from Pope Francis' words: "I see the church as a field hospital after battle. It is useless to ask a seriously injured person if he has high cholesterol and about the level of his blood sugars! You have to heal his wounds. Then we can talk about everything else. …"
If you have a story suggestion, send it to Dan Morris-Young (dmyoung@ncronline.org) or Peter Feuerherd (pfeuerherd@ncronline.org).